Job Opportunities After MS in UK : Salary, Top Recruiters
Job Opportunities After MS in UK : Salary, Top Recruiters
Updated on 09 November, 2023
The UK has been the pinnacle of development in the west and keeps its edge. It is forever evolving as an economy that is growing to cater to its immigrant population. The country has an illustrious history and is brimming with culture, making the UK an attractive prospect for graduates from across the globe. Seeking job opportunities in the UK after MS has been made easy by various recruitment agencies and the career centres of multiple universities. Amongst the vast scope of work that the country offers, postgraduates in science are more likely to be immediately hired after completing their course.
As per the Office for National Statistics, the employment rate in the age group of 16 to 64 years is 75.5%, which is 0.2% higher than the last three months from September-November 2021.
Read More: How to settle in UK
How to Find a Job in the UK?
There are ample jobs in the UK after Master's for skilled workers, especially in the field of science. The correct approach in planning and application will give a candidate several choices, and a head start. Sketching out the plan and designing the appropriate CV will provide job seekers with an edge and help them make prompt and spontaneous decisions.
Here are some key points that job seekers should take note of while searching for getting a job in UK after Masters.
1. Use the Graduate Route
Applicable from the 1st of July 2021; the international students with tier 4 visas will be allowed an extension of two years to look for a job after they graduate. Applicants can remain in the UK while on a job search without a sponsor during this period.

2. University Placement Prospect
Candidates are advised to stay on top of their game while finishing their master's program. University placements are one of the easiest sources to enter the job market. Some of the reputed universities in the UK such as the University of Oxford, University of Cambridge, Imperial College London and King's College London, have a very well-established placement cell to aid their graduates in getting placed at the best organizations.
3. Register with a Recruitment Agency
The market has many recruitment agencies offering end-to-end solutions for job applications abroad. The candidates must carefully choose a reliable and well-referred brand such as Adecco, Impellam, Hays, Reed, etc., and work with them to plan their applications. After registration with an agency and good track records, the candidates can easily find a suitable job that fits their profile
4. Applying Directly with Companies
UK recruiters value confident candidates who have demonstrated their skill set and matched their qualifications to their company's profile. Without a formal channel or agency, companies shortlist eligible candidates and get in touch with eligible students for recruitment.
5. Career Events and Job Fairs
The Career Centers at the universities can be one of the first sources to begin the job hunt. Some of the top universities in the UK organize webinars, career events, and job fairs to help graduates connect with employers and explore job prospects. This helps them get a fair idea about the job market and the most demanding skills suitable for their desired role.
6. Make Connections With Potential Employers through Social Media
The current social media scenario brings many benefits for those looking to develop a professional network after finishing an MS program in the UK. The students might be able to communicate and build a relationship with resourceful connections in the UK through networking sites like LinkedIn and Twitter, highlighting their skill sets and using positive references.
Read More: Cost of studying in UK | Best Universities in UK for MBA
Top Organizations in the UK that Recruits Candidates with MS Degrees
Candidates and employers are flooded with choices with the assistance of recruitment agencies in the UK. Currently, there are about 27,000 such agencies operating in the country. While the field of MS is vast, getting the right job that fits someone's profile might be a tedious task. However, with the expertise of the recruitment agencies, and exceptional CVs, the chances to get the right job are heightened. These agencies ensure that the candidate gets the best salary after masters in UK. The safest bet while looking to register with such agencies is to go with those with good years of experience and an established portfolio of clients. Here's a list of some of the best in the business:
STEM Graduates
Aimed toward students who come from a STEM background, the recruitment consultants of the agency are contacted by employers who have a position to fill at their organization. Students from the Science, Technology, Engineering, and Mathematics can create an account and receive notifications as per their demands.
Venturi-Group – IT
Focusing on technical roles, this agency helps candidates to fill sought-after roles in the IT sector. They engage individual experts in each segment of the IT industry who source high-quality talents in niche areas.
Adecco
One of the world's leading recruitment agencies, Adecco provides job opportunities for over 700,000 applicants each day. They boast of a huge team of 33,000 employees in 60 nations and work towards transforming the world. Their portfolio also showcases over 100,000 clients from all over the world.
Impellam
Impellam prides itself on having in-depth knowledge and a vast network of candidates specializing in various fields of science. They provide both permanent and temporary employment contracts, and the breadth of their operations is quite impressive.
Hays
Hays places an applicant looking for a job opportunity after attaining a master's degree in Science in the UK every minute. They have been global leaders in job recruitments across various industries and professions. They operate in both private and public sectors, dealing in permanent positions, temporary contracts, and project-based roles.
Reed
The United Kingdom's #1 recruitment company has been assisting job seekers worldwide since the 1960s. Its operations span across Europe, the Middle East, and Asia. It has over 350 offices, employs over 3000 people, and offers world-class services through multiple specializations.
Airswift
For over three decades, this company has been elevating the lives of candidates seeking to fill positions in various industries in the UK. They specialize in providing employment solutions to the energy, processes, and infrastructure industries. Currently, the team of 6,500 people across 70 nations supports innumerable construction and engineering firms, and suppliers of equipment, consultancies, and developers.
Asoria
In today's time, when the whole world has attuned itself to the concept of "work from home", this recruiting agency specializes in providing remote options for candidates.
Antal International
This company penetrated the job recruitment market and now has a distinguished presence in major key talent markets. They work across international borders and are considered the best when it comes to jobs in industries like IT, Chemical, Life Sciences, Energy, and Construction.
Michael Page
Having started as a two-personnel team working from a launderette, they have grown into a gigantic team of 7000 employees and a global office network. They have struck a perfect balance between local knowledge and global experiences and find the best-in-class services for both candidates and employers alike.
InterQuest Group
Their services have won several awards and accolades worldwide and continue to provide superior services in human capital management. They have a highly intelligent approach to human capital acquisition, which accommodates every kind of organization to respond effectively to all sorts of demands in the market.
Morgan Hunt
This award-winning agency has always been known for the quality of service they provide to candidates looking for jobs in various fields.
Opus Professional Services Group
Candidates wanting to explore scopes in industries like Energy and Information Technology can register with this agency for a seamless experience in job hunting.
Bond Recruitment
Covering a broad range of industries, from Medical to Architecture, this agency has carved a good name for itself for recruiting graduates. According to your need and profile, you will be assigned a specialist to help you build your scope in finding the perfect job in the UK.
Capstone
This agency's experts work closely with leading contractors and developers to deliver engineering talents for multi-billion-euro development projects and provide great connections for applicants with technical degrees.
Celcius
They are specialists in graduate recruitment who match first-class graduates with first-class jobs in the relevant field. They have strong relationships with many companies across the UK that hire graduates in the pharmaceutical, retail, finance, and IT sectors. Celsius advertises job opportunities after MS in the UK on their job board.
Read More: Top 9 reasons to study in Europe
Major Recruiters in the UK
According to one of the top online job search portals, Glassdoor, the top employers in the UK that hire students after masters are
Microsoft
Salesforce
PwC
Accenture
KPMG
Deloitte
Google
Apple
Abcam
Softcat
GTB
Bella Italia
SAP
Meta
Read More: Guide to study in Europe without IELTS
Highest Paying Jobs after Masters in the UK
The United Kingdom provides some of the world's highest paying jobs and evidently value highly skilled workers to be a part of their economy. Besides being an achievement, a master's degree in the UK also offers some highly paid jobs. According to studies, postgraduates are 18% more likely to be working as a professional in their field than their graduate counterparts and tend to have a more rewarding career over their lifetime. Key findings show that an MS degree holder in the UK earns at least £21,000 at the beginning of their careers.
Position-wise Average Salaries in the UK
| | |
| --- | --- |
| Software Engineer | £27,000 |
| Data Analyst | £33,000 |
| Pharmacy Manager | £37,000 |
| Data Scientist | £41,000 |
| Data Engineer | £33,000 |
| Software Developer | £30,000 |
| Technical Director | £1,02,000 |
| Veterinary Surgeon | £39,000 |
| Project Manager (IT) | £71,000 |
| Project Manager (Software) | £60,000 |
| Psychotherapist | £25,000 |
Read More: Best countries to study abroad for Indian students
Read More: Job opportunities in India after MS from the UK
Read More: Student Visa for the UK- Complete Guide
Employment Statistics of Top Universities in the UK
The choice of university has a huge impact on job opportunities. Graduating from the top universities improves the future career prospects of a student.
Here is a look at the average salary after MS in UK and how these fare in terms of providing employment opportunities:
| | | |
| --- | --- | --- |
| Institution | QS Graduate Employability Rankings 2022 | Average salary |
| University of Oxford | 7 | £73,500 |
| University of Cambridge | 11 | £76,000 |
| University College London | 20 | £67,500 |
| Imperial College London | 30 | £66,000 |
| The University of Manchester | 42 | £61,000 |
| London School of Economics and Political Science | 48 | £59,000 |
| University of Edinburgh | 49 | £57,000 |
| University of Bristol | 49 | £58,500 |
| The University of Warwick | 77 | £66,000 |
How to Apply for a Post Study Work Permit in the UK?
The UK Government announced the Graduate Immigration Route on July 1, 2021, for students possessing a degree or relevant qualification from an approved UK Higher Education provider. Under this route, the students will be able to apply for staying back in the UK for two years after completing an undergraduate or master's degree. On the other hand, PhD or doctoral candidates can stay back in the UK for three years. To apply under the graduate immigration route, they do not require any sponsorship or endorsement from their university or employer.
Students willing to stay back in the UK after completing their MS and applying for a PSW can apply 3 months before the scheduled work start date. Applications can be submitted online along with the application fee and necessary documents. For students applying from outside the UK, the standard processing time is three weeks and eight weeks if they are applying from within the UK. Getting a work visa also enables them to apply for a PR in the UK in the future under the Skilled Worker Visa.
Eligibility Criteria to Apply for a Post-Study Work Visa
Students wanting to secure a visa to stay back in the UK and work after completing MS need to meet the following eligibility criteria:
They must have a Tier-4 student visa
Must have completed an undergraduate or postgraduate degree in the UK with their student visa
Getting a confirmation from their education provider for having completed the program they are enrolled in will enable them to apply.
Read More: Scholarship in UK for Indian Students
Best Cities in the UK for a Job After MS
The Startups Cities Index 2022 has listed 10 cities in the UK where MS graduates can work. The results were based on several factors like work opportunities, well-being benefits, co-working spaces and things that make the daily grind a little easier.
Sheffield
With the increasing cost of living in the UK, Sheffield still remains one of the most affordable cities for workers. This northern town with a flourishing industrial past is booming with job opportunities in the UK after MS. It has a thriving public and private sector leading to a host of vacancies.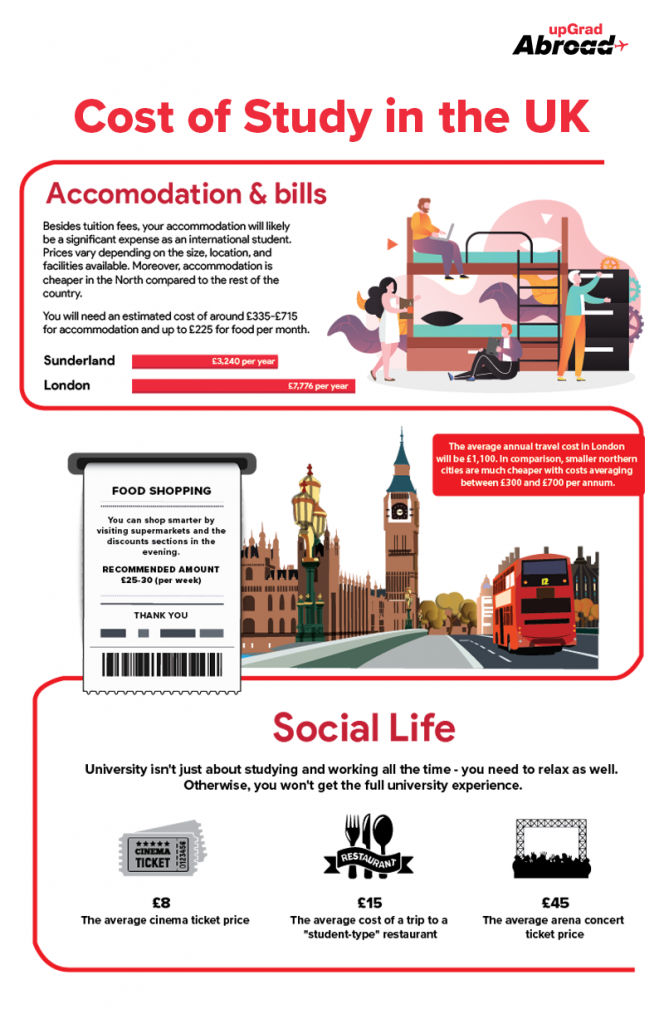 Glasgow
The largest economy in Scotland and home to almost 20,000 SMEs, Glasgow is one of the popular cities in the UK for MS graduates. Despite the comparatively lesser living costs and accommodation expenses, graduates have more income options at their disposal. Some universities in the city like the Glasgow Caledonian University, University of Strathclyde, and the University of Glasgow have a good employer reputation, thereby, facilitating the placement of MS graduates in some of the best companies in the UK.
Liverpool
With the change in business policies after COVID-19, employee priorities have changed as they are searching for options for remote work. Liverpool would be the best place for MS graduates working in hybrid mode along with adequate digital infrastructure.
Bristol
This southwest city features among the world's most sustainable cities. Despite the financial difficulties brought by the pandemic, almost 400 new startups have been nurtured in the last two years in the city.
Leeds
Leeds has the second-highest working adult population after Birmingham. As investment from big-name employers like Channel 4 is growing, the number of new businesses in the city has increased by 6% in the past couple of years.
Cardiff
Cardiff has a startup-friendly average business rate of £1,000 per year with young graduates being well-placed in the city. It is the main business and financial hub in Wales, offering employment for 20% of the city's workforce.
Newcastle
Newcastle ranks high on the employee well-being index. On average, workers take 17 minutes to commute to their workplace. Therefore, it is a good place for a job in the UK after masters as it has the perks of a metro city and the workforce enjoys a work-life balance.
Edinburgh
The fact that Edinburgh has a huge number of university students makes it obvious that the city is home to highly-skilled professionals. The city's students are ranked high in terms of their talent, with employers who not just recruit but retain skilled employees.
Manchester
After introducing the world to music bands like Joy Division, Bucket Hats, and Acid House, Manchester is now well-known for being one of the fastest-growing digital and tech hubs in Europe. This exciting place for tech workers has an active business network with an outstanding annual growth rate of 5.9%. It also has several spacious coworking office spaces enabling the smooth working of employees.
Birmingham
The second biggest city in the UK outside of London, Birmingham is home to almost 6,000 SMEs. The city also has the highest number of business premises.
Key Points for a Job in the UK
1. Culture Appreciation
While planning your move to any foreign nation, you must consider learning about the country's culture and heritage. This not only saves you from awkward interactions or an unfortunate case of offending their customs, but also helps you appreciate your new work environment, and aids you in an easy transition. After all, it is essential that immigrant workers respect and add value to a country's ecosystem.
2. Compact Documentation
Having all your documents and credentials in place too ensures a smooth job searching process where you avoid going to and fro while in the middle of decision making. Having a well-written resume always helps. Furnish the same with accurate, updated information about yourself, and keep it handy on the cloud or in the mail.
3. Technology is a boon: Own it
It is most common that interviews and meetings are scheduled online and being able to flawlessly present yourself virtually is a big plus. Stay updated about all new software that might be relevant in your field and have clear know-how about the latest communication platforms such as Zoom, Skype, or Google Meet.
4. Use social media to your advantage
Professional social media platforms such as LinkedIn have proved themselves as a boon in today's age of remote hiring. Even Facebook is opening options for employer-employee communication via job listings and groups. It is truly valuable to have your presence on such websites and update your profile regularly.
5. Do your Homework
Companies in countries like the UK appreciate proactive candidates who have done their background research about the company's operations and history. It is advisable that you read up about the companies of your choice before you prepare your application to fill roles with them. Accordingly, you can write up cover letters that are tailor-made for your targeted companies. This will definitely give you an edge over other candidates.
6. Understanding how recruitment agencies work
You will have to compile all your qualifications and personal information for these agencies. All your credentials from your masters course along with your preferences will be considered by them to match you with a suitable job after masters in the UK. Each of these agencies has a fee that you will have to pay, and it is most often noticed that the quality of service provided by them is directly proportionate to their fee structure.
7. Visa Know-hows: Applying for a Work Visa in the UK
It is indispensable that you gather all information about a work visa in the UK before you consider applying for a job there. The government has elaborate dos and don'ts in their immigration policies, and you should know them like the back of your hand. If you are a student pursuing a course in the country, you will have to apply for your work visa after your student visa expires.
Study in the UK with upGrad Abroad
Now you can study in the UK with upGrad Abroad. With upGrad's blended program, you can partially complete your course online with an Indian partnered university and then move directly on campus to the university in the UK with the blended program, you get the following benefits:
Cost-saving of up to INR 35 Lakhs
PGWP/Post Study Work/OPT visa for up to 24 months
Starting salary of INR 32 lakhs per annum after completion of the course
Recommended Reads: