Sample SOP for Australian Student Visa: Format & Tips
Sample SOP for Australian Student Visa: Format & Tips
Updated on 06 May, 2023
Statement of Purpose (SOP) is an important document to apply for a student visa to Australia. An impactful SOP can increase the chances of visa approval for an aspirant. Let's discuss the format and tips through a sample SOP for an Australian student visa.
What Should be a Part of Your SOP?
An SOP lets your case officer understand your intent behind applying for a visa and why you want to pursue higher education in Australia. Therefore, it must be carefully drafted and written simply.
It should be written in a maximum of three pages unless specified by the universities. To ensure its authenticity, the student and not an agent should write it. The command over English in the SOP should match the English proficiency displayed in tests such as TOEFL or IELTS. Along with the SOP, one must also present all the documents required to validate the information provided.
Points that should be included in the SOP for an Australian student visa are mentioned below:
The Reason to Study in Australia:
You need to mention the reason for choosing Australia as your study destination for the preferred course. You can also discuss the university, the curriculum, the educational system, etc., which you think is suitable and relevant for you.
Assuring required funds:
It is important to mention your financial situation in the SOP and how you plan to manage your stay in the country. Family income, the status of dependents, etc. must be stated too. Necessary documents must be attached with the SOP as well.
Write about the study program and university:
You must give an overview of the study program that you have chosen. You must also discuss the university you are applying to and why.
Mention future goals and their relevance to your course:
Ensure that your future plans are included in your SOP. You need to align them with the study program and exposure you will get in Australia by pursuing a course of your choice.
Format for an SOP for Australian Student Visa: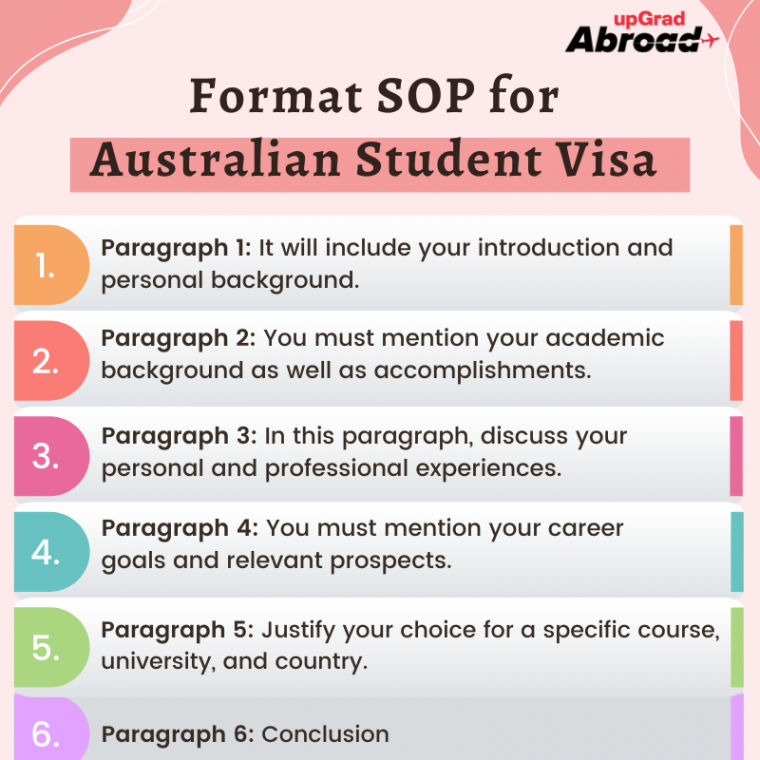 An SOP is more like an essay written in paragraphs. You must discuss your prospects, purpose, and academic and professional background. SOPs may have different structures. Some of the universities provide instructions as per their preferences.
Format to be followed:
Paragraph 1: It will include your introduction and personal background.
Paragraph 2: You must mention your academic background as well as accomplishments.
Paragraph 3: In this paragraph, discuss your personal and professional experiences.
Paragraph 4: You must mention your career goals and relevant prospects.
Paragraph 5: Justify your choice for a specific course, university, and country.
Paragraph 6: Conclusion
Study in Australia- Evaluate Your Profile for Free
Important Resources
Why Do Student Visas Get Rejected | How to Check Visa Status
Sample SOP for Australian Student Visa
Here are two SOP samples for Australian student visas:
Sample 1: SOP for MBA in Tourism:
My name is (NAME), and I am a resident of (CITY, COUNTRY). My parents, Mr. (FATHER'S NAME) and Ms. (MOTHER'S NAME) are both government employees. My family also includes my sibling, Mr. (BROTHER'S NAME), employed with (WORKPLACE)
I hold a (DEGREE NAME) from (INSTITUTION NAME) with CGPA of (SCORE), in (GRADUATION YEAR). Before this, I passed high school from (SCHOOL NAME) in the (STREAM) stream, with a CGPA of (SCORE) in (YEAR). I am proficient in the English language, and I also know elementary German.
I am an avid traveler and host a travel blog, briefing information on offbeat destinations around my hometown. My articles have also been published in the local newspapers and magazines. I also have an interest in sports and have played table tennis at a district level. I have participated in various sports events as well as extracurricular cultural activities organized by my college. I am ambitious, confident, and possess a good ability to analyze data.
I have a keen interest in becoming a part of the tourism industry. I believe pursuing an MBA in Tourism is the best way for me to merge my passion and aspiration. The course will equip me with the necessary skills and knowledge to build my career in hospitality and tourism. That is why I am hopeful to get an opportunity to pursue an MBA in Tourism course from your esteemed university. I am passionate about this field. My natural inclination will make it easier for me to focus on academics. It will also help me learn the fundamentals of the tourism business. I wish to eventually apply the skills and knowledge gained through the course to become an entrepreneur and establish a travel company.
Australia is a diverse land with a rich culture clubbed with a unique landscape. Apart from that, it is also one of the developed economies that has a lot of tourism potential. The education system of Australia is advanced and holistic for international students.
The (UNIVERSITY) in Australia is especially renowned and the MBA in Tourism is one of the finest courses. It is delivered by highly-respected faculty members and has a strong industry focus. I am convinced about the high standards it sets for its students. Its modern outlook towards education matches the needs of today's students.
Given the opportunity, the course will be a great starting point for my career. I will be able to add value to the academic experience of the (UNIVERSITY) through my hard work and dedication.
Important Resources What is the full form of IELTS?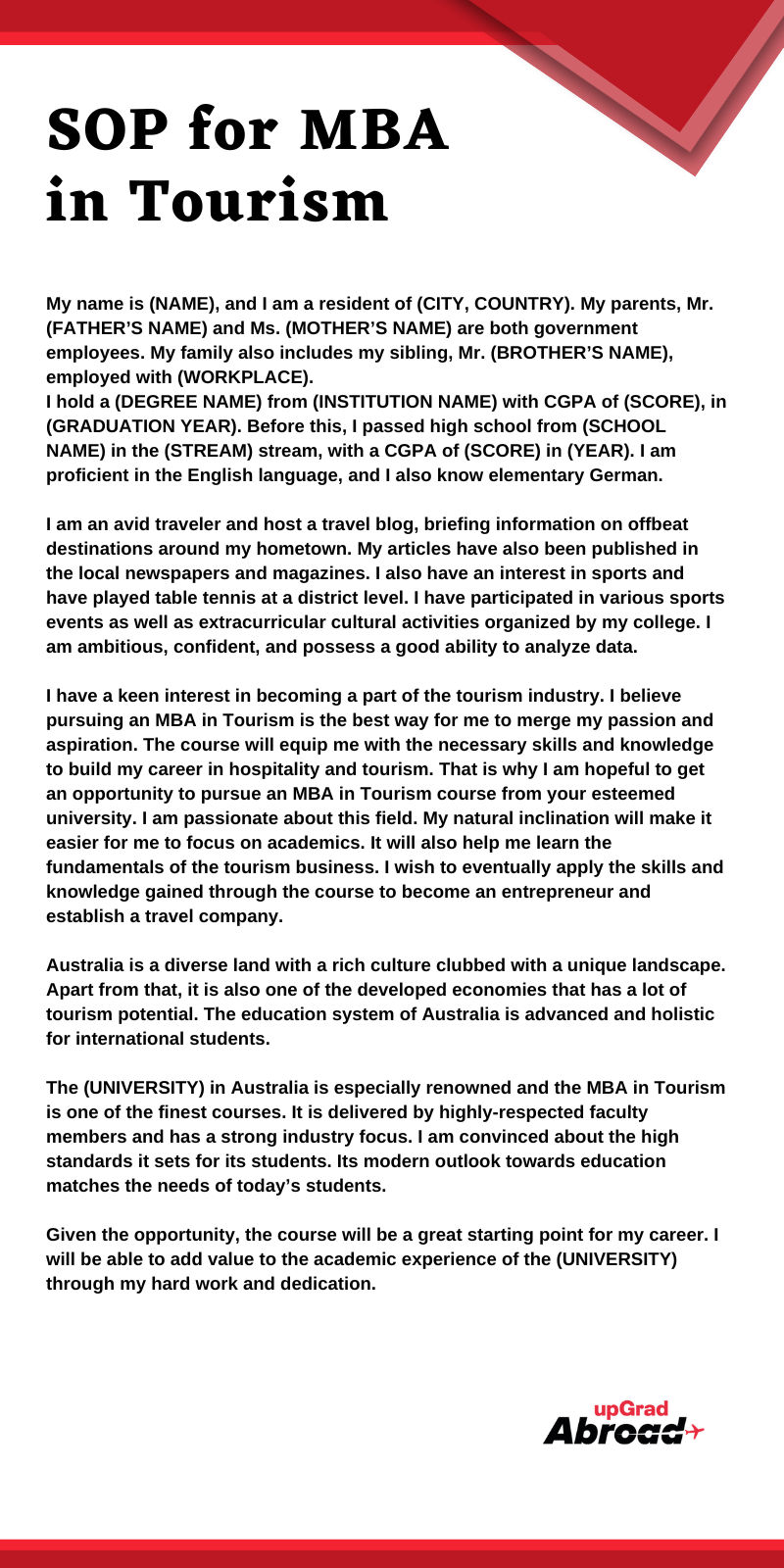 Related Reads:
Interested in Studying in Australia?Evaluate your profile for free
Sample 2: SOP for Bachelor's in Data Sciences
I am (NAME), D/o Mr. (FATHER's NAME), hailing from (CITY) city of (COUNTRY), where my father has a business. My family includes my parents and me. My hobbies and interests include sketching and singing. I am also proficient in playing the violin and have participated in many musical competitions and won awards and accolades at the regional level.
I completed my Class XII in 2021 from (SCHOOL NAME) in (STREAM) stream with (PERCENTAGE) % marks. I passed my Class X from the same school (SCHOOL NAME) in 2019 with (PERCENTAGE) % marks. I have also participated in the quiz competitions and have contributed articles for the school journal. I have also completed a six-month certification course in JAVA Programming. I am comfortable conversing with native English speakers.
Data Science is one of the best upcoming fields with some attractive career choices for young professionals. It also has application in all areas of business and transcends industries, making it a promising field of study. The bachelor's in data science is a well-balanced course that helps in building a strong foundation in this area. The best part about the course is that it has a high level of applicability. This makes the education highly practical, and I find this aspect the most attractive. I wish to use this course's learnings to build a strong skill set and launch my career in this field.
Australia is one of the best countries for international students due to its flexible education system and economic prosperity. It provides opportunities to students that can seldom be found in other countries. The culture in Australia is friendly and welcoming, making it a prime choice for students immigrating for their education.
The (UNIVERSITY) in Australia is one of the best places to learn about data sciences due to its excellent curriculum. The bachelor's in data science course from (UNIVERSITY) covers some of the foremost techniques in data sciences. The (UNIVERSITY) is also held in great esteem by employers in Australia and abroad.
Pursuing a bachelor's in data science course will help me greatly establish myself in my field of interest.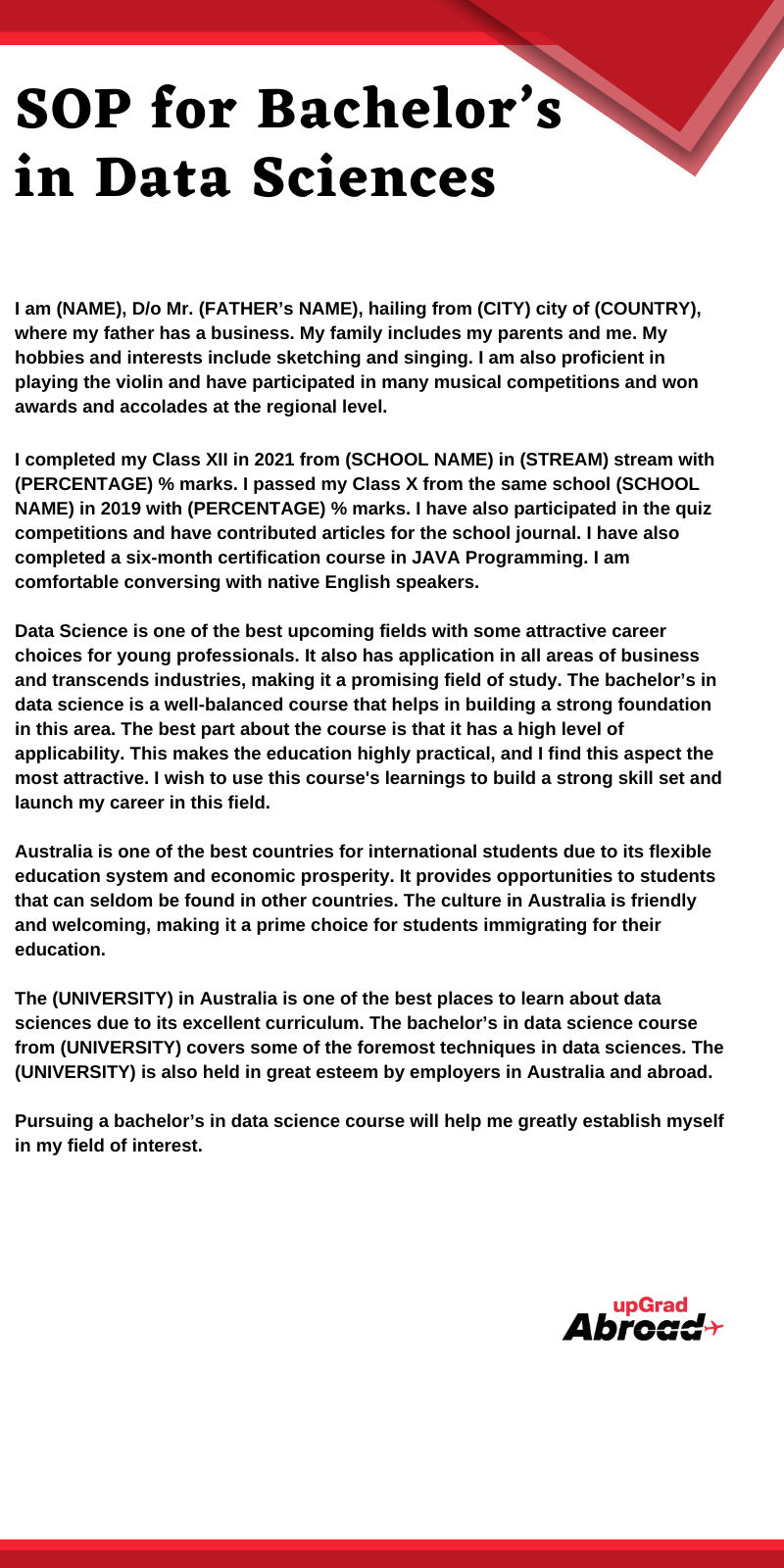 Top Study Abroad Destinations
Important Resources to Read
Important Resources to Study Abroad
0