Cost of Living in Norway in 2024
Cost of Living in Norway in 2024
Updated on 08 November, 2023
While moving abroad, whether for work or education, it is essential to be armed with the knowledge of living expenses. These expenses differ highly from the home country, and it is thus vital to do thorough research to get the budgeting right. Norway, known for its breathtaking natural beauty, high standard of living, and world-class education system, is an attractive destination for international students seeking a quality education. In this article, let us understand the average cost of living in Norway.
According to the 2022 Mercer Cost of Living Survey, Oslo, the capital city of Norway, is the 27th most expensive city in the world. The living expenses in Norway are generally higher than in most European countries, making it crucial for international students to clearly understand the expenses they will incur during their stay.
List of Necessary Items with Their Cost
Cost of living in Norway per month can be expensive, and adjusting to the high cost of living may take some time. As an international student, you will need a minimum of approximately NOK 11,500 per month to cover basic costs. This amount includes rent, food, transportation, and other necessary expenses. By planning ahead and making smart financial choices, you can effectively manage your expenses and make the most of your experience as a student in Norway.
To provide you with an understanding of the cost of living in Norway for Indian, we have compiled a modest budget for one semester.
| | |
| --- | --- |
| Expense | Monthly Budget |
| Housing | NOK 19,500 |
| Food | NOK 18,000 |
| Books & Supplies | NOK 5,000 |
| Transportation | NOK 3,500 |
| Other expenses | NOK 12,500 |
Average Rent in Norway
The SSB's housing rent survey is a valuable resource for both domestic and international students planning to study in Norway. It offers insights into average rent prices, allowing students to estimate their housing expenses and make informed decisions when budgeting their monthly expenses in Norway. The average rent across the entire country is around NOK 9880 per month.
Here are the average monthly rent prices in some of the main cities in Norway:
Oslo and Bærum: NOK 12,770 (Approx)

Bergen: NOK 9,620 (Approx)

Trondheim: NOK 10,160 (Approx)

Stavanger: NOK 9,060 (Approx)
It's important to note that when renting in Norway, a significant security deposit is usually required, typically ranging from three to six months' rent. This upfront cost is something to consider and budget for when planning your expenses.
Transportation Costs in Norway
The easiest and most convenient way to travel around Oslo is by trams or buses. They are available throughout the city and can take you to different places. When you arrive at Oslo Airport (OSL), you have options like taking a train, bus, taxi, or renting a car to get to the city centre. Downtown, there is also the T-bane metro system, but it has fewer routes compared to trams and buses. If the weather is nice, the benefits of living in Norway are that walking or biking can be good and affordable choices for shorter distances.
Mode of Transportation
Expense

Bike (Day pass)

NOK 49

T-bane Metro(single ride)

NOK 35

T-bane Metro(Day pass)

NOK 53 to 249

Trams & Buses(single ride)

NOK 35

Ferry(single ride)

NOK 48 or 60

Taxi

NOK 43 fix, NOK 65.96 per km

Car(1 Litre Petrol)

NOK

22.050
Cost of Utilities and Bills in Norway
The cost of utilities and bills in Norway can vary depending on factors such as the size of your accommodation, location, and personal consumption habits. Generally, when you study abroad you can expect to pay for electricity, water, heating, internet, and other basic services.
| | |
| --- | --- |
| Item | Expense |
| Milk (1 Litre) | NOK 17-20 |
| Apple Juice (1 litre) | NOK 15-35 |
| Water (1 Litre) | NOK 13-35 |
| Bag of coffee | NOK 40 |
| Bread | NOK 35-40 |
| Ham (250gm) | NOK 30-40 |
University Tuition Fee in Norway
State universities in Norway offer affordable education to both Norwegian and international students. Private colleges, although less common, may charge tuition fees ranging from 9,000 to 19,000 EUR per year
| | |
| --- | --- |
| Name of the University | Average Tuition Fees |
| University of Oslo | NOK 130,000 - NOK 500,000/year |
| University of Bergen | - |
| Norwegian University of Science And Technology | - |
| University of Tromsø The Arctic University of Norway | - |
Affordable Cities to Live in Norway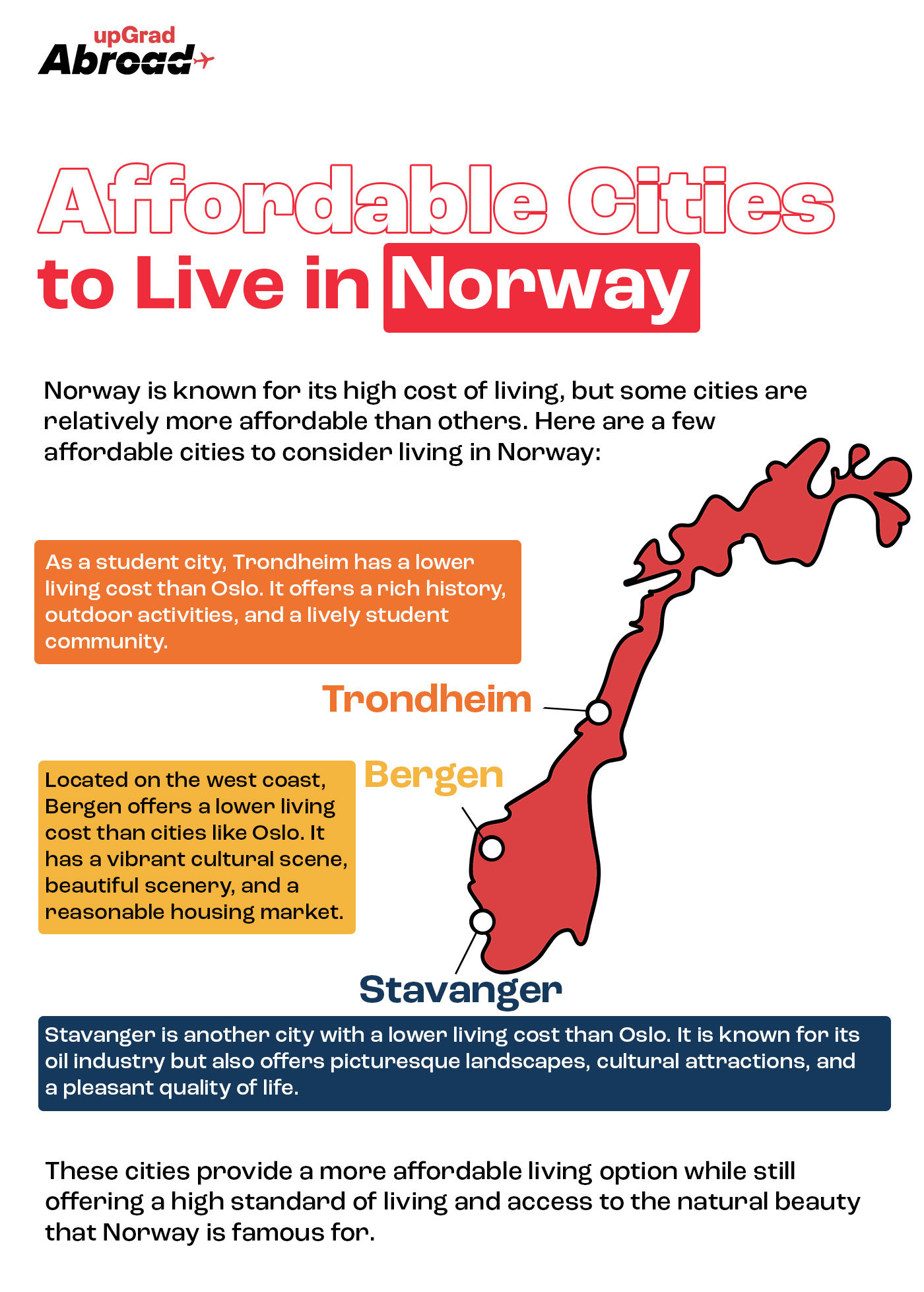 Tips that can be useful to save money in Norway
Saving money in Norway can be challenging due to the high cost of living, but here are some tips to help you manage your expenses and save money:
Budgeting: Create a monthly budget and track your expenses to have a clear understanding of where your money is going. Prioritize essential expenses and limit unnecessary spending.
Cook at home: Eating out in Norway can be expensive. Save money by cooking your meals at home and bringing packed lunches to work or school. Take advantage of local markets for fresh and affordable ingredients.
Public transportation: Opt for public transportation instead of owning a car. Norway has an efficient public transportation system, including buses, trams, and trains. Purchase discounted monthly or yearly passes if available.
Student discounts: As a student, take advantage of student discounts offered by various establishments, including transportation, museums, cinemas, and restaurants. Always carry your student ID card with you.
Second-hand shopping: Consider buying second-hand items for furniture, clothing, and electronics. Websites, thrift stores, and local flea markets offer affordable options.
Outdoor activities: Explore the beautiful nature of Norway without spending much money. Hiking, skiing, and biking are popular activities that can be enjoyed for free or at a minimal cost.
Utilities and energy-saving: Be mindful of your energy consumption to reduce utility bills. Turn off lights and unplug electronics when not in use, and consider energy-efficient appliances.
Socialise wisely: Enjoy social activities without overspending. Organise potluck dinners, picnics, or free outdoor gatherings with friends. Look for free or low-cost community events and cultural activities.
Frequently Asked Questions
Is Norway expensive for Indians?
Norway is generally considered an expensive country for living and tourism. The cost of living, including accommodation, food, transportation, and other expenses, can be higher compared to many other countries.
Is Norway visa-free for Indians?
Citizens of India, Bhutan, and Nepal must apply for a visitor's visa to Norway and the Schengen area. This visa allows them to stay for up to 90 days within a period of 180 days.
How many Indians stay in Norway?
According to Statistics Norway (SSB), the number of Indian immigrants and Norwegian-born individuals with Indian immigrant parents living in Norway in 2022 was 19,839. This accounts for approximately 0.37 percent of the total population.
#Tag