IELTS Exam 2023: Complete Guide for IELTS Test
Updated on 25 January, 2023

Mrinal Mandal
Study Abroad Expert
IELTS stands for International English Language Testing System that is required to be taken by international students and workers who wish to study or work in a country where English is the primary language of communication. The United Kingdom, Australia, New Zealand, the United States, and Canada are the most prevalent nations where IELTS Exam is recognized for university applications. The four major English language competencies examined by the exam are listening, reading, speaking, and writing.
There is a computer-based IELTS and paper-based IELTS. For the listening, writing, and reading sections of the IELTS computer-based test, candidates use a computer. The speaking test, on the other hand, is done in front of a trained examiner. There are more test dates available with the computer-based IELTS, and results are ready in 3-5 days. Those taking the IELTS on paper use HB pencils or a pen to complete the reading, writing, and listening portions, and the speaking test is done in front of a trained IELTS examiner.
What is IELTS?
The International English Language Testing System (IELTS) is intended to assist people in working, studying, or relocating to a country where English is the primary language. These countries include Australia, Canada, New Zealand, the United Kingdom, and the United States. During the test, one is judged on the ability to listen, read, write, and speak English. On a scale of 1 to 9, IELTS is graded.
IELTS Exam Requirement For 2023:
In English-speaking nations such as Australia, the United Kingdom, New Zealand, the United States, and Canada, the IELTS exam is necessary for migration as well as academic purposes. It is the only English Language Test that UK Visas and Immigration (UKVI) has approved for visa applicants applying both outside and inside the United Kingdom. Many students are confused as to why IELTS results are so important. A simple answer is that international universities and visa granting authorities must ensure that students will not experience any communication problems while in the country. Their overall IELTS band scores are critical because they must demonstrate a good grasp and command of the English language. Another confusion among students is whether IELTS is a compulsory exam or not. Many institutions may not even use IELTS scores when considering applicants. However, students should keep in mind that if they do not take IELTS, their prospects of receiving a student visa may be harmed.
IELTS Test Procedure:
The total time of the test is 2 hours 45 minutes and is divided into 4 parts:
Writing - 60 minutes

Reading - 60 minutes

Listening - 30 minutes (

10 minutes extra are allowed to transfer answers from the question booklet to an answer sheet)

Speaking - 11 to 14 minutes
IELTS examinations are divided into two categories: Academic and General Training. For both exams, the listening and speaking components are identical. The writing and reading sections, on the other hand, vary depending on which one is taken. The reading, writing, and listening components of the IELTS examinations are all completed on the same day, with no breaks in between. The speaking component of the test can be completed a week before or after the other tests.
IELTS Academic Test: Those applying for higher education or professional registration in another country must take the IELTS Academic exam.
IELTS General Test: Those who intend to migrate to major English-speaking nations such as Canada, Australia, and the United Kingdom take the IELTS General Test. Those who want to enroll in training programs or secondary education, or get work experience in a country where English is the primary language of communication, must take this test.
What is the Importance of IELTS Examination?
Improved English language skills: This exam is designed to evaluate a variety of English language skills, including speaking, listening, writing, and reading, in order to prepare people for real-world scenarios, such as conversing with international students at college, conversing with people at work, or even traveling abroad.
Study abroad facilities: For international students to be admitted, top-ranked and leading educational institutions demand an IELTS score. It is a common eligibility criterion for admission, coupled with a degree and academic results. The higher the institution's reputation, the higher the IELTS score requirement. Academic IELTS is not only required for non-native speakers to attend university but it is also required for those desiring to register with professional organizations. IELTS is a true goal-setter, assisting deserving students in gaining admission to some of the world's most prestigious schools.
Global employment opportunities: As communication is the most basic requirement for work, big brands and corporations require a valid IELTS score. Applicants must be able to speak, write, and communicate in English in order to work for a worldwide employer. For firms with an English-speaking atmosphere and setting, language skills are critical. When it comes to giving work chances, developed economies such as the United States, Australia, Europe, Canada, and the United Kingdom recognize a high IELTS score. A strong IELTS score is necessary for obtaining a work visa.
Permanent residency and immigration services: Non-native English speakers must have an IELTS score in order to be granted visas and permanent residency. When applicants apply for PR or immigration in English-speaking nations, the IELTS score is used as a prerequisite component of the application procedure. In countries such as the United States, Australia, Europe, Canada, and Germany, settling down is always a wealthy and attractive prospect. An IELTS score is required to assess applicants' English language abilities and determine whether they can integrate, communicate, and settle down in an English-speaking environment. Only visa and immigration applications with an IELTS score are accepted and recognized by the immigration authorities and process. The IELTS score aids applicants in their quest to immigrate to and settle in one of the world's most developed countries.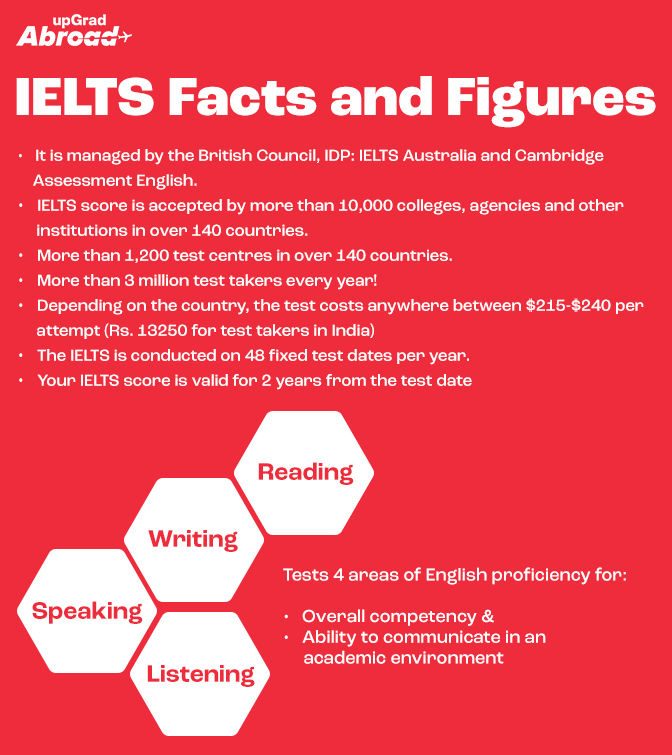 Download E-Books for IELTS Preparation


The IELTS exam is open to anyone, regardless of age, gender, race, nationality, or religion. As such, the IELTS administrators (IDP or British Council) have not set an age limit. Candidates who are under the age of 16 are not encouraged to apply. However, they can take the test if they wish to.
The IDP, which administers IELTS, has not established any IELTS eligibility requirements. The IELTS IDP exam is open to anyone who wishes to pursue higher education or employment in a foreign country (both Academic and General Training). Candidates should, however, carefully check the educational institution's or organization's eligibility requirements before applying.
IELTS can be applied in two ways: online or in person. Applicants can register via phone, SMS, e-mail, or the internet. Applicants must identify a nearby test location and obtain the contact number in order to register via phone. They must contact, provide all pertinent information with ID evidence, and then reserve a date and time slot. Payment must be made via the internet. When it comes to IELTS exam registration, all that is required is valid national ID proof, such as a passport or driver's license.
The easiest and most convenient way to register for IELTS is to do it online:
Visit www.ieltsidpindia.com

Choose "Register for IELTS"

Choose the test day and location (students will see the seat availability status)

Fill out the online application

Pay for the exam with a credit card (Mastercard or Visa)

Get an instant seat reservation and confirmation
More Resources to Read About IELTS:
IELTS Registration Fee:
The IELTS fee for registration in India is ₹ 15,500 but it is subject to changes. Therefore, applicants must confirm the amount when scheduling a test slot and then pay with a digital payment method.
IELTS Cancellation Fee:
Candidates will receive a refund minus a 25% administrative fee if they cancel their IELTS application more than five weeks before the test date.

Candidates will not be refunded if they cancel their IELTS exam less than five weeks before the test date.

Candidates will not be refunded if they do not show up for the test. A cancellation is a term used to describe this situation.

After deducting the local administrative cost, those who can show a medical certificate within 5 days of the test date will be eligible for reimbursement.
IELTS Reschedule Fee:
If candidates need to modify their test date, they must request a test day transfer at least five weeks before their scheduled test date and pay the cancellation/postponement cost. Furthermore, the replacement test date must be no more than three months after the initial test date. For the transfer of the exam date, candidates must pay an administrative fee of INR 3,300, inclusive of all taxes.
IELTS IDP India is the official IELTS conducting body in India. The IELTS test is offered at various times throughout the year. Candidates should choose an IELTS exam date that is convenient for them while also considering the institution's admissions deadlines. To prevent making a last-minute mistake, students who plan to take the IELTS should schedule their exams three to four months before their application deadline. To know more about the dates and centres, visit https://www.ieltsidpindia.com/registration/registration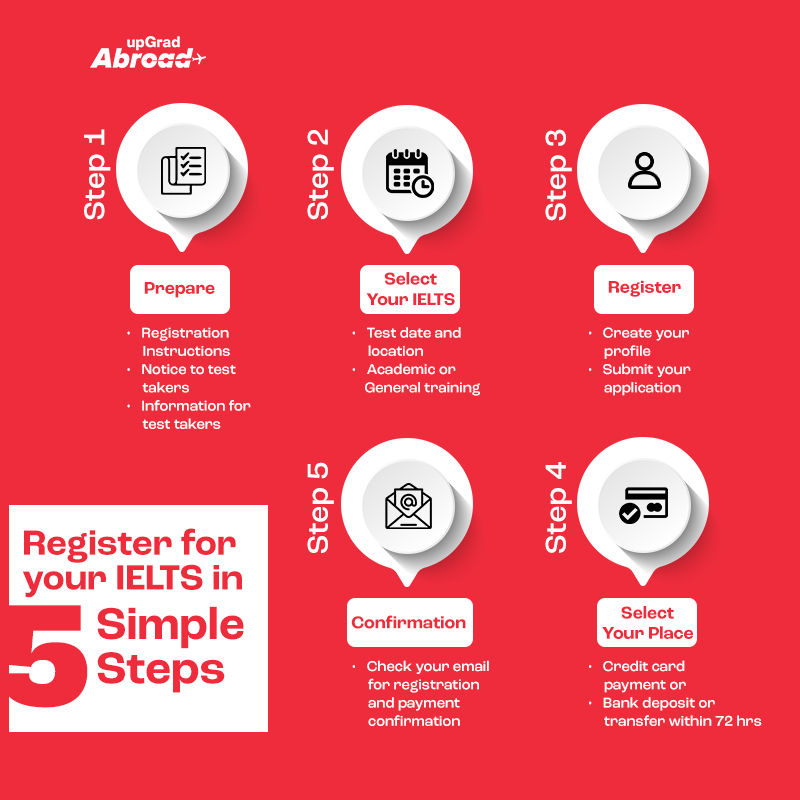 Download IELTS Preparation Guide For Free
Get to know about the latest updates on the IELTS Exam, Eligibility, Preparation Tips, Test procedure, Exam Pattern, Syllabus, Registration Process, Important Exam Dates, and much more!! This guide is a one-stop solution for every IELTS Aspirant who aims to crack the exam with an impressive band score.
Section

Duration and Number of Questions

Content

Marks

Listening

4 recordings

40 questions

30 minutes + 10 minutes is the transfer time

Four recorded monologues and conversations

40

Reading

40 questions

60 minutes

3 passages which can be analytical, factual, discursive or descriptive

40

Writing

2 questions

60 minutes

Writing task (minimum 150 words)

Essay (minimum 250 words)

Every task is graded separately. Task 2 is given more weight in the evaluation process than Task 1.

Speaking

3 questions
11-14 minutes

Part 1: Questions and Answers

Part 2: Speaking on a familiar topic in detail

Part 3: Structure discussion




-
IELTS Reading Section:
The reading modules are broken into three parts, each of which has 40 questions, the majority of which are multiple-choice.

Candidates' abilities are examined in areas such as short answer question fact identification, sentence or summary completion, identifying writer's attitudes/views, and matching list or phrases.

Students will have 30 minutes to complete the portion and 10 minutes is the transfer time.
IELTS Writing Section:
In this section of the IELTS exam, there are only two questions. Candidates will be given a diagram, data, or a table in the first question, and they must then represent the information in their own words. This question has a word limit of 150 words.

Candidates are given an argument, or point of view problems, in the second question. The goal is to evaluate the candidate based on their response's opinion, justifications, ideas, and evidence. Candidates will have 60 minutes to complete this portion in total.
Ace your IELTS Writing Score with our comprehensive list of expert-approved IELTS Writing Task 2 Topics.
Resources to Read About IELTS:
IELTS Listening Section:
This element of the IELTS exam is divided into four sections, each of which includes audio clips. The first would be about social needs, while the other two would be about educational conditions. The audio clips might be a dialogue or a speech that will last approximately three minutes and will only be played once. Short answers, note completion, MCQ, and a variety of other sorts of questions will be asked based on these clips. This section's syllabus includes
Audio 1 - Dialogue based on social situations
Audio 2- A monologue addressing social issues that people face on a daily basis
Audio 3- A conversation between four people about education
Audio 4- A monologue about a topic related to academia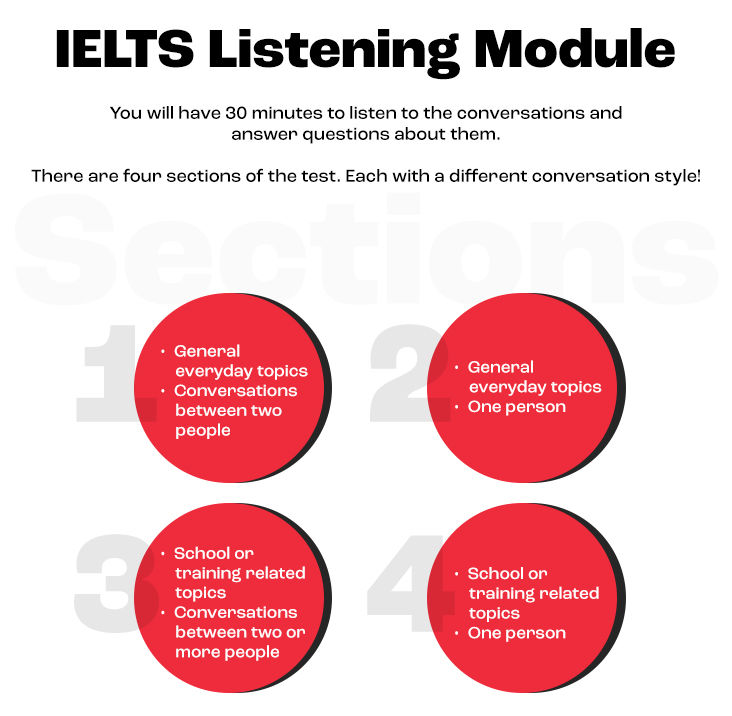 IELTS Speaking Section:
Part 1 (Introduction followed by an Interview) - In this activity, candidates must introduce themselves in around 4-5 minutes by discussing their family, hobbies, interests, educational history, and so on.
Part 2 (Long Turn) - Candidates will be given a flashcard with a topic printed on it for this stage of the IELTS speaking exam. They can think for a few minutes, acquaint themselves with the issue, and then speak for 2-3 minutes about it. Following that, the interviewer may ask some follow-up questions to assess the candidate's knowledge of the subject.
Part 3 (Discussion) - There would be a thorough examination of the topic presented in Part 2 as well as the candidate's speech and comprehension. Candidates will have the opportunity to go deeper into the subject and cover it in greater detail. This task usually takes about 5-6 minutes to complete.
IELTS Exam Score Calculation:
Listening Score
| | |
| --- | --- |
| Listening band score | Correct Answers |
| 9 | 39 – 40 |
| 8.5 | 37 – 38 |
| 8 | 35 – 36 |
| 7.5 | 32 – 34 |
| 7 | 30 – 31 |
| 6.5 | 26 – 29 |
| 6 | 23 – 25 |
| 5.5 | 18 – 22 |
| 5 | 16 – 17 |
| 4.5 | 13 – 15 |
| 4 | 11 – 12 |
The IELTS listening band score chart above depicts the bands awarded to applicants depending on the number of questions properly completed in the listening skills section.
Reading Score
Academic Reading Test

General Training Reading Test

Band Score

Correct Answers

Band Score

Correct Answers

9

40-39

9

40

8.5

38-37

8.5

39

8

36 – 35

8

37 – 38

7.5

34 – 33

7.5

36

7

32 – 30

7

34 – 35

6.5

29 – 27

6.5

32 – 33

6

26 – 23

6

30 – 31

5.5

22 – 19

5.5

27 – 29

5

18 – 15

5

23 – 26

4.5

14 – 13

4.5

19 – 22

4

12 – 10

4

15 – 18

3.5

9 – 8

3.5

12 – 14

3

7 – 6

3

9 – 11

2.5

5 – 4

2.5

6 – 8
Read More About : IELTS Reading Band Score
Writing Score
| | |
| --- | --- |
| Task Achievement (Task 1) | Providing a proper overview and highlighting key features/stage details supported with proper data |
| Task Response (Task 2) | Giving relevant points supporting the given answer stating an opinion, if asked, and providing a clear conclusion |
| Cohesion and Coherence | Organizing ideas and information into paragraphs and having a particular central idea in each paragraph using a range of connectors |
| Lexical Resource | Avoiding errors and using paraphrases and a range of words at places needed |
| Grammar Range and Accuracy | Using a range of grammar tenses and avoiding errors |
Speaking Score
| | |
| --- | --- |
| Fluency | Talking at a length and speaking without pause or hesitation and using connectors that are easy to understand for listeners |
| Lexical Resource | Paraphrasing and using ranges of words using collocation |
| Grammar Range and Accuracy | Avoid grammatical errors. Using a range of tenses and using correct sentence structures |
| Pronunciation | Able to be understood throughout the speech. Shouldn't affect understanding and there should be accurate pronunciation |
IELTS Exam Results:
Students do not have long to wait for their results as IELTS test results are released within a week (online) or 13 calendar days (offline) after they sit for the test. When the results are available, students will be notified via email. They can log into their IELTS account on the IELTS results website to see their scores.
IELTS Test From Home:
IELTS Online will now allow students to take the test from their own home or another suitable location to achieve their study and career goals.
The test will be similar in substance and format to the present IELTS tests offered by pen and paper and computer. A real-time face-to-face speaking test, administered online by qualified IELTS examiners, is included. IELTS Academic will cover all four skills - Listening, Reading, Writing, and Speaking - in IELTS Online. It will also feature the same rigorous assessment by competent examiners, as well as a human-administered speaking test that will provide a true indicator of the test taker's ability to converse properly in English. However, it should be noted that this new IELTS test is only available in nations where tests have been suspended due to coronavirus.
When booking starts on April 22nd, the countries where this test will be available will be announced. Furthermore, it is only accessible for a limited time. On April 22nd, information about the fees will be provided as well. Also, this test is only for those who want to enter higher education.
Preparation For IELTS:
A practice exam is recommended since it is the most effective technique to discover shortcomings. This is an important step in the initial preparation process because it will help students figure out where their strengths and limitations are. It is not only crucial to improve on deficiencies, but it is also necessary to build on strengths in order to lay a firm foundation for the exam.
Before a student begins practicing, it's extremely important that they know what to expect from the test format. They should familiarize themselves with it by reviewing the content of the test, as well as the question and task types for each section.
One of the most common mistakes students make is concentrating solely on the IELTS exam. They take a lot of IELTS practice exams, but they don't realize how important it is to improve their English. Students should begin studying for the exam at least 3–6 months ahead of time.
Important Tips For IELTS Exam
Candidates should focus on vocabulary, tenses, grammar, and sentence structure equally.

Candidates should write precise, relevant answers and avoid writing long paragraphs and sentences.

Candidates should conform to the word limits in order to finish the exam in the time allocated.

Candidates should test themselves in 2 hours and 45 minutes time-frame just like on exam day. This will help them get to know what it feels like to take the reading, writing, and listening tests consecutively.

Candidates should not spend too much time on the questions they can't find an answer to. They should move to the next question and get back to that question if they have any time left at the end.

Candidates should practice both British and American accents, as some numbers and words are pronounced differently.

Focus on grammar is very important and it should be made sure that all the tasks are grammatically correct.

Candidates should make sure that they have a good vocabulary and maintain the right pronunciation for all the test papers.
Download IELTS Sample Papers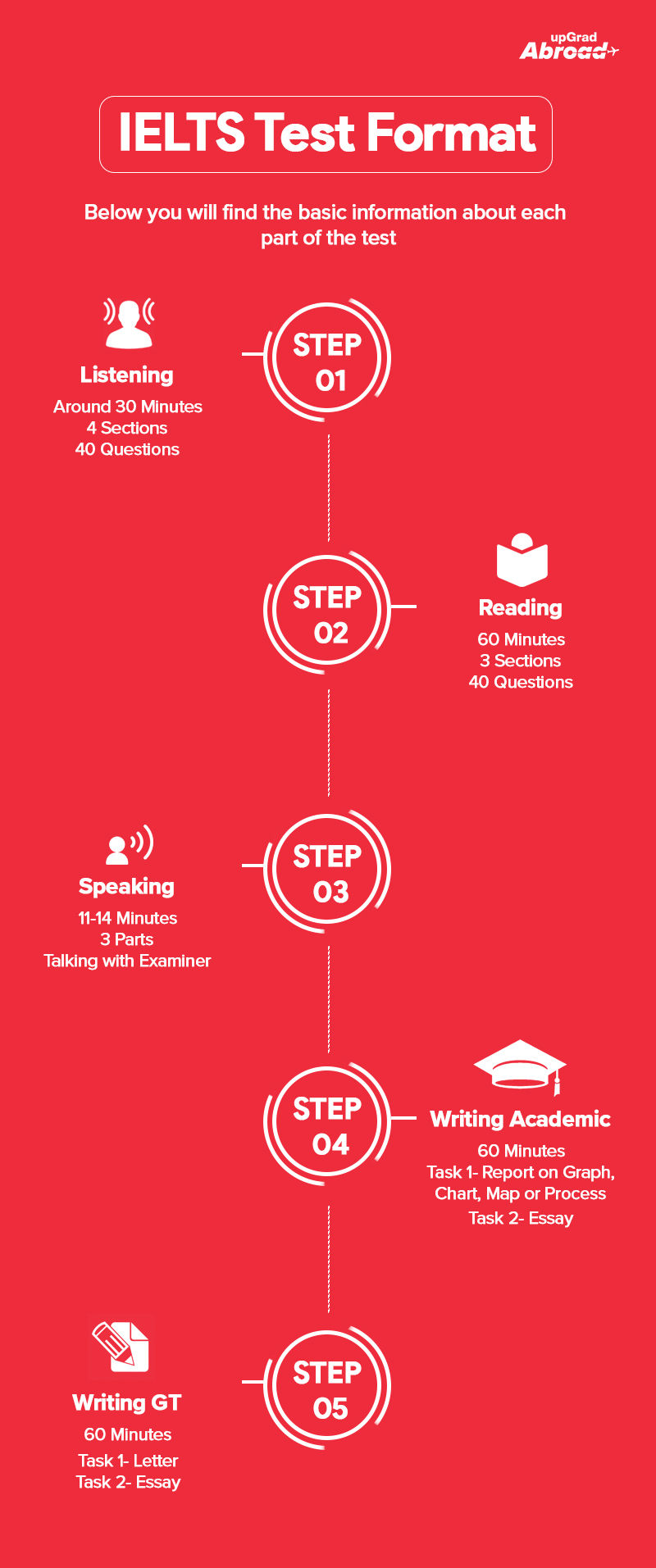 Frequently Asked Questions
Q. What is the full form of IELTS?
IELTS stands for International English Language Testing System. It was introduced in 1989. Since 25 July 2021, all IELTS tests are conducted by IDP and all TRFs will be issued by IDP. The testing system is designed to examine the ability of non-native English speakers who desire to get employed or study in Anglosphere countries.
General Training Module: It is done for immigration purposes or for those who are looking to acquire work experience.
Academic Module: It is applicable for those who are looking to enter foreign universities with the desire to study and practice in English-speaking countries only.
Moreover, a separate test is conducted by IELTS partners known as IELTS life skills. In this, the candidate needs to prove their English speaking and listening skills at the CEFR level.
Q. Which IELTS test do I take?
If a student wants to study in an English-speaking country, the IELTS Academic test should be taken. Whereas, the IELTS General Training test should be taken for immigration or work.
Q. Who accepts IELTS?
The UK, Australia, New Zealand, the US, and Canada are the most common nations where IELTS is accepted for university admissions. The exam focuses on the test taker's ability to communicate in four core English language skills: listening, reading, speaking, and writing.
Q. Can you take IELTS online test from home?
People who take IELTS online have complete control over how they take the test. It is entirely up to them whether they take their test at home, in a testing centre, on a computer, or with paper and pen.
Q. Why choose IELTS?
IELTS prepares students for real-life situations including conversing with coworkers or even traveling overseas. Big companies and corporations require a valid IELTS score since communication is the most basic necessity for a job. To work for a global firm, applicants must be able to speak, write, and communicate in English. In addition, the IELTS score is employed as a required component of the application process when applicants seek PR or immigration in English-speaking countries.
Q. How many days before the IELTS exam can be booked?
Candidates can register up to three months prior to the IELTS test date and latest by one week prior to the exam day. This is contingent on seats being available in the city/test centre where they wish to register for the exam.
Q. IELTS exam results come after how many days?
If IELTS is given on paper, the test report will be available 13 days after the test is completed. Whereas, If IELTS is given on a computer, the results will be available in three to five days after the test.
Q. Who conducts the IELTS exam in India?
In India, IDP Education is a recognized organization that conducts the IELTS test.
Popular Study Abroad Destinations
Explore IELTS Reading Samples With Answers
Dyslexia Reading Answers
Here are the dyslexia IELTS reading answers for your perusal along with the passage and questions. This will aid your practice sessions ahead of the examination.
Dyslexia Reading Answers