Highest-Paying Jobs in Australia for Indian Graduates (Freshers)
Highest-Paying Jobs in Australia for Indian Graduates (Freshers)
Updated on 16 November, 2023
Per the Australian Bureau of Statistics (ABS), there is a surge in employment for September 2023 (it increased to more than 14 million) in comparison to August. In fact, the unemployment rate decreased to 3.6% (in September 2023). This leads to more than a quarter of businesses in Australia reporting a high demand for workers and jobs in Australia for Indian graduates (freshers).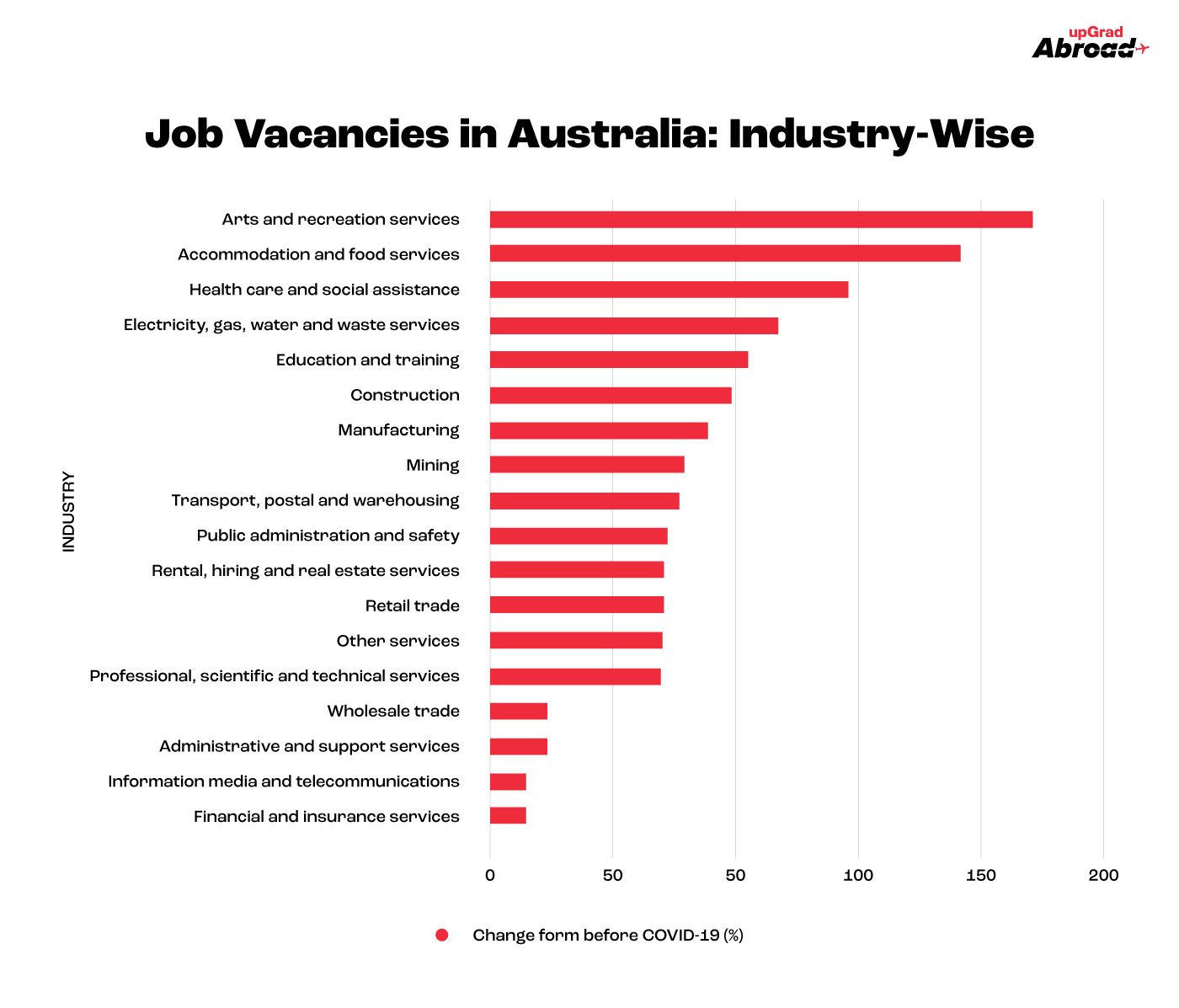 Australia is teeming with job opportunities for graduates. From a stable economy to a healthy living, Australia is considered the best place for Indians to live and work. Almost 2,840 Indian directors and managers are working in Australia. It corresponds to over 10% of the total. This is not all, there are several jobs in Australia for Indian graduates, making it the hotspot of job opportunities.
Still wondering why working in this country should be on your list? Per ABS, the median full-time worker in Australia earned $78,800 in 2022, while the median part-timer took home $32,400. This further highlights lucrative opportunities for Indians.
Just knowing the salary range won't suffice your move to the foreign land. Learn the top reasons to work in Australia, burgeoning sectors, and more.
Per the Department of Foreign Affairs and Trade (2023), India was Australia's largest source of skilled workers.
Why is Australia Best Place for Indians to Work
Australia offers a high standard of living and work-life balance that keeps professionals motivated. Following are some of the reasons why Australia is a better place for Indians to work:
It is one of the developed countries with a robust economy.

Per the National Skills Commission (NSC), five-year employment projections indicate very strong employment growth for professionals (up by 439,500 or 13.2%) and community and personal service workers (up by 186,400 or 14.6%).

Australia is a developed nation and is known for its high-paying scale in comparison to other countries. Per the OECD Better Life Index, the country's average household net-adjusted disposable annual income per capita is A$59,000, more than the OECD annual average of A$ 48,057.

Australia offers a pleasant working environment with flexible timing, where professionals work for 33 to 38 hours a week on average. This allows a proper work-life balance.

Per the Global Liveability Index 2023, two Australian cities have been featured in the top 10 cities: Melbourne (#2) and Sydney (#4). This highlights the top-notch healthcare facilities, culture, and infrastructure.

Employees in Australia get 20 days of paid time off, excluding bank holidays.

Female employees get 60 days to 16 weeks of maternity leave.

Furthermore, migrant workers in Australia have the same workplace entitlements and protections as all other Australian employees.

Australia is an English-speaking country. So, there is no language barrier if you are proficient in English. Moreover, Australia welcomes people from diverse backgrounds to work and contribute to its robust economy.

Environment plays an indispensable role in the well-being of professionals. Better air quality is a compelling reason for many Indians to live and work in Australia. The country's particle pollution from fine particulates (PM2.5) levels are 6.7 micrograms per cubic meter, lower than the annual guideline limit of 10 micrograms per cubic meter set by the World Health Organization (WHO).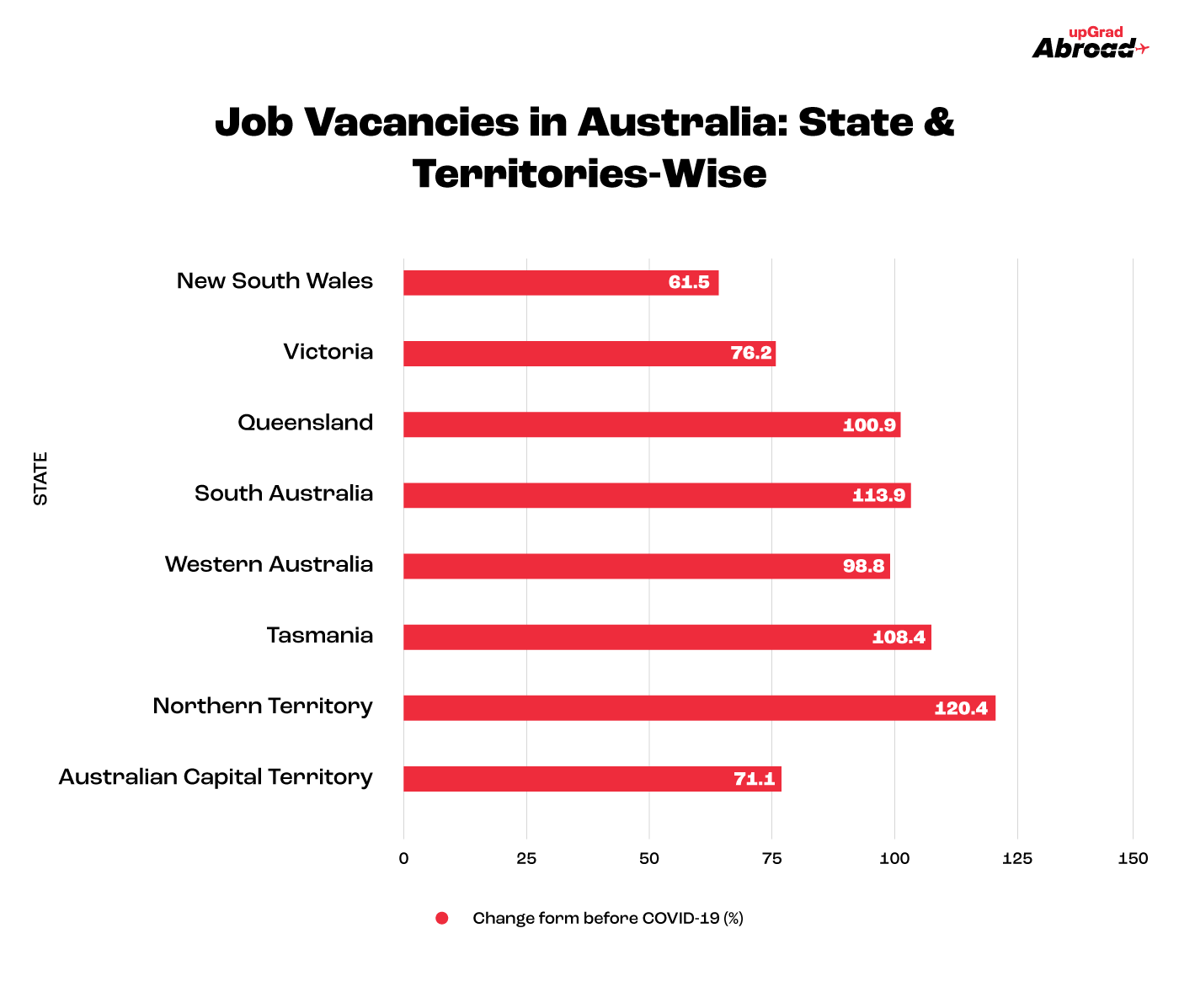 Salary for Various Jobs in Australia
Here is the list of different jobs in Australia for Indian graduates.
Occupation

Job Profile

Annual Average Salary (AUD)

Accountant

Management Accountant

$90,000

Accounting Clerk

$50,000

Financial Controller

$85,000

Bookkeeper

$69,000

Finance Director

$203,000

Engineer

Software Engineer

$108,000

Design Engineer

$111,970

Technical Engineer

$105,716

Service Engineer

$90,000

Traffic Engineer

$97,000

Civil Engineer

$87,000

Civil Engineer Designer

$132,944

Technical Director

$189,500

Structural Engineer

$83,000

Site Engineer

$99,000

Environmental

Research Scientist

$103,557

Agricultural Scientist

$95,000

Environment Advisor

$110,000

Geophysicist

$107,000

Environment Consultant

$80,000

Designer

Graphic Designer

$72,500

Freelance Designer

$70,000

Visual Designer

$86,000

Design Manager

$141,551

Web Designer

$75,000
Source: Glassdoor
Courses that Offer Jobs in Australia for Indian Graduates
If you plan to study in Australia, it would be a prudent call to know the best courses for you and the cost of studying. The average annual tuition fees can hover between $22,000 and $50,000, based on the course. Apart from studying for a master's, bachelor's, or doctoral degree, you can also explore other options.
When migrating from India to Australia to study as an Indian graduate, you can take a short-term course that helps you gain theoretical and hands-on experience in the area of the job you are interested in. There are various short courses that help to get a job in Australia for Indian freshers. Such courses provide placement opportunities with top recruiters from all over the world.
Here is the list of courses that will help to get jobs in Australia for Indian graduates freshers:
Field

Courses

Job Profiles

Annual Salary (AUD)

Top Recruiters

Computer Science & Information Technology (IT)

Blockchain and Information Systems

Software Engineering

Introduction to Cybersecurity

Data and Analysis

Database Administrator

Software Developer

ICT Manager

$70,000 –$100,000

Atlassian, Microsoft, Google, and Amazon Web Services (AWS)

Education and Social work

Graduate Diploma in Educational Studies

Graduate Certificate in Educational Studies

Certification for Rural Generalists

Teacher, Educational Technologist, and Child Care Teacher

$69,000 –$93,000

Department of Education and Training and Australian Council for Educational Research (ACER)

Agriculture, Environmental, and Related Studies

Short Course for Environmental Performance

Agriculture and Environment Diploma Degree

Diploma of Arboriculture

Outdoor Education Instructor, Horticulturist, and Arborist Representative

$70,000 – $132,500

Australian Department of Agriculture, Department of Primary Industries and Regional Development (DPIRD), and Australian Agricultural Company

Management and Commerce

Diploma in Industrial Engineering and Manufacturing

Certificate in Company Secretary Essentials

Financial Analysis for Officers and Directors

Risk Management Frameworks

Organizational Resilience

Store Manager, Digital Marketing Manager, Quality Controller, Financial Analyst, and Risk Manager

$93,000 – $133,965

BHP, Billiton, Westpac, and Telstra
Source: Glassdoor
Documents Required to Apply for Jobs in Australia
To apply for jobs in Australia from India, you need to have evidence to prove your right to work in Australia. The evidence includes a visa, passport, permanent residence proof, or Australian citizenship certificate. Along with it, you need to have the following documents ready to apply for the job:
Documents for educational qualification

Letter of reference

Photo identification

Work experience certificates

Updated CV or Cover letter

Professional certification or licenses
Apart from the above-mentioned documents, check out a comprehensive list of other relevant documents that you should be aware of.
How to Get Jobs in Australia from India Easily
Following are some tips on how to get a job in Australia from India:
Research the industry:
Always do proper research on the demands and trends of the market. And accordingly, apply for the jobs.
Build your network:
Build a professional network to connect with people and know about job openings. You can build a network through LinkedIn, emails, etc.
Update your CV:
Always send updated CVs and cover letters for different job profiles. Mention the relevant skills and experiences in your CV to show yourself as a good fit for the job.
Be consistent:
You must keep sending applications to the relevant recruiters daily.
Prepare for the interview:
You should be prepared with a Q&A for the interview rounds. Always mention skills that align with your experience and goals in your resume to perform better in interview rounds.
Connect with recruiters and job agencies:
You can connect with recruiters via social platforms like LinkedIn. Job agencies will also help you develop strategies to find relevant work and provide you with many opportunities.
Top Recruiters in Australia
There are several jobs in Australia for Indian graduates (freshers) to kickstart their careers. Some of the big MNCs in Australia and top recruiters are as follows:
Westpac

PwC Australia

CSL Limited

Qantas Airways Limited

Atlassian

BHP

Common Wealth Bank of Australia

Rio Tinto
Related Articles:
FAQs
Which skills are most in demand for jobs in Australia?
The most in-demand skills management, healthcare, sales, communication, leadership, Information and Technology, customer service, marketing, analytical, and research are the most in-demand skills in Australia.
Is it easy to secure a job in Australia for Indian graduates?
No, it is not easy to secure a job in Australia. To find a job with a high salary, you need to acquire relevant skills, be persistent, and work hard to gain experience and knowledge. Your qualifications, interpersonal skills, and knowledge of market trends also affect your chances of getting a job.
Is there any age limit to get an Australian working visa?
There are different categories of Australian working visas. All these visas have their age limit. However, most Australian visas have a maximum age limit of 44 years.
What is the starting salary of freshers in Australia?
The starting salary of freshers in Australia in 2023 ranges from A$54,266 to A$63,000.