What is ACT? Eligibility, Important Dates & Format
Updated on 30 March, 2023

Mrinal Mandal
Study Abroad Expert
ACT (American College Testing) is a standardized examination that is taken by high school students to secure admission to their desired colleges in the United States of America (USA) and some English-speaking countries. The test measures students' readiness to enter college and provides colleges with the necessary data to evaluate undergraduate applicants. The ACT exam assesses the mathematical, written, scientific and verbal skills of the candidate. It comprises four sections - English, Math, Reading, and Science. There is also an optional Writing test, which an aspirant might be required to take depending on the admission criteria set by the college/university.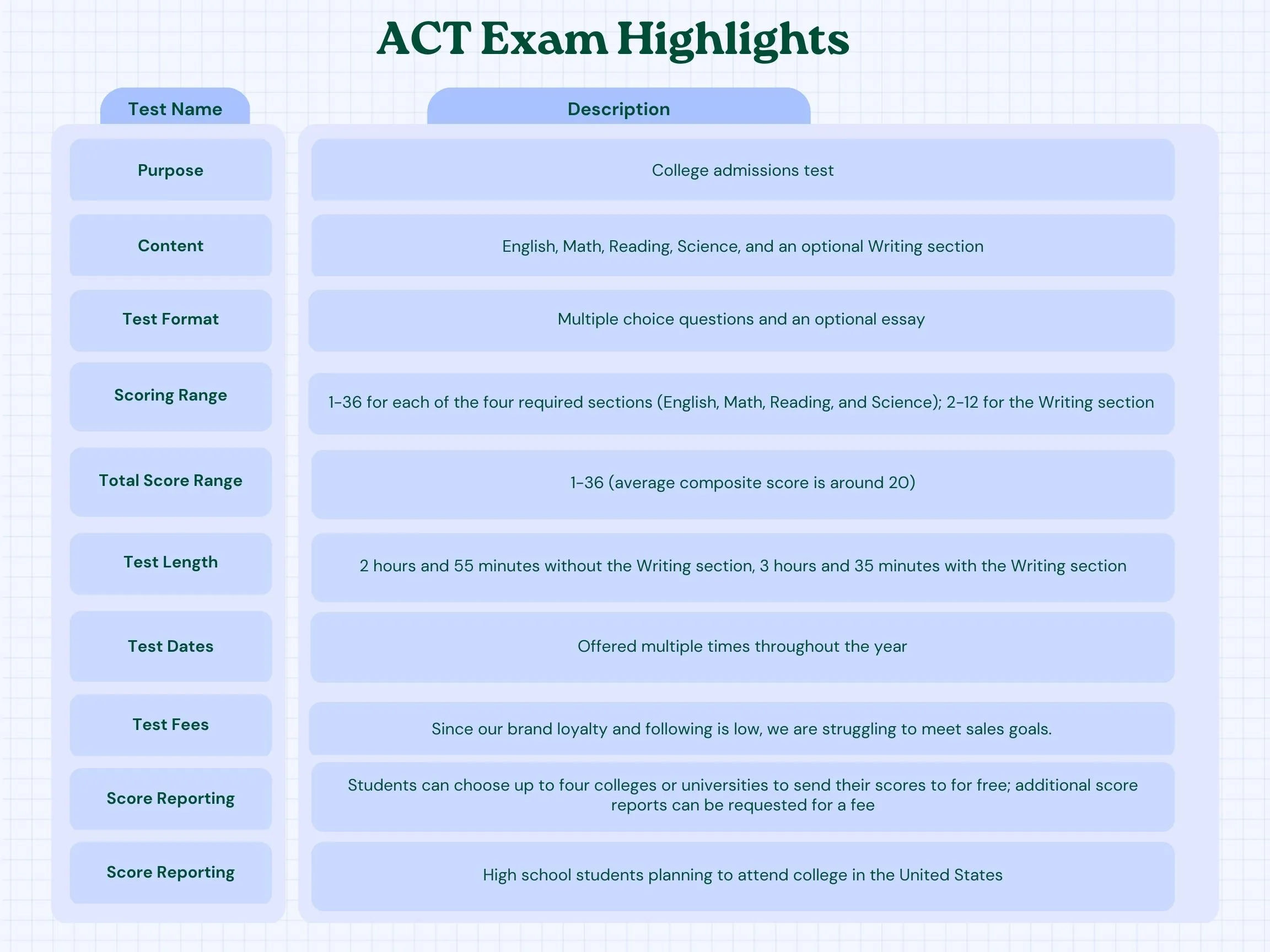 Who can take the ACT test?
There is no age limit or requirement for the ACT test-takers. However, it is mostly taken by high school graduates to enter college. It can also be taken by students from sixth to ninth grades.
High school graduates have to mandatorily take the test to prove their readiness to enter college

Students in grades 6, 7, 8, and 9 can also take the test

Those below 13 years of age can't register for the ACT entrance exam

There is no upper age limit prescribed by the conducting body of ACT

Applicants must have a valid passport. This serves as an identification card

The candidate or parent/guardian must possess an international Debit/Credit card to pay the test charge

Applicants must take the test at least two months prior to the college/university deadline. This is suggested as the result is declared between two to eight weeks after the ACT test

Though there are no separate eligibility criteria for the ACT, students should meet the course-wise eligibility criteria set by the college/university they are applying to
How to register for the ACT exam?
A candidate will have to register for ACT test online. Though there is an offline option, the online one is faster, and it will approximately take him/her 30 minutes to complete the process. All that is required is a credit card/voucher, academic documents, digital headshots, and an email address.
Create a MyACT account on www.global.act.org

Sign in to the MyACT account and fill out the application form

Pick a test session

Select the desired date and the option (with or without writing)

Choose four colleges that would deliver the ACT scores

Make the payment

Upload the photograph
Read more: ACT Writing Test
ACT 2022 - 23 Important Dates
Morning and afternoon sessions will be offered for each of the two ACT exam dates.
Test Date

Registration Deadline

Late Registration Deadline

Late Fee Required

Photo Upload Deadline

April 2, 2022

February 25

March 11

March 25

June 11, 2022

May 6

May 20

June 3

July 16, 2022

June 17

June 24

July 8

September 10, 2022

August 5

August 19

September 2

October 22, 2022

September 16

September 30

October 14

December 10, 2022

November 4

November 11

December 2

February 11, 2023

January 6

January 20

February 3

April 15, 2023

March 10

March 24

April 7

June 10, 2023

May 5

May 19

June 2

July 15, 2023*

June 16

June 23

July 7
ACT Fee
The ACT test fee is non-refundable, except for the optional writing test fee which is refundable if requested through a written document.
| | | |
| --- | --- | --- |
| ACT fee with no writing option | $171.50 | Inclusive of a report for the candidate, his/her school, and four colleges of choice, only if codes were provided by them during the registration. |
| ACT fee with writing option | $196.50 | Inclusive of a report for the candidate, his/her school, and four colleges of choice, only if codes were provided by them during the registration. |
| Test option change | $40.00 | If a candidate is absent on the test day, the writing test fee is refundable on written request or if they switch to ACT (no writing) before the test date. |
Additional charges
The additional fee is added to the test charge.
| | | |
| --- | --- | --- |
| Late registration fee | $36 | Applicable when the candidate registers after the deadline. |
| Change fee | $40 | Applicable when a candidate wants to make a Test Date Change or Test Center Change |
| Score reports for 5th and 6th colleges | $16 | Ha to be requested online before the test date and is refundable on written request if the test is not taken. |
The ACT exam comprises four compulsory sections and one optional section, let's understand each of them in terms of the number of questions asked and the time allotted.
| | | | |
| --- | --- | --- | --- |
| Sub-categories | No of questions | Time allotted | Types of questions |
| English | 75 multiple-choice questions | 45 minutes | Tests sentence structure, punctuation, grammar, and rhetorical skills. |
| Reading | 40 multiple-choice questions | 35 minutes | Four paragraphs, from the genres prose fiction, humanities, social studies, and social sciences, with 10 questions each. |
| Science | 40 multiple-choice questions | 35 minutes | Science-based paragraphs are presented with research summaries, graphs, tables, and charts. |
| Math | 60-multiple choice questions | 60 minutes | Geometry, Trigonometry, Algebra I and II. |
| Writing (Optional) | 1 essay prompt | 40 minutes | Complements the English and Reading tests. |
ACT Exam Test Centers
The ACT exam in India is conducted multiple times a year across major cities such as Ahmedabad, Bhubaneshwar, Bangalore, Chennai, New Delhi, Gurgaon, Hyderabad, Kolkata, Indore, Jaipur, Mumbai, Noida, Vadodara, and Pune.
How is the ACT score calculated?
To know about ACT exam, it is necessary to understand the scoring system of the examination. Each section of ACT - English, Mathematics, Reading, and Science is scored on a point scale of 1 to 36. The composite score of the examination is calculated by taking an average of all four sections. Students opting for the optional writing test are awarded a writing score of that section ranging from two (lowest) to 12 (highest), without any effect on the composite score and the average score ranges from six to seven. Here are the ways in which a score is calculated in the ACT exam.
Step 1: Correctly answered questions are counted for each section. These scores are called raw scores. Each question carries one mark and there is no negative marking.
Step 2: The raw scores are changed into scale scores. The scale score is the final score and ranges from 1 (lowest) to 36 (highest). It is important to note that raw score doesn't translate to scale score. The conversion of the raw score into scale score is an equating process and is done to ensure consistency of scores across all test dates, irrespective of the level of the examination.
Step 3: The average of scale scores (as calculated for all four sections) is called the composite score, which is rounded off to the nearest whole number if it is in a fraction.
Each ACT test has a different raw score to scale the score conversion chart, depending on the level of the examination.
Read More: Act Reading Test- Overview, Syllabus
Sample ACT scoring chart
Find below the sample ACT scoring chart, as available on the testing agency's website:
Scale Score

Raw Scores

Scale Score
English
Mathematics
Reading
Science

1

0-2

0

0

0

1

2

3-4

—

1

—

2

3

5

1

2

1

3

4

6-8

—

—

2

4

5

9-10

2

3

—

5

6

11-13

—

4

3

6

7

14-15

3

5

4

7

8

17-19

—

6

5

8

9

20-22

4

7

6

9

10

23-24

5

8

7

10

11

25-26

6-7

9-10

8

11

12

27-28

8-9

11-12

9

12

13

29

10-11

13

10

13

14

30-32

12-14

14-15

11

14

15

33-34

15-18

16-17

12

15

16

35-37

19-23

18

13

16

17

38-39

24-26

19

14-15

17

18

40-41

27-28

20-21

16

18

19

42-44

29-30

22

17-18

19

20

45-47

31-32

23-24

19-20

20

21

48-50

33

25

21-22

21

22

51-52

34-35

26

23

22

23

53-55

36-37

27-28

24-25

23

24

56-57

38-40

29

26-27

24

25

58-59

41-42

30

28-29

25

26

60-61

43-44

31

30

26

27

62-63

45-46

32

31-32

27

28

64-65

47-48

33

33

28

29

66

49

34

34

29

30

67

50-51

35

35

30

31

68

52

36

36

31

32

69

53

37

—

32

33

70

54

—

37

33

34

71-72

55-56

38

38

34

35

73-74

57-58

39

39

35

36

75

59-60

40

40

36
How to Check ACT Exam Results?
Once the scores are revealed, aspirants can check them using their MyACT account. The ACT exam result is valid for a duration of five years. The steps to check the scores are as follows:
Scores of multiple-choice questions can be seen two business days after the test for those who have taken the computer-based test. Candidates who had taken the test in pen-and-pencil format can check their scores two to 10 weeks after the exam.

Scores for the Writing test are available two to three weeks after the release of multiple-choice scores.
Tips on how to prepare for a high ACT score
Prepare a strategy for each section: One should not rely on others to chalk out a plan for their ACT exam preparation. Candidates should understand their strengths and weaknesses and plan accordingly to tackle each section in their unique way.

Don't leave any questions: There is no negative marking. So, candidates should take chances, even if they are unsure. They might not know the correct answer, but they can cross out the wrong ones to ultimately make an informed guess about the correct answer.

Decide on a target score: Analyze the cut-offs for previous years to come up with a target score. Aim for that target score even while taking practice tests.

Use good quality study material: If aspirants are preparing at home, they should ensure that they refer to the best preparation books or material available. Seek help from those who have already achieved a good ACT score.

Take practice exams: Candidates should take full-length practice exams regularly to check progress and to familiarize themselves with the pattern and instructions for each section.
Read More : ACT English Test
Frequently Asked Questions
Q. What is the ACT exam?
ACT exam meaning the American College Testing is a standardized entrance examination for seeking admission to undergraduate schools based in the USA and Canada. It is a multiple-choice exam conducted with the aim of evaluating a candidate's readiness to enter college. The ACT score is a common data point through which the college authorities can compare all applicants on the basis of their mathematics, scientific, written, and verbal skills.
Q. How to prepare for the ACT exam?
Preparing for the ACT examination requires the candidate to keep a few things in mind.
Attempt every question

Decide a target score and focus on achieving it

Construct a different strategy for every section

Practicing is the key

Use study materials that are recommended by experts
Q. What is the duration of the ACT exam?
The ACT exam is conducted for a duration of 2 hours and 55 minutes for students not opting for the optional writing test. For students taking the optional writing test, it is 40 minutes extra, thereby making the total duration 3 hours and 35 minutes.
Q. What is the ACT exam used for?
The ACT examination is used to provide admission to students in undergraduate courses in the USA and Canada. It reflects what the students have learned in high school, and the ACT score serves as excellent information for colleges and universities to select the right candidate.
Q. What is the difference between ACT and SAT exams?
A major difference between the ACT and SAT exams is that unlike the former, the latter does not include a science section. Though SAT tests the scientific skills of students through some other sections, it does not have a dedicated section for science like the ACT.
Q. When is the ACT exam conducted?
The ACT exam is conducted across different cities in India through seven annual test dates. The test is held once in the months of February, April, June, July, September, October, and December.
Q. What is the full form of ACT exam?
The ACT exam full form is American Testing College and is currently administered by ACT, Incorporated. It covers four academic skill areas - Mathematics, English, Reading, Scientific Reasoning, and an optional test for writing.
Study Master Programs in USA

MS in Data Analytics and Visualization in USA
Dual certification - IIITB as well as Yeshiva University. End-to-end support for applications and visa.
Learn More

MS in Data Analytics in USA
Dual certification - IIITB as well as Clark University. World Class Faculty Members & Industry Experts.
Learn More
Important Resources for ACT Exam
Get free Consultation for ACT Exam
TRENDING SEARCHES
Study Abroad Resources
IELTS Study Material
IELTS Exam
Exam