Your Gateway to a Global Career
To Know More
How it works
1

Enroll in
upGradAbroad
Program

2

Receive
Conditional
Offer From
Universities

3

Complete course
and meet English
proficiency
requirements

4

Receive confirmed
offer letter from
universities

5

Fly and Study
on Campus
How it works
Enroll in upGradAbroad program
Receive conditional offer from universities
Complete course and meet english proficiency requirements
Receive confirm offer letter from universities
Fly and Study on Campus
Tell us about yourself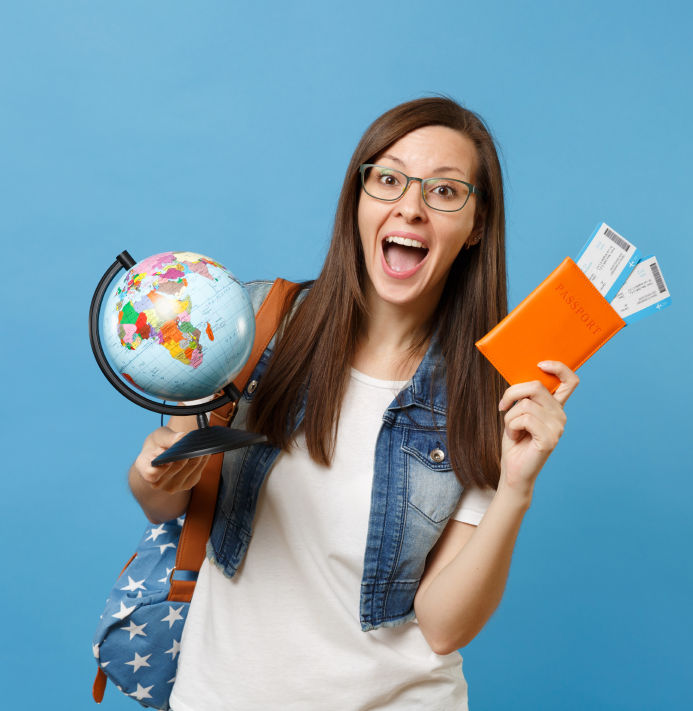 Tell us about yourself
UpGrad Abroad Webinars
Have questions about studying abroad? Register for our upcoming webinars or watch recordings of our old webinars
Register Now
More About upGrad Abroad
Are you ready to go on a courageous, self-discovering, and empowering journey with upGrad Abroad?
Our commitment to fulfilling your dream of studying abroad is no longer restricted to offline classrooms. With upGrad Abroad's Accelerator programs, you can study in international institutions even from the luxury of your homes. With us, students can virtually connect with the best mentors and education professionals from different parts of the world. Our industry-centric courses can help you enter the world of job opportunities internationally. Our courses let you study online from your home for the first year and then transfer directly to the campus of international universities.
With more than a decade of experience, our education specialists will not only provide the right supervision but also guide you during the entire process of visa, documentation, application, SOP - till you finally move into the campus.
Reasons to study abroad
Studying abroad for Indian students come with a lot of perks and special benefits. Here is a list of reasons why students should study abroad.
Get acquainted with a new world:

One of the biggest reasons why you should consider a study abroad program is the opportunity to explore the world. While studying abroad, a person gets a chance to travel to a new country, learn new languages, and get acquainted with a foreign culture.

Paves your path to success with world-class education:

Students pursuing

education abroad

from foreign universities get top-quality education, world-class facilities, and the opportunity to focus on research and practical knowledge. A

study abroad program

will let you explore various aspects of your personality which you might have missed while living in the comfort of your home.

Abundant Career Opportunities:

Studying abroad in a world-class university gives students wings to fly high. The experiences they gain from

an abroad education

prepare them to face upcoming challenges in their careers. Many people aspire to study in the most developed countries to access the best infrastructure, job market, and lifestyle. It helps them settle there and get the best job in the market with a lucrative salary package. Some return to their home country as a

foreign studies

degree grants them the opportunity to get high salaried jobs.

Gain a broader outlook by embracing new culture:

Studying abroad exposes students to fascinating cultures, customs, food, and traditions. Soaking in the new way of life will give you more experience and help you understand life better. The

overseas study

will, in turn, help you become a global citizen by developing an international perspective on things.

Improve your language skills:

Studying abroad gives you an opportunity to master a new foreign language. Learning a foreign language like a native will help you immerse in the new culture and open up new job opportunities abroad.

Discover the new 'You':

The step to

study overseas

is a huge step outside the walls of your comfort zone. Staying in a foreign country all alone will help you to discover your strengths and weaknesses. You might come across many activities or forms of entertainment that might interest you, things that you wouldn't have tried back home. Trying your hands at any of these new interests might let you discover a new side of you that can eventually become your passion. Pursuing

education abroad

will help you transform your personal as well as your professional life.
Why study abroad with upGrad Abroad?
Choosing the right country and university to pursue higher education and build a successful career can be an overwhelming task. upGrad Abroad, the new international education platform by India's leading higher education provider upGrad, has introduced unique study abroad programs. These programs let learners experience world-class education from their homes. Our vision is to enable our learners to study abroad without facing the hurdles of planning and dealing with the complex admission process. Therefore, we have partnered with the best universities globally to deliver relevant overseas education courses in the fields of technology, research, business management, among others.
The traditional pedagogy has taken a back seat now with the evolving online classrooms. Therefore, our study abroad programs have managed to grab a lot of attention from aspirants from across the world. upGrad has a record of turning dreams into reality with its courses and teaching faculty. The courses that upGrad Abroad is working on now are based on the demand of the global market.
What upGrad Abroad brings to the Table?
Earn an international degree from the comfort of your home:

The unique learning model of upGrad Abroad helps students pursue higher

education overseas

from their homes. You can complete the first years of the courses online with a reputed Indian educational institution and complete the rest of the course from the foreign campus of an international university. Students can enjoy both online and offline studies and earn a foreign degree. These benefits make UA Accelerator programs the best options to

study abroad for Indian students.

Save significantly on your Course Fees:

We aim to help students and professionals planning for

abroad education

fulfil their wishes without pinching their pockets. upGrad Abroad's programs have been designed in such a way that a student can save up to 80% of the tuition fees by studying the first year from their home. The

study abroad programs

cost 1/10th of their offline costs

Get Trained for Entrance Tests:

One of the best things about joining upGrad Abroad is that you will be guided by trained instructors to help you prepare for entrance and qualifying exams like IELTS, TOFEL, SAT, GRE, and GMAT to get your visa approval. Our free webinars will give you a good insight into the campus life of foreign universities,

overseas education

, courses, job opportunities, and others.

Study Abroad Programs that save time:

upGrad Abroad's study abroad programs are fast-track courses that help students learn efficiently in a short amount of time.

Study Abroad without IELTS:

IELTS test scores are often mandatory for immigration and getting an

education overseas

. If a high IELTS score is what bothers you while preparing for foreign education, cheer up. You can study overseas without IELTS with the unique study abroad programs put together by upGrad Abroad. This removes a key barrier to

studying abroad for Indian students.

Interactive Courses:

Our

study abroad courses

are interactive, as they provide opportunities for students to interact with their mentors and solve doubts. You can also connect with students from all over the world.

Get assistance on Visa, Scholarships & Preparing Admission Documents:

From planning your expenses and getting educational loans/scholarships to getting assistance on your study visa, our

study abroad consultants

will help you at every step. Our team guides you in preparing application documents and essays before getting into a foreign university.
Read our study abroad blogs to know more about overseas study.
upGrad Abroad UA Accelerator Programs
upGrad Abroad's UA Accelerator Programs can save students a lot of money. These hybrid courses can be pursued after Class 12 or graduation and are spread across various fields like management, data science, technology, cybersecurity as well as business administration. For instance, if a learner opts to pursue a Master in Data Science in Germany, for the first year he/she will be studying online with IIIT, Bangalore, and in the second year, he/she will move to Germany and study offline at IU University. These UA Accelerator Programs will help a learner save close to INR 20 lakhs along with other expenses. This particular course is ideal for those who wish to build a career as well as explore opportunities in Germany.
Best Study Abroad Programs
Here are some of the best options to study overseas offered by upGrad Abroad:
Here are some of the most popular Bachelor's Accelerator Programs with upGrad Abroad:
Bachelor of Business Administration with Yorkville University, Canada
The Bachelor of Business Administration (BBA) program in collaboration with Chandigarh University (CU) and Yorkville University is a 4-year course. Students study online with Chandigarh University for the first two years and then study overseas at the Yorkville University campus in Canada for the 3rd and 4th years.
Following are the specializations under this course:
Project Management
Supply Chain
Energy Management
Accounting
General
Bachelor of Business Administration with Torrens University
The three-year study abroad course is conducted in collaboration with Chandigarh University and Torrens University, Australia. Students will be studying online for the first year at Chandigarh University and complete the second and third years on campus at Torrens University.
The course specializations include:
Business Marketing
Sports Management
Business
Entrepreneurship
Event Management
Bachelor of Business Administration with James Cook University, Australia
It is a 3-year course offered in collaboration with Chandigarh University and James Cook University, Australia. The course involves one year of online and two years of offline studying. Students receive industry mentorship and a degree from James Cook University.
Specializations of the study abroad program include-
Bachelor of Business
Bachelor of Business, major in Hospitality & Tourism Management
Bachelor of Business, major in International Business
Bachelor of Business, major in Management
Bachelor of Commerce
Bachelor of Tourism, Hospitality, and Events
Bachelor of Computer Application with James Cook University
The three-year Bachelor of Computer Applications/Bachelor of Information Technology course is conducted in collaboration with Chandigarh University and James Cook University. The built-in IELTS and PTE modules of the program make it a perfect option to study abroad for Indian students.
Bachelor of Computer Applications from Northern Arizona University
The Bachelor of Computer Applications/Bachelor of Science is a four-year course offered in collaboration with Chandigarh University and Northern Arizona University (NAU), USA. Students get to study on-campus at NAU and can choose either Applied Computer Science or Computer Science for specialization.
Bachelor of Business Administration with University of Canberra, Australia
The Bachelor of Business Administrator course in partnership with Chandigarh University and the University of Canberra follows a hybrid learning model with which students get to study both online and on-campus in Australia.
Specializations include:
Business (Management)
Business (International Management)
Business (Human Resource Management)
Business (Sport Management)
Business (Entrepreneurship & Innovation)
Business (Service Management)
Event and Tourism Management
Accounting
Commerce (Accounting)
Commerce (Finance and Banking)
Commerce (Business Economics)
Bachelor of Computer Applications from the University of Canberra, Australia
This Bachelor of Computer Applications/Bachelor of Information Technology program in collaboration with Chandigarh University and the University of Canberra is a 3-year course offered by upGrad Abroad. Students will be studying online for the first year with Chandigarh University, the second and third years are completed offline at the University of Canberra campus in Australia.
The course specializations include-
Business Informatics
Software Engineering
Information Technology
Engineering Network and Software Engineering
Engineering (Hons)
You can also check the Master's Accelerator Programs of upGrad Abroad:
Master of Business Administration with IU Germany
This Master of Business Administration study abroad program is an 18-months-long course offered by upGrad Abroad in collaboration with IU Germany. While pursuing the course students study the first two semesters online via online sessions and live lectures, while the remaining six months (semester 3) are completed on-campus. The degree is offered by the International University of Applied Sciences, Germany. It has the following specializations:
Finance & Management
Big Data Management
IT Management
Engineering Management
International Marketing
Master Degree in Data Science with IU Germany
This master's course in collaboration with IU Germany and IIIT Banglore follows a blended learning structure. The first year of the study abroad program is conducted online with IIIT Bangalore. The second-year is conducted on-campus at IU Germany. It offers six specializations at IIIT Bangalore and ten electives at IU Germany
Master in International Management with IU Germany
The two-year-long master's program is offered in collaboration with IMT Ghaziabad and IU Germany. The study abroad program provides an opportunity for students to study for the 1st year from home and then migrate to the IU Germany campus for offline classes. Students can choose between International Marketing and Finance & Marketing for specialization.
You can also check our Accelerator Courses by Country:
Get in Touch With Our Study Abroad Consultants
The entire process from making up your mind to study abroad to finally landing up in the classroom of a foreign university is pretty long and time-consuming. Not just that, it involves several steps like getting the right language test score, admission, immigration formalities, finance, air tickets, accommodation, insurance, etc. These might seem a bit overwhelming at times which gives rise to the need for dedicated consultants for abroad study. These study abroad experts can sort the steps on your behalf. However, students need to be cautious while approaching consultants and look out for dubious service providers.
upGrad Abroad's in-house study abroad consultants have years of experience in the field of foreign education. These industry experts can streamline your steps and guide you throughout your study abroad journey. You can reach out to our study overseas consultants for queries regarding exams required, choosing the right university, living costs, admission procedures, course comparisons, and all other aspects of studying abroad. You can also contact the counsellors posting a query on the upGrad Abroad website.
Study abroad: FAQs
Why study abroad and not in India?
The main reason for studying abroad is the excellent education system, faculty, and infrastructure in foreign institutions. A degree from a foreign university also gets you international exposure and increases your career opportunities in the international job market.
Which exams to give to study abroad?
International entrance exams to study abroad include language proficiency tests like TOEFL AND IELTS. This is followed by common course qualifications tests like GRE, GMAT, SAT, MCAT, and LSAT. Colleges and universities may also have special entrance exams.
Which countries are best to study abroad?
The USA, Canada, Australia, the UK, and Germany are some of the best countries to study abroad.
What is a UA Accelerator Program?
UA Accelerator Programs are courses that are designed to help international students develop the skills, knowledge, and quality that they need to pursue higher education overseas. upGrad Abroad program has introduced courses that act as a pathway for learners to complete their higher education at international colleges and universities.
What are the requirements for study abroad programs?
The requirements for the study abroad programs are different from each other. Enrolling in the courses offered by upGrad Abroad requires a minimum score of 50% in your class 12 or graduation. English proficiency tests like IELTS are a must at some universities. upGrad Abroad has in-built TOFEL/IELTS/PTE training modules to meet the requirement of universities and countries.
How much does it cost to study abroad?
The cost of studying abroad depends on the country, university, and course. But with upGrad Abroad you save a lot of expenses as you get the chance to study the first year from the comfort of our home. Check out study abroad programs on upgradabroad.com and fulfil your dream of overseas education.
Read More