SAT Exam Syllabus and How to Prepare for it
SAT Exam Syllabus and How to Prepare for it
Updated on 12 October, 2023
The Scholastic Assessment Test or SAT is a standardized test used by most US universities for their admissions process. The SAT evaluates an applicant based on their skills in mathematics, evidence-based reading, and writing. One must have a clear understanding of the SAT exam pattern and the SAT exam syllabus before preparing for the test.
Around 3 million students take the SAT every year to get admission into universities in the US. Aspirants should be acquainted with the SAT test syllabus, SAT question paper formats, and SAT exam subjects. The test has a total of three sections - Reading, Writing, and Mathematics. Earlier, there existed an optional essay writing section which was discontinued by the College Board in June 2021.
All About SAT Exam
| | |
| --- | --- |
| Conducted by | College Board for International Candidate |
| Duration | 180 minutes |
| Exam type | For undergraduate courses |
| Language | English |
| Sections | Three (Reading, Writing, and Maths) |
| Number of questions | 154 |
| Mode of exam | Pen-paper |
| Score range | 400-1600 |
| Negative marking | No |
Updates for SAT Syllabus
According to the latest update on SAT syllabus 2022, SAT Subject Tests and the SAT optional essays have been discontinued which has now reduced the duration of the exam by 50 minutes. The exam is now only of 3-hr duration.
Type of SAT exams
It is of two types, the SAT General Exam, and the SAT Subject Exam. The first one is standard for those seeking admission at an American university.
1. The SAT General Test
It measures the general readiness of aspirants applying to a college and their ability to solve basic problems in language and mathematics. SAT test syllabus assesses the candidates' written, verbal, and mathematical skills and is generally used by undergraduate colleges for admissions. The SAT syllabus for the General Test assesses a candidate on the basis of their general knowledge as well as critical reasoning.
2. The SAT Subject Test (Discontinued now)
It aims to assess students based on their skills in specific subjects that they choose as their specialization. SAT subject test syllabus judges the takers' proficiency in individual subjects in the streams of science, mathematics, and languages. Colleges use SAT subject tests for admission and course placements. The duration of the assessment is 1 hour and students are scored on a scale of 200 to 800. Colleges may also exempt students from certain college requirements like a first-year composition class or foreign language if they have a good SAT Subject Test score.
Check Out Our : SAT Score Calculator
A Comprehensive Explanation of SAT Exam Syllabus for Indian students
1. Reading
This is where the candidate's proficiency in English is tested, and they are scored between 200 to 800. They must have command over the standard usage of the language and be able to express complex ideas. They will be required to read and interpret the concepts provided to them, establish the intentions of the author, and offer meaningful insights.
a) The Reading part of this section is 65 minutes long and has 52 multiple-choice questions based on five passages. The five passages consist of four standalone passages and a pair of passages that need to be read together. Both the paired set and standalone passages are each 500–750 words. The paired set of passages has infographics such as tables or charts. The questions focus on developing a clear understanding of the passages and are of three types: factual, rhetoric, or synthetic. The factual questions will have a direct or indirect reference from the main concept of the passage, rhetoric questions will require the aspirants to debate the tone and meaning, and the synthetic questions will need them to establish relationships between the ideas in the passage or draw conclusions from the additional graphics and information. The SAT exam syllabus in the Reading test is as follows:
One passage from a work of sociology, psychology, economics, or some other social science

One or two passages from a text in the Great Global Conversation or U.S. founding document such as the U.S. Constitution. The Great Global Conversation includes works from across the world and focuses on topics such as human dignity, justice, or freedom, for instance, a speech by Nelson Mandela

One literary passage from a work of fiction.

Two passages from scientific works to examine foundational concepts and developments in biology, earth science, physics, or chemistry
2. Writing
The Writing part is for 35 minutes. It has 44 multiple-choice questions which have to be answered based on four passages. This section will test the candidate's ability to analyze the body of the passage and rectify errors. This means that they need to have superior knowledge of grammar, spelling, and general construction of sentences. They will also have to identify misinterpreted graphical data, back it up with supporting details and add relevant matter to sharpen the argument. The passages they will find in this section will be of four kinds - narrative, argumentative, informative, and explanatory. The four passages are composed of 400–450 words each and the difficulty of the passages varies, while some are more challenging, others are straightforward.
The passages are based on a variety of topics, such as science, careers, humanities, and history and social studies. The format and purpose of each passage vary and are as follows:
At least one narrative is present in the Writing section, meaning it describes events in a storylike way. It might describe the sequence of events in a scientific experiment. This passage is not based on a work of fiction, but it could be a nonfiction account of a historical event

The other passages are either informative, explanatory, or argumentative, which means that the candidate is required to convince or persuade the reader of something
3. Mathematics
This 80-minute-long section comprises 58 questions to evaluate the candidate's mathematical reasoning. The score range is between 200 to 800 and has 45 questions in a multiple-choice format. The remainder consists of 13 grid-in questions in which they have to answer by circling appropriate numbers after solving the problems. The SAT Math section is further divided into a 'no calculator' and a 'calculator' segment, where there are 15 multiple-choices plus 5 grid-ins and 30 multiple-choices plus 8 grid-ins respectively. They will also have access to formulas before they begin to answer this section for reference.
Recommended Reads:
Download these E-books to boostup your preparation


Understanding the SAT Exam Pattern
The syllabus of SAT exam is divided into three broad categories of evidence-based reading, writing and mathematics. It is based on the courses students have already studied in schools for years. Students will have a better understanding of the SAT exam pattern and SAT exam subjects from the following table:
Sections

Questions

Duration

Score range

Reading

52 multiple-choice questions

65 minutes

200-800

Writing

44 multiple-choice questions

35 minutes

Calculated with Reading section

Mathematics

38 (With 8 Grid-in)

20 (With 5 Grid-in)

With calculator- 55 minutes

No calculator- 25 minutes

200-800

Total

180 minutes

400-1600
Description of SAT Exam Sections
| | |
| --- | --- |
| Writing | This section consists of 11 questions in which the candidates have to rectify the errors in the sentences. After rectifying the errors, candidates have to replace the sentences with suitable alternatives. |
| Reading | This section too has 11 questions that are based on reading passages. It tests the ability of the candidate to comprehend the written text. |
| Mathematics | In this section, candidates are required to answer 58 questions in 80 minutes. Mostly, the questions are related to Algebra, Geometry, Statistics and Probability. |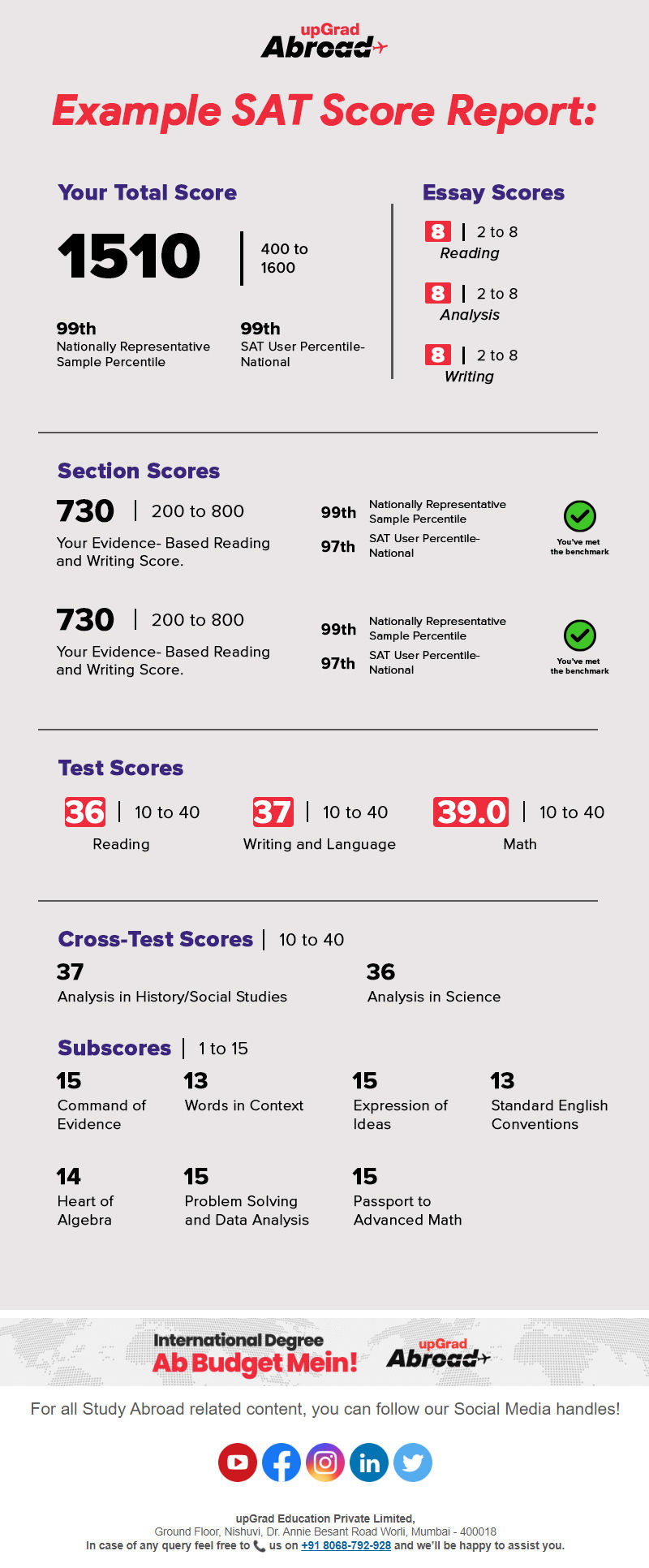 Types of Questions in SAT Reading Test
The questions asked in the reading test are based on the syllabus of SAT for this section. The answer is hidden within the passage itself and has nothing to do with a student's prior knowledge of the subject.
These questions are divided into three broad categories:
How the author uses evidence: The questions require the candidate to demonstrate how the author is putting evidence to use to support a claim. They might be required to:
Establish a relationship between an informational graphic and the paired passage

Find the part of a passage that supports a point the author is making

Look out for evidence in a passage that supports the answer to a previous question
Understanding words in context: The students have to identify the meaning of a word in context. The "in context" part requires them to use context clues in a passage and find out which meaning of a word or phrase is being used. Some other questions test their ability to decide how an author's choice of words shapes the style, meaning, and tone.
Analysis in history/social science: A reading test has a passage in the fields of history, social studies, and science in which students will be asked questions that require them to utilize their reading skills to succeed in those subjects. For instance, they might be presented with an experiment and then asked to interpret data, examine hypotheses, and consider its implications.
You can also read: SAT-accepting colleges in Australia
Types of Questions in SAT Writing Test
The questions in SAT Writing test are of two main types - the one where the candidate has to improve the expression of ideas, and another one where they have to recognize and correct errors in grammar, punctuation, and sentence structure.
Expression of Ideas
Aspirants are asked to improve the quality and substance of the writer's message and are of three kinds:
Development questions are based on main ideas like thesis statements and topic sentences, quantitative information in tables, graphs, and charts, and supporting details, focus

Organization questions focus on the placement of information and ideas, their logical sequence, as well as writing effective introductions, transitions, and conclusions

Effective Language use questions assess the candidate's ability to curate the answer with precision and eliminate wordiness, combine sentences to accomplish a particular rhetorical effect, and improve flow (such as highlighting one point over another), and consider its style and tone.
People also read : SAT for USA Universities | SAT Reading Tips | SAT Writing |
Standard English Conventions
These questions require a candidate to recognize and correct grammar, and mechanics problems in passages and find out errors in sentence structure such as incomplete sentences. The incorrect use of punctuation like missing or unnecessary commas also needs to be identified.
Types of Questions in SAT Mathematics Test
The SAT Mathematics section has two sections - Calculator and No-Calculator portion. The types of questions asked are on the basis of SAT exam Maths syllabus which is divided into four primary categories:
a) Heart of Algebra which focuses on testing the candidate's mastery of linear equations and systems
b) Problem Solving and Data Analysis require them to answer questions with ratios, proportional reasoning, and data interpretation
c) Passport to Advanced Math challenging their capabilities to solve complicated equations and functions of mathematics
d) Additional Topics in Math including questions about geometry, trigonometry, and area & volume. This section is to test a student's college and career readiness
Breakdown of the Number of Questions Asked in Each Type
| | |
| --- | --- |
| Type of Math | Number of Questions |
| Heart of Algebra | 19 |
| Problem Solving and Data Analysis | 17 |
| Passport to Advanced Math | 16 |
| Additional Topics in Math | 6 |
Difference Between SAT Mathematics Level 1 and Level 2
Mathematics level 1 is structured for students who had two years of algebra along with a year of geometry, whereas mathematics Level 2 targets students who have covered precalculus and trigonometry and the law of cosines and sines in their senior secondary education.
Conclusion
The exposure and the quality of teaching in the US are considered among the best in the world. The SAT is the first step in that direction and a good score will increase the student's chances of admission to an American university. They should invest a good amount of time to prepare. Use the internet to their advantage and learn about all the tricks and tips. They will find a lot of information about these tests from the experiences of the students who have appeared for them in the past. They need to have a good grasp of the SAT exam subjects and the SAT exam syllabus and pattern before committing their time and resources to take the test. To take their study abroad dreams one notch higher, there is a wide range of information available on upGrad Abroad.
Learn More about Study Abroad
What is Scholarship
Learn all about the scholarships like types of scholarships and how to get a one
Scholarship
Provincial Nominee Program Canada
Learn all about Provincial Nominee Program (PNP) Canada
PNP Program Canada
FAQs : SAT Syllabus
How to prepare for SAT at home?
Starting early, establishing a study plan, taking full-length practice tests, and following the official SAT websites are some of the ways to prepare for the test at home.
What is the SAT test syllabus?
The SAT is conducted to check a student's readiness for college. The syllabus thus includes sections that the students have already been familiarized with during their school years. The SAT exam syllabus consists of three sections - Reading, Writing, and Math. A candidate's proficiency in each of these sections is assessed in the SAT exam. The score of the exam ranges from 400 to 1600. Since it is a standard test the SAT exam syllabus for Indian students is the same too.
Is the SAT exam easy?
Though the sections of SAT are not different from the subjects that the students are already taught in high school, the questions of each section are trickier and more advanced. With the right preparation, they can crack the SAT exam.
Is the SAT score valid in India?
Yes, the SAT score is valid in India. It is accepted by 35 Indian universities for admission courses that they offer.
How do I prepare for the SAT?
The best way to prepare for the SAT exam is to start their preparation early and familiarize oneself well with the exam structure. Start the preparation by solving past sample papers to get an idea of the format. Practice with the help of these papers and work on vocabulary to perform well in the writing section. If they find it difficult to study on their own, students should get a prep class.
Does the SAT exam require math?
Yes, the SAT exam requires basic math skills. The mathematics section includes topics like arithmetic operations, algebra, geometry, statistics, and probability which requires a student to be familiar with basic level maths.
What is the SAT exam syllabus for medical students?
The SAT exam syllabus for medical students is not different from other students. They are also marked on the basis of their reading, writing, and mathematics skills and have to complete their exam within three hours.
Are there any changes in the syllabus for SAT 2022 due to Covid-19?
Following the Covid-19 pandemic, the optional essay section was discarded from the SAT exam syllabus. Moreover, CollegeBoard also announced the transition of the examination from pen-and-paper to digital mode.
How long is the duration of SAT?
The SAT exam total duration is of 3 hours which is exclusive of the break. The duration of the break is for 15 minutes.
What is the SAT exam syllabus for engineering students?
There is no separate SAT exam syllabus for engineering students. The standard syllabus for SAT is the same for students applying to any course of study in the USA.
Popular Study Abroad Destinations
Important Resources For GRE/GMAT Exams
GRE Exam Registration
raduate Record Examination (GRE) is one of the biggest and most popular global tests held by the Educational Testing Service (ETS). It is a standardized examination for entry into courses like MBA, MS, and others at universities worldwide.
GRE Registration
GRE Exam Dates for 2023
Booking GRE exam dates 2023 is a simple procedure. You can register by paying US$213 (approx. INR 15,700) and providing your valid passport copy or relevant ID.
GRE Exam Dates
TRENDING SEARCHES
Editor's Pick
Australia
Canada
UK
USA
Exam
Other Countries