How to Study Medicine in France
How to Study Medicine in France
Updated on 16 July, 2023
International students prefer to study medicine in France on account of several reasons, the foremost being access to the best universities in France offering some of the best globally acclaimed medicine programs. The majority of these institutions provide students the chance to study MBBS in France, have WHO & MCI accreditation. At the same time, they can study medicine at comparatively affordable costs than many other countries, such as the US or the UK. France has always been a global leader in medicine and this is another reason behind its universities drawing students in large numbers.
The Ministry of Education and the Ministry of Health together drafted the regulations that apply to medical studies in France. Anyone may enroll in the first year of medical study (PCEM1) if they possess a diploma that allows them to pursue post-secondary education (the equivalent of the French baccalauréat).
Why Study MBBS in France?
There are several contributing reasons for studying MBBS in France, some of them are listed below:
Affordability: Studying medicine in the country will help you earn a degree at a comparatively affordable cost in relation to several other countries.
Land of Innovation: France is home to Nobel Prize laureates in the field of medicine along with promoting an atmosphere of cutting-edge research.
Globally Acclaimed Degree Courses: Medical qualifications from French universities are highly coveted globally.
Globally Acclaimed Universities: Get access to globally ranked institutions with innovative and acclaimed learning methods. Sorbonne University, Université Paris-Saclay and Université PSL are some of the finest universities in France to study medicine from.
Accreditations: Most French institutes are WHO and MCI-approved and welcome medical aspirants from all over the world to pursue their dream career in medicine.
Smooth Immigration Process: After completing studies in France, international students can apply for an APS (Temporary Resident Permit) that will allow them to live there for a year while looking for work or starting a business. For Indian students who want to stay in the country for an extra 24 months after finishing their studies, there is a two-year visa extension.
Robust Economy: France's economy was deemed to be the most robust in Europe by the International Monetary Fund (IMF) in the face of the epidemic and the Russia-Ukraine war.
Course Structure of MBBS in France
Studying medicine in France for international students can be a rewarding journey but it requires a lot of research work on your part before embarking on the journey. To help you out in firming your decision, it is important to gain insights on the different cycles involved in MBBS in France.
In France, there are three cycles for MBBS:
Medical studies in France have three divisions: DCEM, PCEM, and General Medicine or other specializations. It requires close to eight years to get the general degree and eleven to become a surgeon. Doctors should also be registered with the French Medical Council or CNOM.
Cycle 1 lasts for two academic years in which MBBS students study their foundational disciplines like nursing, among others.
Cycle 2 is a four-year study period during which theory-based courses will predominate. During this tenure, students may participate in internships and lectures.
The two colleges of general medicine and several specializations make up Cycle 3. The DES (Specialized Studies Diploma) or DESC (Diploma of Complementary Specialized Studies) certifications are some of the courses which students take up before moving on to PhD studies.
The PCEM has two preparatory years in the first cycle with the same study course for all pharmacy, medical, dentistry, physiotherapy, and nursing students. Students have to clear an examination at the end of the first year. DCEM has four years, with fourth-year students having to pass the examinations. They should also take part in internships at hospitals and other seminars. They are then qualified to choose any specialty. DES or the third cycle has General Medicine or any specialization. This leads to DES, which will require two years in total.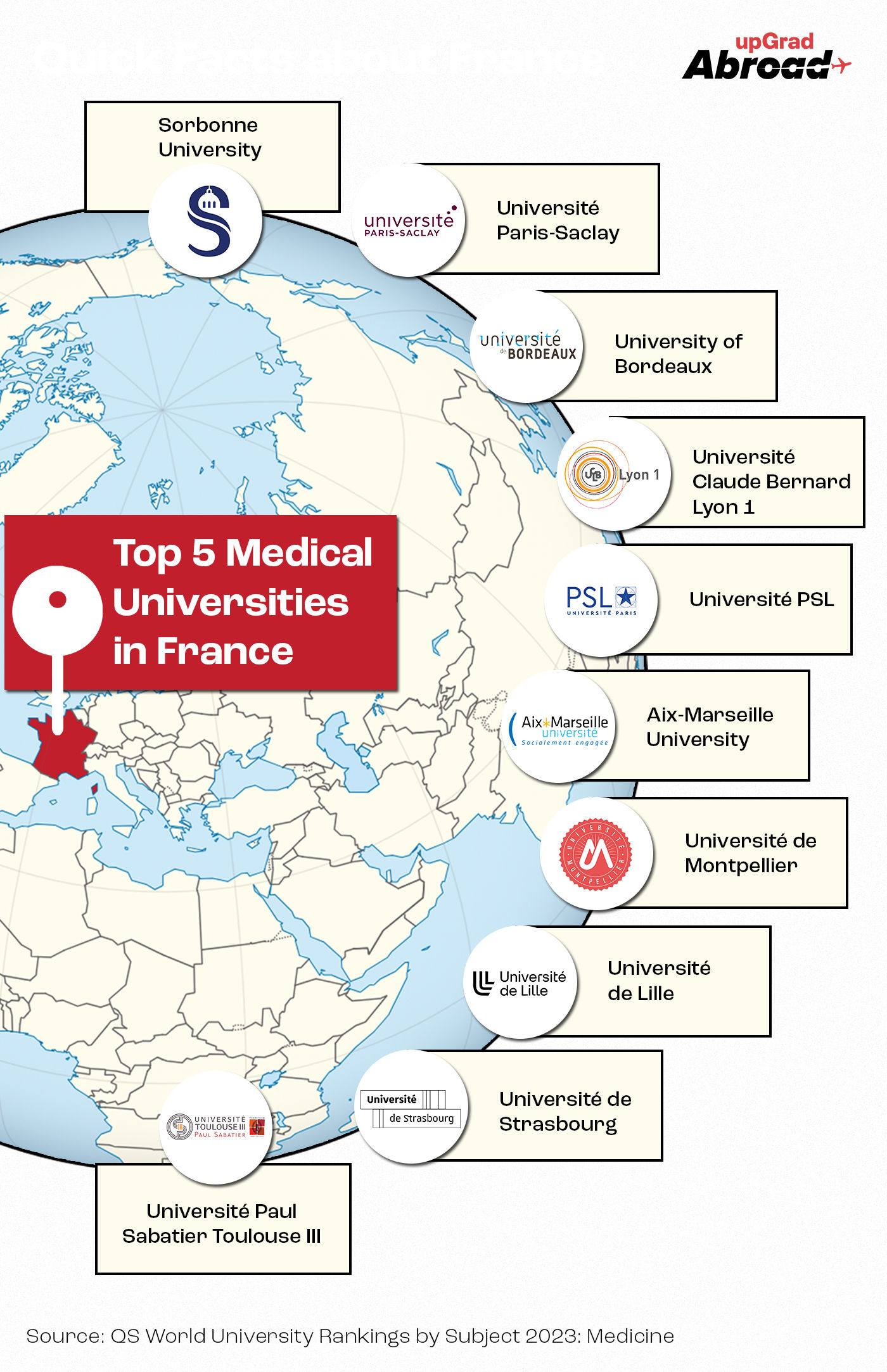 In order to satisfy the qualifying requirements for MBBS in France, it is crucial to complete these cycles.
Top Medical Universities in France
| | | |
| --- | --- | --- |
| University | Location | Ranking |
| Sorbonne University | Paris, France | 49 |
| Université Paris-Saclay | Gif-sur-Yvette, France | 140 |
| University of Bordeaux | Talence, France | 151-200 |
| Université Claude Bernard Lyon 1 | Villeurbanne, France | 151-200 |
| Université PSL | Paris, France | 151-200 |
| Aix-Marseille University | Marseille, France | 201-250 |
| Université de Montpellier | Montpellier, France | 201-250 |
| Université de Lille | Lille, France | 251-300 |
| Université de Strasbourg | Strasbourg, France | 251-300 |
| Université Paul Sabatier Toulouse III | Toulouse, France | 301-350 |
Source: QS World University Rankings by Subject 2023: Medicine
Study Medicine in France: Requirements
You can study medicine in France after the 12th. There are several other requirements that needs to be met by international students in their application to study medicine in France. Here's taking a closer look at the same:
High School Diploma, a student should have minimum marks of 70% and higher.
Good grades in subjects like physics, chemistry, mathematics, life sciences and languages in high school.
Eligibility certificate from the MCI (Medical Council of India) for applicants.
French Language Fluency (DELF/DALF/TCF/TEF) in case of some programs.
GMAT/GRE test (aren't mandatory for all)
English Language Proficiency for some programs.
Letter of Motivation if required.
Aspirant's minimum age should be 17 years.
Statement of Purpose (SOP)
Aspirants must have cleared the NEET exam with a good score.
Note: These are generic requirements; you should visit the university's official website before applying.
How to Study Medicine in France- Application Procedure
There is a simple application procedure to study medicine in France. Here are the pointers worth noting in this regard:
Students may directly apply online at the websites of their respective universities and colleges. Pay application fees after submitting the application.
Appear for video interviews (if needed).
On receiving the acceptance letter from the university, start out with your student visa application.
Students will need to take entrance examinations like NEET/GMAT/GRE or IELTS/TOEFL wherever required and submit the scores accordingly with academic transcripts and other documents.
You will have to provide a Letter of Motivation, references, and SOP, wherever needed.
Medicine in France: Fees and Living Expenses
Another main question that comes to the student's mind is the tuition fees. Apart from tuition fees, there are additional costs that one needs to bear during their stay in France.
To help you with the facts about the fee structure and the living expenses, we have curated a table that caters to international students interested in studying medicine in France.
| | |
| --- | --- |
| Tuition Fees (MBBS) | € 450 (annually) |
| Airfare | € 601 - € 877 |
| Cost of Living | € 350 - €800 (m0ntly) |
| GRE/GMAT Tests | € 189/€ 244 |
| Visa Fees | €100 |
| Academic Interview Fees | €159 |
Credits: Official sources
Tuition Fees for MBBS in France
How much does it cost to study medicine in France? On an average, you will require €6,000 for registration and private programs. Costs are usually €5,000 for first-cycle students and €4,000 for the third year.
Accommodation Expenses
International students can choose to live in cités-U– residences run by CROUS (France's regional centers for student services) for a safe stay at a reasonable rent. In Paris, the typical monthly rent for these university resident halls is €450, and €350 in other cities.
Moreover, the accommodation costs could be anywhere around €200-1200 depending on the type of rental you choose – student housing, shared rooms, private rental, and more.
Your living costs can vary based on the location. We have enlisted some for you.
Paris: €1,050–€1,200 per month
Nice: €700–€920 per month
Nantes, Bordeaux, Toulouse or Lyon: €650–€850 per month
Other Zones: €600 per month
Miscellaneous Expenses for International Students in France
Expense List
Cost (Monthly)
Books and Course Materials
€50–€100
Social Security
€20–50
Electricity, gas and Internet
€60– €100
Phone Bills
€25
Transport Pass

€70

€17-€33 (single form of transport)

Gym Membership
€37
You can also get a personalized cost of living in France quote with our expense calculator or get in touch with our experts.
Scholarships for MBBS in France
There are some scholarships that you can check out:
| | | |
| --- | --- | --- |
| Scholarship | Description | Amount/Value |
| The Emile Boutmy Scholarships | Students must be first-time candidates from a country outside of the European Union, who have been accepted to an undergraduate or master's course, and whose family does not file taxes in the EU. | €3,900 - €14,210 |
| Academic Excellence Scholarship | Students must be first-time candidates from a country outside of the European Union, who have been accepted to an undergraduate or master's course, and whose family does not file taxes in the EU. | 15% scholarship on tuition fees |
| MIEM Excellence Scholarship | The MIEM program, financed by the Université de Paris' IdEx label, aims to promote the internationalization of master's programs and help attract the best foreign students to constitute a pool of excellent potential future PhD students. | Health Faculty: 28 scholarships (€10 K each). |
| AIFS Study Abroad Scholarships | Offered to international students | Grants up to $400 for students attending one of the over 400 colleges and universities affiliated with AIFS. |
| Erasmus+ Scholarship | This scholarship is offered by European Commission and offers grants | This scholarship covers living costs. |
| Early Bird Scholarship | Awarded to students pursuing bachelor's and master's degrees from ESC Clermont | Full tuition fee waived off |
Source: Official Website
Job Prospects and Salary of MBBS in France
There are excellent job prospects available for MBBS graduates in France. However, you should aim to achieve fluency in the French language along with applying for the non-renewable one-time temporary residency authorization called APS. This has a tenure of 12 months. The second residence permit scheme helps in increasing this to 24 months. Aspirants should present medical degree proof or diploma proof to the National Council of the Order of Physicians while meeting citizenship requirements for practicing in the country.
After registration, students may apply for specialist accreditation, leading to the evaluation of qualifications by a Committee. Non-EU graduates have to pass the Épreuves de vérifications de connaissances.
The average annual salary of an MBBS graduate is €138,183 per year or €66 per hour.
| | |
| --- | --- |
| Job Role | Annual Salary |
| Surgeon | € 212,833 |
| Physician | € 138,205 |
| Ophthalmologist | € 179,493 |
| Paediatrics Nurse | € 53,341 |
| Dermatologist | € 187,502 |
| Medical Consultant | € 69,510 |
| Anesthesiologist | € 220,035 |
| Medical Officer | € 133,672 |
| Gastroenterologist | € 220,594 |
Source: Salary Expert
Disclaimer! All course fees/salaries/expenses are indicative.
Frequently Asked Questions
For whom medicine in France can be the right choice?
Medicine in France is suitable for those interested in pursuing MBBS after their intermediate and willing to invest several years into rigorous medical study and discipline to obtain their medicine degrees.