Letter Of Recommendation for PhD – Sample, Format & How to Write
Letter Of Recommendation for PhD – Sample, Format & How to Write
Updated on 09 September, 2023
A letter of recommendation or LOR for a PhD is an important document required for admission into PhD programs at foreign institutions. While scores, transcripts, and other vital documents are mostly factual, the LOR is an independent objective analysis of applicants. PhD courses usually require two to three recommendations. These provide committees with an overview of the applicant's core strengths, skills, and accomplishments.
LOR for PhD : Guidelines:
The vital part of writing a LOR is choosing the right recommender. For a PhD SOP, the recommender should be someone who can endorse your candidature and provide an unbiased application essay. Since all the other documents are self-prepared, they are likely to be biased. LOR provides an external perspective, which entirely depends on your recommender. It is unique because it is your assessment from an external viewpoint. Your recommender for PhD should be someone who can be described as follows:
One who has a good rapport.
Who understands your personality, achievements, and capabilities.
With whom you have shared your academic and professional experiences and journey
Who is aware of your current research ideas
Who supports your research ideas.
Types of LOR for PhD
International universities offering PhD require two to three LORs depending on your academic and professional experience. Two academic LORs are needed, and one professional LOR is required if you have work experience. Basically, the LOR for PhD is classified into two categories:
Academic LOR:
Academic letter of recommendation is provided by the professor of your educational institution. Most commonly, you are asked to provide two academic LORs for PhD in an international university. In such LORs, professors need to highlight the applicant's capabilities and achievements. It should reflect the recommender's perspective about you and your research ideas.
Professional LOR:
The applicant's professional letter of recommendation is asked if they have any work experience. Only one professional LOR is needed in that case. It is provided by your immediate supervisor or employer. It should reflect the recommender's perspective on your professional ability to work within a team.
How to write a LOR for PhD?
When your recommender is willing to write your LOR for PhD, you should share your research ideas, achievements, capabilities, objectives, and relevant information. The format of the LOR should consist of the answers to several questions related to your suitability for a PhD. The LOR, whether academic or professional, written by your recommender should sound realistic and authentic. The standard LOR format for PhD should have the following details:
Introduction:
This part of the LOR should include the details regarding the recommender. It is a brief introduction of the recommender with their current designation and professional experience mentioned in the LOR. They also need to mention their relationship and duration of association with the applicant. The details of the recommender's association and guidance must be mentioned in the LOR.
Body:
It includes the details of the applicant's technical skills, certification, internship work, research ideas, research outcomes, research goals, capabilities, qualities, work experience, presentations, seminars, extracurricular activities, etc. It is quite crucial to add all the relevant information required to consider the applicant's candidature and future undertakings.
Conclusion:
This last part of the LOR format summarizes the applicant's desire for the PhD program. The closing part of the LOR essay application includes the recommender's signature and contact details.
LOR for PhD : Guidelines:
An excellent sample LOR for PhD highlights at least three attributes of the aspirant – a social attribute and two subject-linked or technical attributes. Here are some notable guidelines:
The LOR should be 1-2 pages long with 5-6 paragraphs.
Recommenders should start the LOR by introducing themselves and the aspirant.
Recommenders should also discuss how and from when they are professionally related to the applicants in the first paragraph.
The following paragraphs should be divided into three segments, each highlighting aspirant's particular skill or quality.
Recommenders should emphasize analytical abilities, subject knowledge, time management skills, dedication, responsibility, research abilities, etc.
The conclusion will sum up the qualities of the aspirant while ending with a solid recommendation to the university for accepting the application.
Popular Guides To Simplify Your Study Abroad Journey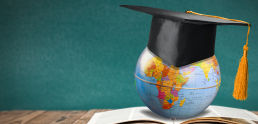 Fully Funded Master's Guide
The list of scholarships to cover ALL your university expenses.
Download Guide
Sample LOR for PhD:
The following sample LOR for PhD is one of many ways of writing it.
I am pleased to get the chance to recommend (name of applicant) for the PhD position in (course/study area name) at your institution. I have taught (name of applicant) for the last (tenure in years) in the areas of (subject areas). I will be delighted to witness him/her excelling in this particular field.
The topic (title) proposed by him/her is vital for the modern-day scenario and needs extensive research. It will be beneficial for all the industry stakeholders in the (sector name) and also academicians who can access real-time insights on the subject.
(Name of applicant) has completed a research project over a period of (duration) on (name of project) under my supervision. I have witnessed his/her work efficiency, critical thinking abilities, and inquisitiveness regarding various findings. He/she also has brilliant communication skills and the ability to mentor and guide peers.
(Name) has a down-to-earth nature and respects others while adhering to rules and regulations. His/her independent or group work on research projects and studies has been immensely satisfying. He/she is an analytical thinker and is stimulated by new academic challenges. This trait makes him/her strive for innovative solutions to real-world problems with a strong desire to improve the world around.
Hectic timelines, various constraints, tough work conditions, multitasking, and dealing with multiple people along the way, are things that he/she can tackle with ease while delivering work seamlessly. With these positive abilities, he/she will be an asset to any institution.
(Name) has improved consistently every year and is a deserving candidate for an opportunity to work in the field of (topic name). I would be delighted if my recommendation helps him/her obtain admission in the (course name).
If you have any queries regarding research, academics, or other areas pertaining to (applicant name's) candidature, please feel free to reach me at the following phone or email address. I am usually available on the phone between Monday and Friday from (time to time, i.e. 11 am to 4 pm).
Sincerely,
(Name of Referee)
Designation:
Phone Number:
Email ID:
Important Tips to Write LOR for PhD
Following important tips should be considered while writing a LOR for PhD:
The selection of the right recommender is crucial. Choose your recommender carefully who meets the specifications mentioned in your PhD application.
Choosing your recommenders with finer academic and professional qualifications is of utmost importance.
Stay in contact with your potential recommenders and maintain good communication with them in advance.
Share your research proposal, goals, and achievements with your recommenders.
Your LORs for PhD should differ from each other.
Your LOR should showcase your qualities, capabilities, and strengths.
Online recommendation forms should be submitted much before the deadline.
The letter should be realistic and unbiased.
The relationship between the recommender and the applicant should be demonstrated clearly.
All the information stated in the LOR should be genuine, authentic, and accurate. Ensure that no information is false or exaggerated.
Download Country Guides (FREE PDFs)