LSAT Registration 2023: Step-by-Step Process
LSAT Registration 2023: Step-by-Step Process
Updated on 09 July, 2023
You are aiming to enroll in a prestigious law program abroad. Are you aware of the assessments you need to take the first step towards this destination? The Law School Admission Test (LSAT) is a crucial test that you must be familiar with if you're thinking about pursuing a legal education abroad. Several leading legal schools worldwide maintain the LSAT as a standardized test to assess applicants' analytical, logical, and critical thinking abilities. This blog will walk you through the LSAT registration procedure for 2023, including the requirements for eligibility, the format of the test, test dates, and test venues.
Understanding the LSAT Exam
The LSAT is an MCQ-based exam developed to evaluate the abilities necessary for success in law school. The exam measures your ability to comprehend and analyze complicated material, make logical deductions, and apply critical thinking to legal reasoning rather than your understanding of any particular topic.
Purpose and Significance of the LSAT
The LSAT is a crucial part of the application process for law schools. It offers law schools a uniform way to assess candidates' aptitude for and the likelihood of success in legal education. The test helps law schools evaluate candidates from diverse educational backgrounds and ensures a fair and objective selection process.
Popular Guides To Simplify Your Study Abroad Journey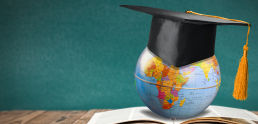 Fully Funded Master's Guide
The list of scholarships to cover ALL your university expenses.
Download Guide
LSAT Eligibility Requirements
Candidates must fulfill the following prerequisites in order to be qualified to take the LSAT:
Educational Requirement: Candidates must hold a bachelor's degree from an accredited university/college. No particular discipline or specialization is necessary.
LSAT Exam Structure
Analytical Reasoning, Logical Reasoning (two portions), and Reading Comprehension comprise the LSAT's four components. There is also an experimental portion that is not graded and is used just for research; it does not count toward the final grade. The exam lasts for two hours and twenty minutes in total.
LSAT Sections
The LSAT consists of four sections, each designed to evaluate different skills. These sections include:
Logical Reasoning: This section assesses your ability to analyze, evaluate, and complete arguments. You will be presented with a short passage and a related question. Your task is to choose the best answer from the given options.
Analytical Reasoning: This section tests your ability to understand and analyze relationships between various elements. You will be presented with a set of conditions and must determine the logical outcomes based on those conditions.
Reading Comprehension: In this section, you will encounter lengthy passages related to various topics. You must answer questions based on the content, structure, and main ideas presented in the passages.
Writing Sample: The writing sample is not scored, but it is sent to law schools as part of your application. You will be given a prompt and must construct a persuasive essay presenting your argument on the given topic.
LSAT Test Dates and Locations
LSAT international is held in the following regions:
Europe, Africa, and the Middle East
Asia and South Pacific Islands
Australia and New Zealand
South America, Central America, Mexico, and the Caribbean (Excluding Puerto Rico & US Virgin Islands)
The LSAT is normally held many times a year. For the most current information, it is advised to check the LSAC website frequently.
Here is a table showing the schedule for the International LSAT exam, 2023:
| | |
| --- | --- |
| Dates | Event |
| Closed | June Registrations for LSAT— 2023 |
| October 2023 — LSAT | Primary test dates - 10/14/2023 | LSAT Writing opens - 10/5/2023 | Registration deadline - 8/31/2023 | Test Date Change deadline (discounted) - 9/5/2023 | Score release - 11/1/2023 |
Download Country Guides (FREE PDFs)
LSAT Registration Process
LSAT registration can be completed online through the official LSAC website. Here is a step-by-step guide to the registration process:
Create an LSAC account: Create a new account on the LSAC website by entering your contact information, personal information, and a working email address.
Complete the registration form: Log in after creating an account and complete the LSAT registration form. Give correct details about your schooling, citizenship, and any special accommodations you might need.
Select test date and location: Choose a convenient test date and location from the available options. Be mindful of the registration deadlines to secure your preferred slot.
Submit supporting documents: Upload scanned copies of the required supporting documents, such as your passport-sized photograph, signature, and educational transcripts. Ensure that the documents meet the specified format and size requirements.
Pay registration fee: The LSAT registration fee can be paid online through various payment options provided by LSAC including VISA, MasterCard, American Express, Discover credit cards. LSAT registration costs $222. Apart from this taxes and exchange rates may also be applicable.
Review and confirm: Before finalizing your registration, carefully review all the information provided and make any necessary corrections. Confirm your registration and keep a copy of the confirmation for future reference.
Preparation for the LSAT Exam
For the LSAT, good preparation is essential for success. The following advice can help you get ready for the test:
Familiarize yourself with the exam format: Learn about the Exam Structure, Question Types, and Time Limitations. This will help you develop effective strategies for each section.
Practice regularly: Solve LSAT practice questions and sample tests to enhance your problem-solving skills and speed. LSAC provides official LSAT PrepTests, which are a valuable resource for practice.
Time management: Practice answering questions within the allotted time to improve your speed and accuracy. Develop strategies to allocate time efficiently to each section.
Seek study materials: Explore LSAT prep books, online courses, and study guides available in the market. Joining LSAT coaching classes or seeking guidance from experienced tutors can also be beneficial.
Mock tests: Take full-length mock tests under exam-like conditions to assess your progress and identify areas that require improvement. Analyze your performance and work on your weak areas.
Conclusion
The first step on your path to a rewarding legal profession is to sign up for the LSAT. For a seamless experience, it is crucial to comprehend the LSAT exam, its structure, and the registration procedure. To increase your chances of obtaining a competitive LSAT score, adhere to the advice offered by LSAC, remain current with news, and carefully prepare. Do not forget that the LSAT is a test of your analytical and critical thinking skills in addition to your knowledge.
Frequently Asked Questions
Is there any age limit for LSAT enlistment?
No, there is no particular age limit for LSAT enlistment. However long you meet the qualification measures, which incorporate holding a bachelor's degree, you can enlist for the LSAT no matter your age.
Can I request special accommodations during the LSAT registration process?
Yes, LSAC provides accommodations for test takers with documented disabilities or medical conditions that may require special arrangements. During the registration process, you can request special accommodations by providing the necessary documentation and following the guidelines provided by LSAC.
Can I change my LSAT test date or location after completing the registration?
LSAC allows test takers to make changes to their LSAT test date or location within a specified period. However, these changes may be subject to availability, and there may be additional fees associated with rescheduling or changing the test center. It is important to review the LSAC policies regarding test date and location changes and make any necessary modifications before the deadline provided.
Can I register for the LSAT multiple times?
You can appear multiple times for the LSAT. The average of your LSAT results might be considered by some law schools, while the highest score might be considered by others.
Is coaching necessary for LSAT preparation?
Coaching is not mandatory for LSAT preparation. However, joining LSAT coaching classes or seeking guidance from experienced tutors can provide valuable insights, strategies, and practice materials to enhance your preparation.