NEET 2024: Latest Update on Exam Date, Cut-Off & Syllabus
NEET 2024: Latest Update on Exam Date, Cut-Off & Syllabus
Updated on 01 November, 2023
If you have chosen to join the noblest of professions and become a doctor to make a difference in the lives of countless people, you must know the NEET-UG exam is a stepping stone to pursue your medical studies at the undergraduate level. Here are a few important details about the examination, syllabus, top colleges, and more.
NEET Exam Highlights
Here are some of the key highlights of the NEET exam:
Full Form

National Eligibility Cum Entrance Test (NEET)

What is it for

Entrance test for undergraduate students seeking admission into undergraduate medical, dental, and AYUSH programs in both Government and private institutions in India. This covers all MBBS, BDS, BUMS, BAMS, and BHMS aspirants.

Conducting Body

National Testing Agency (NTA)

Examination Pattern

4 subjects (two sections each).

Section A has 35 questions, and Section B has 15 questions (candidates will have to attempt any 10).

Subjects

Physics, Chemistry, Botany, Zoology

Question Type

MCQs (multiple-choice questions)

Examination Mode

Pen and Paper-based Test on OMR sheet

Duration

3 hours and 20 minutes

Examination Languages

English, Hindi, Gujarati, Bengali, Assamese, Tamil, Odia, Malayalam, Kannada, Telugu, Urdu, Marathi, Punjabi
NEET Exam Dates
The NEET exam 2023 date was on the 7th of May (Sunday). The official dates are yet to be announced for NEET 2024, but the exam is expected to be in May 2024.
Neet Cut-Off
Here are the tentative cut-offs for the NEET exam:
Unreserved- 50th percentile

SC/ST/OBC- 40th percentile

Unreserved-PH- 45th percentile

SC/ST/OBC-PH- 40th percentile
Cut-Off (AIQ) for Top Medical Colleges
Once the NEET exam result is announced, qualified candidates can take part in the centralized counseling held by the MCC (Medical Counseling Committee) for the 15% All India Quota (AIQ) seats and the 85% state quota seats from the State authorities.
Top Medical College & Seats in India
Here are some of the reputed medical colleges in the country with their total seats:
| | |
| --- | --- |
| Name of the Institution | Seats (Annual Intake) |
| Andaman and Nicobar Islands Institute of Medical Sciences, Port Blair | 114 |
| All India Institute of Medical Sciences, Mangalagiri, Vijayawada | 125 |
| All India Institute of Medical Sciences, Guwahati | 50 |
| All India Institute of Medical Sciences, Patna | 125 |
| All India Institute of Medical Sciences, Raipur | 125 |
| Kasturba Medical College Manipal | 250 |
| All India Institute of Medical Sciences, New Delhi | 132 |
| Christian Medical College, Vellore | 100 |
| St Johns Medical College, Bangalore | 150 |
| Maulana Azad Medical College, New Delhi | 250 |
| University College of Medical Sciences & GTB Hospital, New Delhi | 170 |
| Armed Forces Medical College, Pune | 150 |
| Dayanand Medical College & Hospital, Ludhiana | 100 |
| Jawaharlal Institute of Postgraduate Medical Education & Research, Puducherry | 200 |
| M S Ramaiah Medical College, Bangalore | 150 |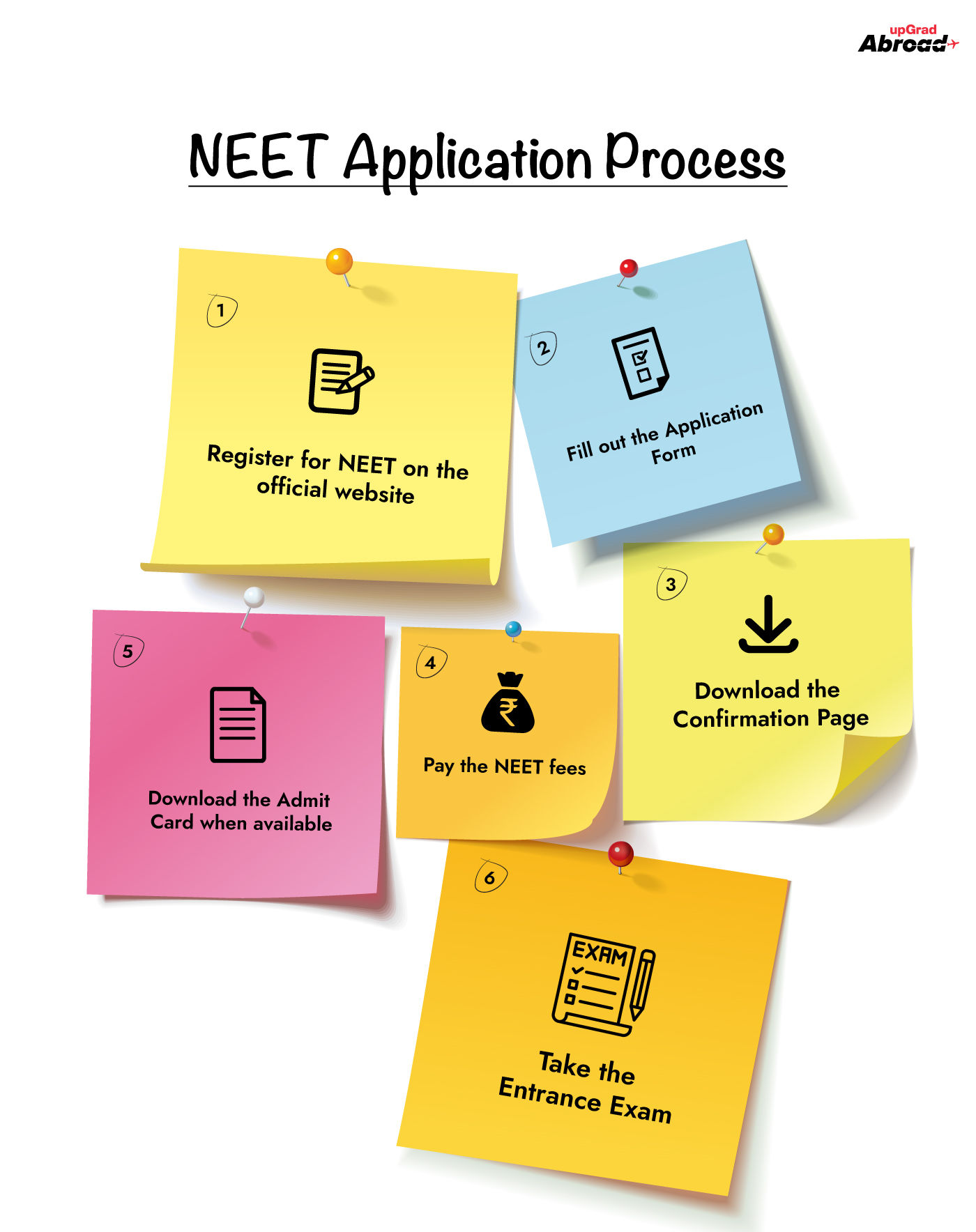 NEET Exam Pattern
Here is a glimpse of the NEET Exam Pattern for your benefit:
| | | | | |
| --- | --- | --- | --- | --- |
| Subject | Section(s) | Number of Questions | Marks (each question has 4 marks) | Question Type |
| Physics | A | 35 | 140 | MCQs |
| Physics | B | 15 | 40 | MCQs |
| Chemistry | A | 35 | 140 | MCQs |
| Chemistry | B | 15 | 40 | MCQs |
| Botany | A | 35 | 140 | MCQs |
| Botany | B | 15 | 40 | MCQs |
| Zoology | A | 35 | 140 | MCQs |
| Zoology | B | 15 | 40 | MCQs |
| | | | Total- 720 marks | |
The total duration of the examination is 3 hours and 20 minutes. Incorrect questions are marked (-1) while correct questions get (4) marks.
Syllabus for NEET Exam 2024
Here are some of the important topics covered for the main subjects in the NEET exam:
Physics-
Electrostatics

Kinematics

Nature of Physical Laws

Speed, Velocity, and Laws of Motion

Work, Energy, and Power

Electromagnetic Waves, Magnetic Field, Gravitation, Current Electricity

Oscillations and Waves, Conductors, Optics

Thermodynamics

Atoms and Nuclei
Chemistry-
Laws of Chemical Combination

Ionic Bond, Covalent Bond, States of Matter: Gases and Liquids

Electrochemistry

Isotopes and Isobars, Surface Chemistry, Solid State

Atomic Number, Structure of Atom, Chemical Kinetics

Hydrogen, Physical & Chemical Properties of Water

Phenols and Ethers, Aldehydes, Coordination Compounds

Ketones and Carboxylic Acids

Hydrocarbons, Biomolecules, Organic Compounds
Biology-
Reproduction, Cell Theory

Genetics and Evolution

Tissues, Structural Organization in Animals and Plants

Plant and Animal Cells

Biology and Human Welfare

Biotechnology Process and Principles

Plant Physiology

Organism and Environment

Human Physiology

Photosynthesis
These are only a few of the topics contained in the syllabus. You should check a detailed guide for more insights on the same.
Preparation Tips for NEET-UG
Here are some NEET exam preparation tips that you can follow:
Build an effective study blueprint and timetable. You should prepare to cover all topics in the four subjects.

Knowing the entire syllabus and major sections is essential.

You should gather all essential study materials, including books and digital resources. Some top books include Concepts of Physics by H.C. Verma, Problems in General Physics by IE Irodov, Biology Vol 1 and 2 by Trueman, Concise Inorganic Chemistry by JD Lee, and more.

You should ideally solve the previous years' question papers.

Topics that have the highest weightage should ideally be done first. This will help you cover more topics in a lesser amount of time.

You should examine the NCERT resources thoroughly, along with major diagrams in biology.

You should solve questions as much as possible for Physics, making a personal spreadsheet with the laws and formulas for revision.

Create a similar sheet of chemical formulas and equations for revision along with using diagrams.

You can also take periodic mock tests to enhance your preparation.
While cracking the NEET exam is no cakewalk, it is not impossible. You should focus on creating a smart study plan that will allow you to prepare thoroughly before the test. Practice as much as possible to stay confident on the examination day. Here's wishing you the best of luck in your journey towards becoming a doctor.
FAQs
How many times is the NEET exam conducted in a year?
The NEET examination is conducted only once every year. The 2023 NEET examination was conducted on 7th May (Sunday).
How to prepare for the NEET exam?
You should chalk out a solid preparation strategy that includes the following aspects:
Listing down the entire syllabus and creating a timetable.

Gathering the top books and other study resources.

Taking mock tests online and practicing regularly.

Solving previous years' question papers.
How to apply for the NEET exam?
You must visit the official NTA (National Testing Agency) website: https://neet.nta.nic.in/. Fill out the application form and upload scanned images as required. Thereafter, pay the fees and take the printout of the confirmation page.
How many questions are there in the NEET exam?
The NEET exam has a duration of 3 hours and 20 minutes. There are 200 questions in the test, and candidates have to answer 180 questions out of the same. Every section (out of the four sections) has a compulsory portion with 35 questions and another with 15 questions, out of which you must answer any 10.
What is the age limit for the NEET exam?
The minimum age limit for the NEET exam is 17 years as of the 31st of December of the year of admission. There is no maximum age limit for the examination.
Is an Aadhar card required for the NEET exam?
The Aadhar card is not mandatory for the NEET exam registration process. Applicants require various documents, including photographs, signatures, Class X Pass Certificate, Category Certificate (if required), and permanent and present address proofs.