IELTS Pie Chart – Tips and Sample
Updated on 01 December, 2022

Mrinal Mandal
Study Abroad Expert
Analyzing and explaining a pie chart is commonly asked in the IELTS (International English Language Training System) Writing Task 1. A pie chart is a circular graph where the data is visualized in a circle with various variables dividing the circle into segments. The size of each segment shows the proportion of that variable compared to others. The IELTS pie chart task has one or more charts to be analyzed and explained.
Sample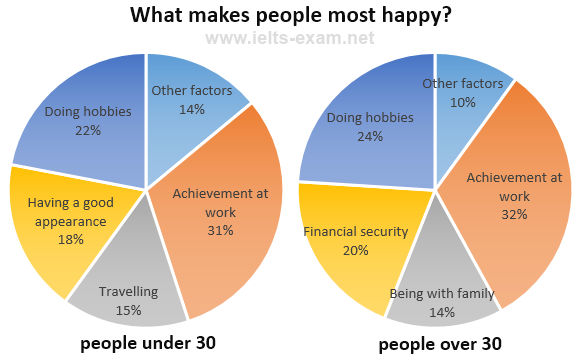 Let's discuss these IELTS pie chart questions, "What makes people most happy?". There are two pie charts; one for people above 30 and one for people under 30. Each chart has the five significant factors contributing to the happiness of people.
As evident from the charts above, some common things make both younger and older people happy. However, there are some striking differences as well, which are discussed below.
Let us begin with the similarities. The noticeable similarity is the achievement at work. The chart shows that 31% of people under 30 years of age find happiness in achievement at work. 32% of people who are more than 30 years old find joy in achievement at work. People under 30 who become happy while indulging in hobbies are 22%, while people over 30 years who find happiness in hobbies are 24%. As the other factors are concerned, 14% of people under 30 become happy with this. 10% of the people over 30 find the most happiness in different aspects.
While we discuss the differences, 18% of people under 30 become happy if they have a good appearance. 15% of the same age group also find happiness in traveling. These two points are not mentioned for older people. Instead, 20% of people in the age group above 30 years find joy in financial security. 14% of them express happiness when they are with their family.
Recommended Reads:
Download E-Books for IELTS Preparation


Tips
Give an overview of the pie charts paraphrasing the chart title.

Start from the largest proportioned segment and move to the smallest.

Do a trend analysis when more than one pie chart is provided comparing the changes.

Usage of specific pie chart terms such as – represents/denotes/signifies/comprise of

Familiarize yourself with the model exercises and solutions.
A pie chart can be easily understood and explained using the tips and the sample answers. Test takers can also go through statistics vocabulary to describe pie charts in a better way.
More Resources to Read About IELTS:
The Vocabulary of Pie Chart
Candidates appearing for the ILETS examination should ace the vocabulary of a pie chart to score a high band. Therefore, candidates must use the words carefully to score a good band in pie chart task 1. Here is a range of vocabulary for pie chart that students can use in describing an IELTS pie chart:
Percentage and fraction are written in the following ways:
A half:50%, a third: 33%, two thirds: 66%, three quarters: 75%, and a quarter: 25%
Candidates can use the following words to describe the language of comparison: most/least, largest/smallest, more/less, and greater/smaller.
IELTS Pie Chart Questions For Practice
1. Summarize the pie charts that show the percentage of expenses on ads by media in India from 2012 to 2017 and compare.
2. Summarize the pie charts that show the native languages spoken by students at Bakersfield Senior College in two different years and present a comparison.
3. Summarize the pie charts that illustrate the types of smartphones used by attorneys in the US in one year and compare using the main information.
4. Summarize the pie chart that portrays energy generation by fuel in the UK in two years and present a relevant comparison.
5. Summarize the pie charts that illustrate the proportion of freshwater withdrawals made by various economic sectors in three countries and make relevant comparisons.
Study Abroad With upGrad Abroad
To offer learners end-to-end assistance, upGrad Abroad has launched a Booster Program. The 12-weeks long extensive program is designed with a keen focus on equipping learners to kick-start their international undergraduate/ postgraduate journey after completing their first year in India. The Booster Program is designed to offer support to students in preparation for IELTS, Academic Writing, Profile Building, International Faculty Masterclass, and University Application, Education Loan, and Visa Support.
Download IELTS Preparation Guide For Free
Get to know about the latest updates on the IELTS Exam, Eligibility, Preparation Tips, Test procedure, Exam Pattern, Syllabus, Registration Process, Important Exam Dates, and much more!! This guide is a one-stop solution for every IELTS Aspirant who aims to crack the exam with an impressive band score.
Frequently Asked Questions
Q. How to write a pie chart in IELTS task 1?
Here are steps to write a pie chart in IELTS task 1:
Analyze the charts

Parapharse the question

The overview section describes the overall trend

In paragraph 1 (body), write in detail about the first grouping logically, and in paragraph 2 (body), write about the second grouping.
Q. What is the structure for IELTS writing task 1 pie chart?
The structure of the IELTS writing task 1 pie chart should include the following: Introduction, body paragraphs, and conclusion. Candidates should use words to write cohesively.
Recommended Reads:
Q. Why do we use pie charts?
Pie charts are often used to present data. In IELTS writing task 1, a candidate is asked to write a summary of at least 150 words in response to pie charts.
Q. What is a 1/3 in a pie chart?
In a pie chart, 1/3 means 1 part of 3 total parts.
Download IELTS Sample Papers


Popular Study Abroad Destinations