IELTS Exam Pattern: Section-Wise (Listening, Reading,Writing & Speaking) Pattern
Updated on 12 May, 2022

Mrinal Mandal
Study Abroad Expert
The IELTS exam pattern encompasses four major sections, i.e. listening, speaking, writing, and reading. Aspirants have to appear for the listening, reading, and writing portions of the examination on the same day itself, without any breaks between the sections. The speaking test is mostly slated for the afternoon of the day of the examination. It may be scheduled within a period of 7 days either before or after the test date. The local IELTS test centre will be reaching out individually to aspirants, notifying them about the location and date of the speaking test.
Check the following table for a better understanding of the IELTS Exam Pattern:
| | |
| --- | --- |
| IELTS exam sections | Listening, Reading, Writing, and Speaking |
| Total time | 2 hours and 45 minutes |
| Total questions | 82 questions along with a three-part interview |
| Total score | 0-9 |
| Sub Sections | IELTS Reading: Academic/General Training, IELTS Writing: Academic/General Training |
| Exam type | Paper/computer-based, Face-to-face interview for speaking |
The following table Includes details of test Duration, Number of Questions, Scores, and types of Questions in the IELTS Exam format:
| | | | | |
| --- | --- | --- | --- | --- |
| Exam Section | Time | Number of questions | Question type | Score |
| Listening | 40 minutes | 40 | MCQ, matching, labelling plan/map/diagram, form/note/table/flow-chart/summary completion, sentence completion | 1 mark /question |
| Reading | 60 minutes | 40 | MCQ, identifying information, identifying the writer's views/claims, matching information/headings/features/sentence endings, sentence/summary/note/table/flow-chart/diagram label completion, short-answer questions | 1 mark /question |
| Writing | 60 minutes | 2 | Describe graph/table/chart/diagram, essay-writing and letter-writing | Direct band score |
| Speaking | 11-14 minutes | 3 parts | Questions on general topics, speaking on a specific topic, questions on the specific topic | Direct band score |
IELTS Exam Pattern- Listening Test
The IELTS exam structure encompasses the Listening Test. This will require around 30 minutes. You will also get an additional 10 minutes in the end for transferring your answers to your final answer sheet. The listening test is similar for both IELTS General Training and IELTS Academic modules. You will be listening to four recorded monologues, texts, and conversations by native speakers. You will thereafter have to write answers to multiple questions.
This will include questions testing the capabilities of candidates for understanding key concepts/ideas along with extensive factual data and the ability to understand the attitudes/opinions of the speakers. Testing will also examine the ability to understand what is stated and its purpose and ability to follow ideas and their development. Several accents and voices of native speakers are used. Every section can be heard just once.
The four sections of the Listening test are the following:
1. Section 1- Conversation between two individuals set in a regular social context.
2. Section 2- Monologue set in a regular social context.
3. Section 3- Conversation between up to four individuals in a training/educational context.
4. Section 4- Monologue on any academic topic/subject.
The recordings will cover British, New Zealand, Australian, Canadian and American accents. Multiple question types are used for the test, selected from the following:
1. Form/Table/Note/Flow-chart summary
2. Diagram labelling
3. Matching
4. Map/plan/diagram
5. Multiple choice
6. Sentence completion
Answers have to be written on the question paper by aspirants while listening and they get 10 minutes in the end for transferring the same to their answer sheets. Take care during this process since there are penalties for poor grammar and wrong spelling. Every question is worth one mark.
IELTS Exam Structure- Reading Test
As part of the IELTS exam format, aspirants will take the Reading test for around 60 minutes. This section will come with 40 questions and several question types are deployed for testing reading abilities. These cover reading for main ideas, gist, and detail, understanding logical arguments, recognizing attitudes, purpose, and opinions of writers, and skimming. People who are not proficient in English can go through IELTS exam pattern papers for some idea. The Reading section is different for IELTS Academic and IELTS General Training
IELTS Academic Reading Test
This test encompasses three longer texts, ranging from factual and descriptive tests to analytical and discursive ones. The texts are sourced from books, magazines, journals, and newspapers and are suitably appropriate for those enrolling in postgraduate/undergraduate courses or looking for professional registration. Several types of question types apply, covering identification of writer claims/views, matching headings, matching information, matching features, completing sentences, matching endings of sentences, completing summaries, completing notes, completing flowcharts, completing tables, labelling diagrams, and short-answer questions. Texts and passages may be written in numerous styles including descriptive, narrative, or argumentative/discursive. At least a single text has extensive logical arguments while texts may also have non-verbal materials like graphs, illustrations, and diagrams. A glossary is given in case texts have technical terms.
Test aspirants will have to transfer answers to their answer sheets within the time allotted for the entire examination. No extra time is provided. Every question is worth one mark.
IELTS General Training Reading Test
This test will have three paragraphs with specific tasks and you will have to read extracts from magazines, books, notices, advertisements, newspapers, guidelines, and company handbooks. Question types cover information identification, multiple choices, identification of writer claims/views, matching features, headings, and sentence headings, completing sentences, summaries, tables, notes, flow charts, and diagram labels along with short-answer questions.
Social survival is the first section which has texts that are relevant for linguistic capabilities, majorly about retrieval and provision of general factual data like timetables and advertisements. Workplace survival is the second section, emphasizing the workplace as the context. The third section was general reading and this involves reading extended prose with a structure that is more complex. The emphasis is clearly on instructive and descriptive texts. Aspirants should transfer answers to the answer sheet within the test time allotted. Extra time is not provided.
IELTS Exam Format- Writing Test
The writing test is an important part of the overall IELTS exam structure. With It covers 60 minutes and as the following two sections encompassed within the same:
IELTS Academic Writing Test
This has two tasks and topics that are suitable for those getting entry into undergraduate/postgraduate studies. The first task will have aspirants getting a table, graph, chart, or diagram, and you will have to summarize, describe or explain data in your own words. You may be asked to explain and describe data, stages of any process, or how something functions or even talk about an event/object. The second task will be writing an essay as a response to any particular argument, point of view, or problem. Formal writing styles are needed for both tasks, covering 150 words (20 minutes) and 250 words (40 minutes) respectively.
Answering should be on the official answer sheet and it should be fully written. Bullet points or notes are not acceptable in the form of answers. Test aspirants may write on the question paper itself although this may not be taken from the examination hall and will not be examined.
IELTS General Training Writing Test
Topics of general interest are covered in this test, spanning two tasks-
1. You will get a particular situation, being asked to write a letter which requests information or explains any particular situation. This may be a personal, semi-formal, or formal letter.
2. You will have to write an essay responding to any particular argument, point of view, or problem. This essay may have a more personalized style of writing.
Answers should be fully written in the answer booklet. Bullet points or notes will not be acceptable. You can write on the question paper itself although you cannot take this away from the examination hall. It will not be viewed by the examiner as well.
IELTS Speaking Test
This test will require 11-14 minutes in total. It is the same for both IELTS General Training and IELTS Academic. The Speaking Test is a face-to-face interview that will assess your command and usage of spoken English. Each test will also be recorded. This has three parts in total.
The first part is where you will have to answer general questions about family, home, studies, interests, work, and yourself. This part will cover 4-5 minutes. The examiner will be introducing himself/herself, checking your identity, and then asking these questions. This part emphasizes your capabilities of communicating information and opinions relating to regular topics and sharing common experiences.
In the second part, you will get a card and you have to discuss a specific topic. You will get one minute for preparation before talking for a maximum of two minutes. The examiner will then ask 1-2 questions on this topic, finishing off this portion. You can make notes on the paper and pencil provided. You can use points written on the card during preparation. This test will emphasize the ability of candidates to comfortably speak on a topic without any prompts and also in a suitable language. Coherence and organization of ideas will also be examined.
In the third portion, you will be asked some additional questions on the topic covered earlier. These questions will give you ample scope for talking about ideas, concepts, and issues that are more abstract. This will cover 4-5 minutes. This test examines your capabilities to justify your opinion, express yourself and analyze, speculate or discuss several aspects/issues.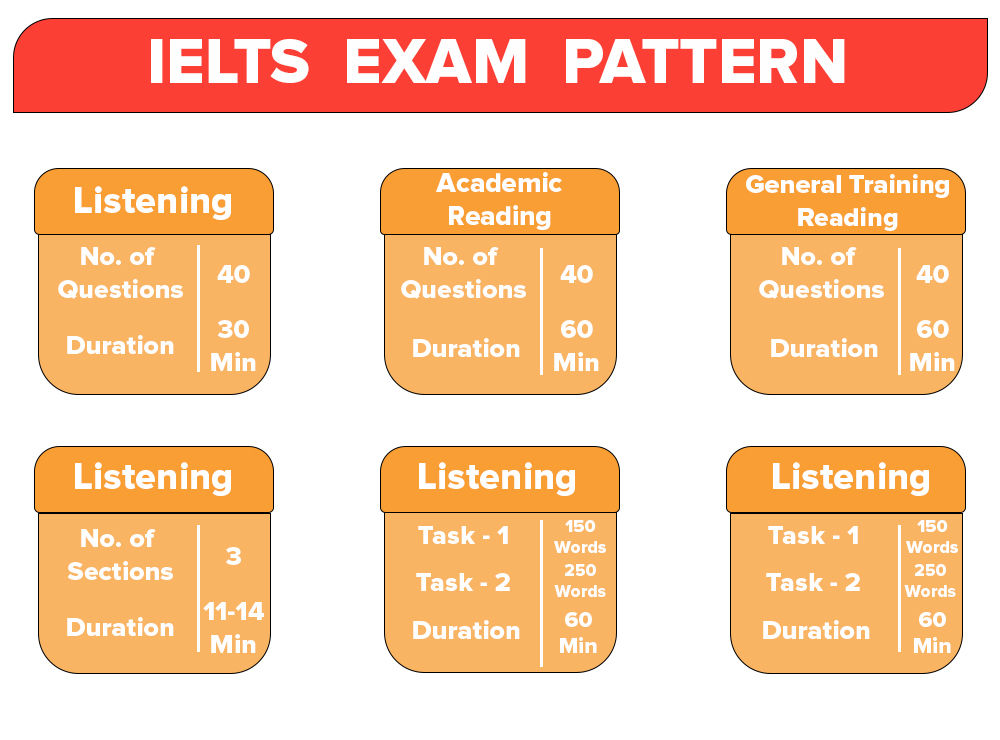 IELTS Exam Pattern FAQs
Q. What is the IELTS Exam Pattern?
The IELTS exam pattern is divided into test sections – Listening, Speaking, Writing, and Reading. Each section has several types of questions and tasks.
Q. Why IELTS is Important?
IELTS is important because the language test scores are used as proof of English proficiency by individuals seeking work and education in English-speaking countries.
Q. Is IELTS difficult to Pass?
No. IELTS is not very difficult to pass but it requires a fair amount of practice for people who are not proficient in English.
Q. What is the Passing Score of IELTS?
There are no pass or fail scores in the IELTS. It has 9 band scores and the score requirement varies across countries and institutions.
Q. Is the IELTS Exam Pattern Changed?
There are no recent changes in IELTS. The test pattern got some minor changes on January 4, 2020. Only the IELTS Listening format was tweaked slightly.