IELTS Essay For Writing Task 2 - Complete Details
IELTS Essay For Writing Task 2 - Complete Details
Updated on 01 November, 2023
In the writing section of the IELTS test, writing task 2 or the IELTS essay is a pivotal and the most scoring part of the examination. While preparing, you can always find popular IELTS essay samples and useful information on topics to help you make the most out of the writing task in terms of scoring. Here is a guide to help you crack the writing task 2 with a high band score.
What is IELTS Essay
The IELTS Essay is part of Writing Task 2. It is the same for the General Training and Academic of the IELTS. You will get a topic and have to write an essay on it. You should complete your essay in 250 words within a time limit of 40 minutes.
Writing Band Descriptors- Scoring Criteria for IELTS Essays
The writing test scores are calculated based on four parameters. They include the following:
Task Achievement –

This examines how you answer all parts of the given task with a reasonable opinion, position, and stance while including various ideas at the same time simultaneously.

Coherence and Cohesion – This analyzes whether you can organize your thoughts, information, and arguments in a logical manner. It also assesses whether there is a logical build-up of ideas.
Lexical Resources – This examines your vocabulary and usage of the same accurately. Lexical item usage and their refinement is the key marking criteria here.
Grammatical Range and Accuracy – This measures grammatical components, accuracy, structures, and usage of complex sentences.
These are given individual band scores, which are tallied together to form the final band score for this section on a scale of 0-9. This is why you should keep practicing on various essay topics for IELTS to refine your language and writing skills.
IELTS Essay Topics with Answers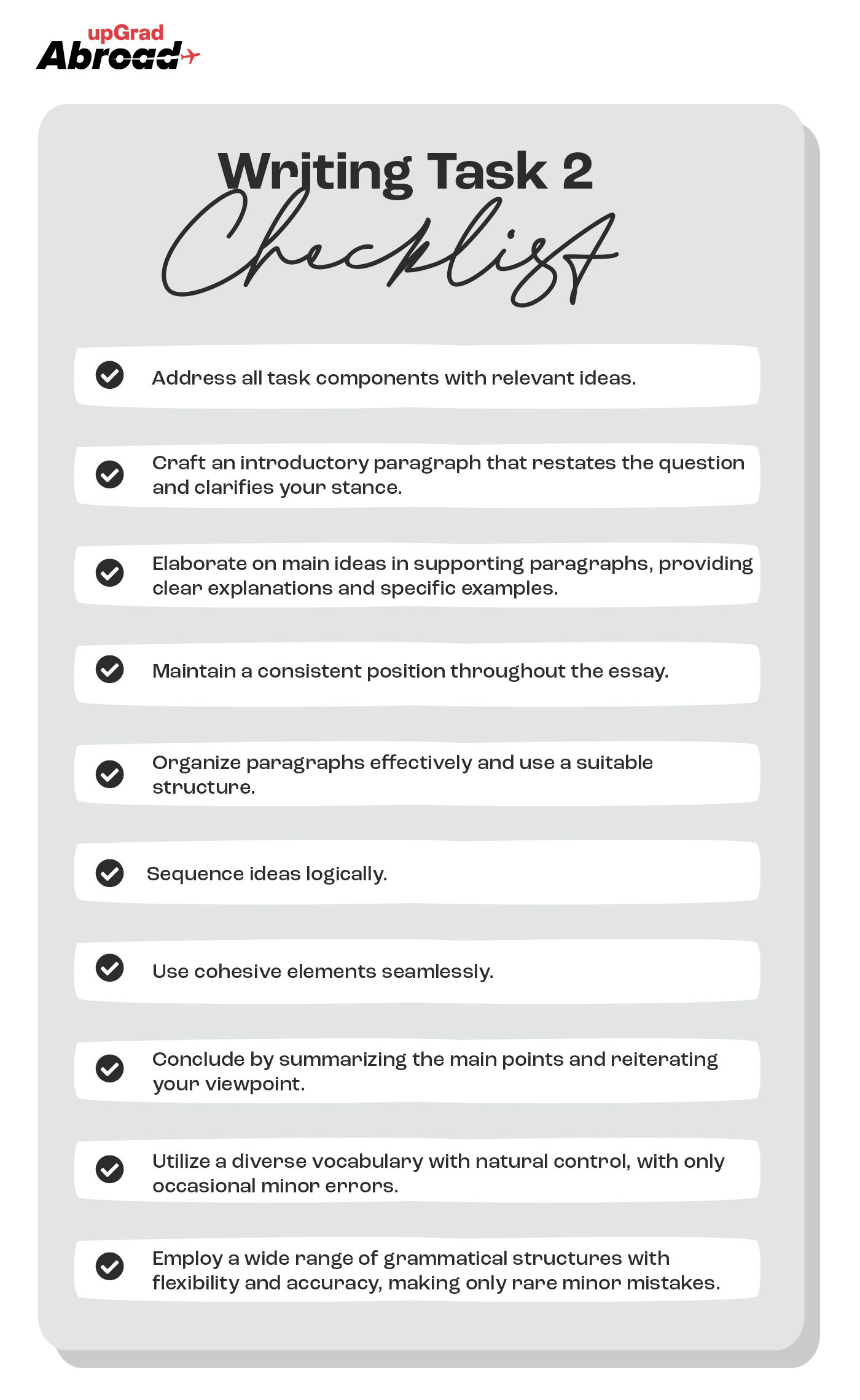 Trending IELTS Essay Topics
Tips for IELTS Writing Task Essays
Here are some tips that you should consider carefully:
Always answer the basic questions – Ensure that you read the entire topic carefully and answer all the questions. You should suitably and completely address the entire line-up of questions or tasks in the essay. This is essential for scoring well in this section.
Plan the essay carefully – Always take a little time to plan the essay before you begin writing. Analyze the main points you will highlight, along with examples or other supporting instances. Consider how you will build up the essay and the sequences of thoughts/points. A neatly organized essay will help you score more for cohesion and coherence. You can spend a few minutes planning. Make sure to split your essay into paragraphs within 250 words. Do not meander off the topic; stay on track with a crisp essay to help you score higher marks.
Reviewing is vital – First, write a draft without aiming for perfection. Finish this swiftly and then review it with care. Rewrite the portions where you think improvements are needed. Check for grammatical accuracy and the proper usage of vocabulary. Try and swap some words, including stronger and more complex ones in their place. Phrase some portions afresh to showcase your grammatical knowledge.
Build vital examination skills –

Build up your examination skills in advance. This means planning your eaisly swiftly in 3-5 minutes while thinking of examples and points to support the same. You can write as many essays as you can before the examination.

Hone your language capabilities – Many aspirants fail to get a high band score in the essay due to a particular reason- language issues. Writing grammatically correct sentences and free from silly mistakes or errors is important. The pressure of sticking to the time limit often leads to the same but getting sufficient practice beforehand should help. You should write your practice essays and get feedback and input from your teachers or family members. This will help you work on your weaknesses.
Recommended Reads:
Download IELTS Preparation Guide For Free
Get to know about the latest updates on the IELTS Exam, Eligibility, Preparation Tips, Test procedure, Exam Pattern, Syllabus, Registration Process, Important Exam Dates, and much more!! This guide is a one-stop solution for every IELTS Aspirant who aims to crack the exam with an impressive band score.
IELTS Essay Types
IELTS Essay are broadly categorized into three types:
Opinion Essay:
This essay type mainly focuses on agreeing or disagreeing with information or a particular statement. The question generally has two views, and test-takers need to develop an argument or an opinion in response to the issue. So, how to write opinion essays for IELTS?
Given below are some of the opinion essay IELTS sample answers to get the basics right. Candidates can refer to the samples for a better understanding.
IELTS Opinion Essay Samples
Discussion Essay:
Discussion essays are a frequent question type for IELTS Writing Task 2 essay questions in which you are presented with two opposing viewpoints to analyze and express your perspective. Given are the few samples for the IELTS Discussion Essay
IELTS Discussion Essay Samples
Two-part Questions:
In the IELTS Writing test, you may come across question types with two separate prompts that require your response. Here are some examples:
IELTS Two Part Essay Samples

Frequently Asked Questions
How to write an essay in IELTS?
You will have 40 minutes to complete an essay of at least 250 words. Make sure you organize the essay, covering all the questions and points mentioned in the prompt. Also, divide it into paragraphs, outlining your points with suitable examples or instances. Have a suitable introduction and conclusion too.
How many types of essays are there in IELTS?
There are five kinds of essays in the IELTS examination. They include Discussion and Opinion Based Essays and Problem and Solution Essays. The other types are the Agree/Disagree, Advantages and Disadvantages, and Compare and Contrast Essays. You should practice these types of essays cautiously before sitting for your examination.
How to improve essay writing in IELTS?
You can readily improve your essay writing skills for the IELTS examination. The best way is to practice as many sample topics as possible before the test. Get feedback on your writing. This will help you write grammatically correct sentences and develop the ability to plan your essay in the first few minutes.
Ques: What are the criteria for marking writing task 2?
The criteria for Writing Task 2 in an academic or formal context can be summarized as follows:
Coherence and Cohesion: Your writing should be well-structured and logically organized into paragraphs. Linking words and phrases should be used effectively to connect your ideas.

Lexical Resource: You are expected to demonstrate a rich and varied vocabulary appropriate for academic or formal writing.

Grammatical Range and Accuracy: Your writing should exhibit a high level of control over grammar and sentence structure. There should be minimal errors in grammar and syntax.