IELTS Test Format: Section-Wise Details for Academic & General Training
IELTS Test Format: Section-Wise Details for Academic & General Training
Updated on 13 April, 2023
International English Language Test popularly known as IELTS is an English language proficiency test for non-native speakers who want to pursue higher education or migrate to a country where English is the most spoken language. Introduced in the year 1989, IELTS is acclaimed as one of the most reliable exams for testing a person's English language skills and has evolved as one of the most preferred forms of English-language evaluation.
If you are planning to pursue higher education from an international university/college, then you must be aware that scoring well in IELTS, TOEFL, or any other English language proficiency test is important to secure a seat at a top educational institution abroad. In this article, we will discuss in detail IELTS and its format. Many students want to clear the IELTS test on the first attempt and the secret to this lies in preparing right for the test.
Many universities accept the IELTS test that is designed to test an applicant's English language skills for education, work, or global migration. The IELTS test is globally recognized and is accepted by more than 11,000 organizations of the world including immigration authorities, employers, colleges/ universities, and professional authorities.
First of all, a candidate must be familiar with the IELTS exam pattern and plan accordingly. This post will help all aspirants to understand the IELTS exam format and provide them tips to get a high band score!
IELTS Paper Format
The IELTS test has a unique format that assesses candidates' English skills based on four categories: writing, reading, listening, and speaking. A candidate must have sufficient skills to pass every section of the test. The IELTS test is of two types: General Training and Academic tests.
The IELTS Academic test is for students who want to pursue higher education at overseas universities where English is the primary language while the IELTS General Training test is for those who want to apply to study below degree level. It can also be taken up for work purposes or other employment training.
All candidates need to take the same speaking and listening tests but different writing and reading tests. Make sure that you are preparing for the right test.
IELTS Listening Format
In this section, candidates need to listen to audios of four recorded monologues, conversations, and texts by different English speakers and then answer a few questions accordingly. These questions are designed to test the ability of candidates accordingly. A variety of audios of English speakers are used and candidates are allowed to hear each section once.
The candidate needs to answer 40 questions in different formats of multiple-choice, short answers, map or diagram labeling, flow charts. summary creation and sentence completion in half an hour.
There are 4 sections in the IELTS listening test:
1) Section 1: These audios are a conversation between two people set in an everyday social context.
2) Section 2: These audios are monologues related to everyday social contexts like talking about local facilities.
3) Section 3: These audios are a conversation among at least 4 persons over education or training context.
4) Section 4: These audios are monologues of academic subjects.
Tips to Score Well in Listening section
1) The voices in IELTS clips are with thick and heavy accents, so frequently listing types of English language accents will improve your English listening ability and help you to pick the correct answer in one go.
2) You may lose your concentration while listening to such videos, hence you should keep yourself attentive to understand that tricky part to find out the correct answer.
3) Candidates should read the instructions carefully as there might be specifications in listening tests that should be marked with utmost importance.
Recommended Reads: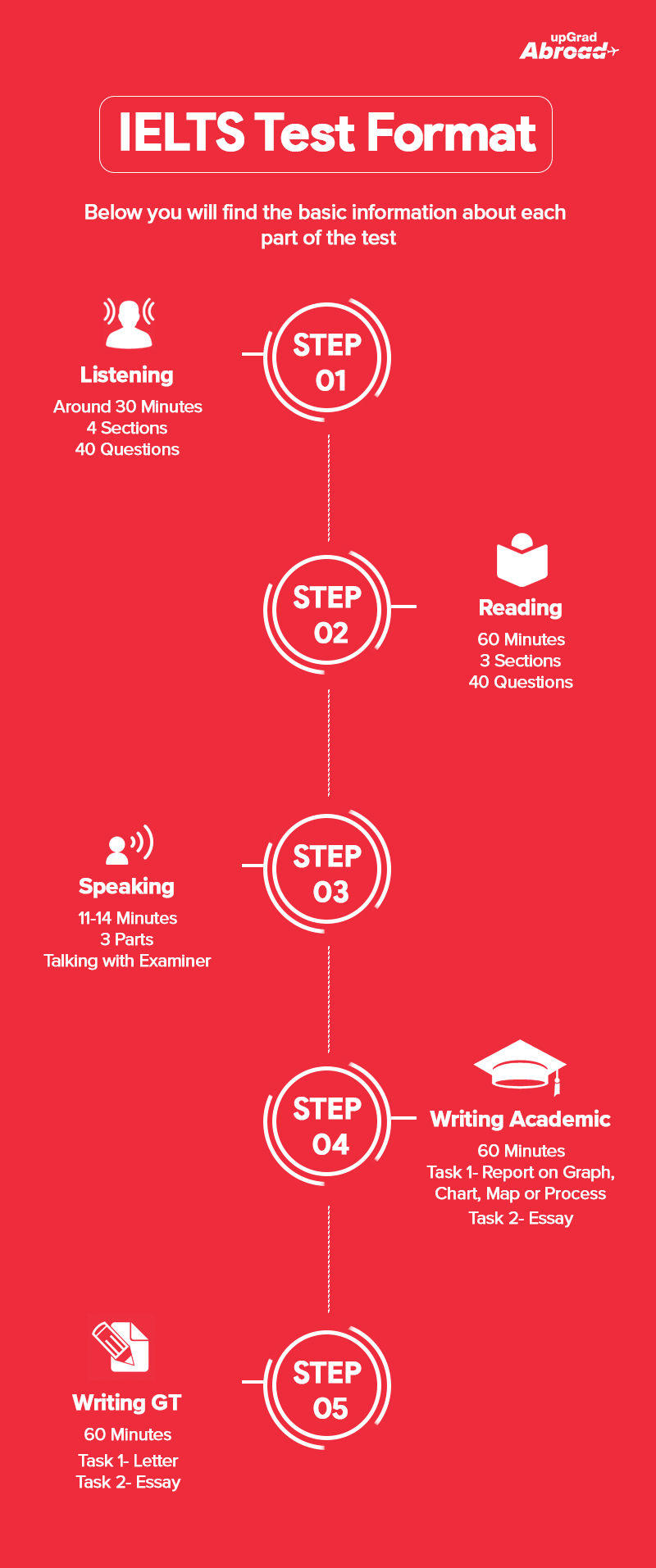 Download IELTS Preparation Guide For Free
Get to know about the latest updates on the IELTS Exam, Eligibility, Preparation Tips, Test procedure, Exam Pattern, Syllabus, Registration Process, Important Exam Dates, and much more!! This guide is a one-stop solution for every IELTS Aspirant who aims to crack the exam with an impressive band score.
IELTS Speaking Format
In this section, there is a face-to-face interview that takes about 11-14 minutes to complete. This section is designed to check your English speaking abilities. It consists of 3 tasks:
1) Task 1: This is an introduction and the interview round lasts for 4-5 minutes. In this section, the examiners first introduce themselves and ask you to give your introduction. The interviewer will ask some general questions on familiar topics like work, family, studies, and hobbies. This is done to warm up and make the candidate feel comfortable during the exam.
2) Task 2: This section lasts for 3 to 4 minutes in which the examiner will ask you to write on any particular topic on the task card. You need to recommend some key points that you can include in your discussion. You will get one minute to prepare for this section.
3) Task 3: This section lasts for 4-5 minutes in which the examiner will ask you in detail about task 2. You need to discuss ideas in a detailed manner.
Tips to Excel in Speaking section
1) Candidates often get nervous while giving face-to-face interviews. Having a positive mindset, proper body posture, usage of formal words, and establishing eye contact can help them to look confident, which is an integral part of speaking.
2) Practice more by recording yourself promptly. You can also practice in front of the mirror to better observe your activities.
3) Try to keep yourself in English speaking environment in both formal and informal scenarios and in the end try to rise above your insecurities.
IELTS Writing Format
You can either choose academic or general training test writing according to your preferences. This writing test consists of two parts and both need to be completed in 60 minutes. In part 1, candidates need to write at least 150 words and 250 words in part 2. Answers should be written in full sentences rather than in bullet points or notes.
IELTS Academic Test Format
1) Task 1: You are presented with a table, chart, graph, or diagram that you need to explain in your own words and formal style.
2) In task 2: You need to write essays in response to any argument, ideas, or problem with the formal style.
IELTS General Training Test Format
1) Task 1: In this section, you are presented with a situation and you need to write a letter explaining it. This letter may be semi-formal, personal, or formal in style
2) Task 2: In this section, you need to write an essay in response to an argument, view, or problem. This essay can be more personal in style than academic writing tasks.
Tips to Score Well in Writing Section
1) Try to read good quality magazines, articles, newspapers, or short articles. Underline grammar structure, and vocabulary items, and try to link sentences and paragraphs.
2) Practice the IELTS practice test by choosing any topic of your interest, it will help you to overcome your nervousness and make you more confident to appear for the test.
3) Before directly answering a question, check out the directive words. Your instructor will provide your specific directions to write the answers, and make sure you understand what you are being asked to do.
Download E-Books for IELTS Preparation


IELTS Reading Format
This section consists of 40 questions and needs to be completed in 60 minutes. Reading skills are checked in this section, which includes English-speaking, understanding of logical arguments, reading in detail, and understanding the writer's opinions and purpose.
Academic IELTS Reading Requirements
The academic version includes three long texts ranging from factual to descriptive or analytical. These texts are originally taken from journals, magazines, books, and newspapers.
General Training IELTS Reading Requirements
This section requires candidates to read extracts from newspapers, books, notices, and guidelines that are encountered regularly, in English-speaking countries.
Tips to Score Well in Reading Section
1) You should be able to scan the passage in 2-3 minutes as it will give you a general idea of the passage. Scanning will help you to locate the answer quickly.
2) Do not spend too much time understanding the passage, try to locate the answer as fast as possible. There are only a few questions that will require detailed understanding like matching headings and making titles.
Hope this article was helpful for you to understand the IELTS test format in a detailed manner with some tips and tricks that will help you score well in every section of the IELTS test.
Know More About IELTS:
IELTS Test Format - FAQs
Who evaluates IELTS computer-based tests?
The IELTS Listening and Reading sections are marked automatically by the computer, whereas the Speaking and the Writing sections continue to be examined by trained examiners.
What makes the IELTS format fair?
Students should receive a fair chance to do their best. While giving an IELTS exam, students get a quiet room for the Speaking test, with no interruptions and distractions.Also, applicants can answer questions in any order they want.
What is the format of IELTS exam?
In IELTS, there are four papers: Reading, Writing, Listening, and Speaking. There are two distinct IELTS modules: General Training and Academic. The Listening and Speaking tests are the same in both modules, but the Writing and Reading test varies.
How to change IELTS test format?
If a student wants to alter the format of the IELTS exam, they can do it by contacting their test center. A computer-based test is more convenient to the students as they are required to visit the nearest center to their location and give the test with efficiency.
Is IELTS exam difficult?
The world's leading test of English language proficiency, IELTS is not difficult in itself. The level of difficulty depends on the practice level of the student.
Read More About IELTS:
Download IELTS Sample Papers


Study Abroad Without IELTS