Statement of Purpose (SOP) for Masters with Samples
Statement of Purpose (SOP) for Masters with Samples
Updated on 19 May, 2023
A Statement of Purpose(SOP ) is a crucial essay discussing applicants' academic records, experiences, accomplishments, and skills. It helps the admissions committees assess the suitability of candidates for their programs. Unlike MBA and other programs, SOPs for MS courses mainly revolve around academic prowess and the reasons behind choosing a particular program. Reading SOP samples for MS will also help you get an idea of the style and tone of writing.
SOP Samples for MS (Master of Science)
SOP Sample for MS : #1
The dynamically advancing world of Computer Science has always attracted me. I started learning how to code from the seventh grade itself and ventured directly into advanced computer programming at 14. As they say, the rest is history. I was hooked on developing applications of various types throughout high school and even in college. I naturally took up a B. Tech course in Computer Science and graduated with flying colours. I participated in numerous coding competitions at my institution and online too. I have also completed online certifications in Python, ML (Machine Learning), and AI (Artificial Intelligence) to quench my insatiable thirst for knowledge in the field.
I have been involved in hosting and organizing multiple events and seminars on programming and data science at my institution. I decided to apply for an MS in Computer Science after graduation. Even though I lack professional experience, I have ranked in the top 2% of my class throughout my undergraduate course while also serving as the secretary at the coding society of my institution named Coders Unlimited. I have also pursued multiple internships and projects throughout the final two years of my course. I have interned at a data science company and another IT major in my third and fourth years. These internships have helped me apply my programming, coding, data science, and analysis knowledge to solve real-world problems. I have always viewed Computer Science as a spectrum with many gaps, untapped zones, and well-known sub-categories which have unfathomable future potential. I also helped one of my professors with a special project on Artificial Intelligence (AI) and its application to customer interaction at financial institutions. My passion for Computer Science is visible through my academic record, internships, projects, and certifications.
Pursuing an MS in Computer Science, I would like to go deeper into the field and gather more advanced skills while building up my research skills simultaneously. I aim to eventually become an entrepreneur and build my ecosystem of problem-solving applications for daily life. The master's program at your institution will help me with the skill sets and knowledge I require for fulfilling my career goals. The world-class faculty, intellectually stimulating atmosphere, and progressively inclined curriculum attracted me to your esteemed institution. I would be grateful if deemed worthy of admission into your university. I am confident about meeting the high standards of your institution.
SOP Sample for MS : #2
I have always been fascinated by robots from childhood and how they simulated human beings' activities and brain functions. I chose Computer Science as my elective in high school. It helped increase my passion for Artificial Intelligence (AI) and Data Science and enlightened me about the massive future potential of these fields in almost every sector of the industry and even daily life. AI (Artificial Intelligence) will have a transformational and disruptive impact on every segment of the mainstream industry, right from healthcare and medicine to mobile technologies and even education. It is what spurred my interest in artificial intelligence and its universal applicability.
I went ahead with an undergraduate degree in Computer Science after completing high school. This decision was driven by my interest in technology and data science. I chose Artificial Intelligence (AI) after that as the specialization for my master's program. I headed the AI and Data Science Society during my undergraduate courses, where we participated in several inter and intra-college events and contests. I also helped develop multiple artificial intelligence tools and devices for several projects in college while winning numerous laurels at college competitions on data science.
Studying MS in Artificial Intelligence will help me equip myself with more advanced skill sets and knowledge regarding this emerging area of study and contribute to productive research at your institution. My long-term objective is to build the foundation for a successful research career in Artificial Intelligence and focus on applying it to solve pressing problems of modern life. The (course name) at your institution will help me gain the insights and further training required to build a successful career as a researcher. The favorable environment for research, top-class laboratories, project work, and innovative curriculum are major reasons behind choosing your institution. I would be grateful if you choose me for admission into your esteemed institution's (course name). I am confident that I can live up to the high standards maintained by your university.
Read More: What is the full form of IELTS?
Suitable Format for SOP for MS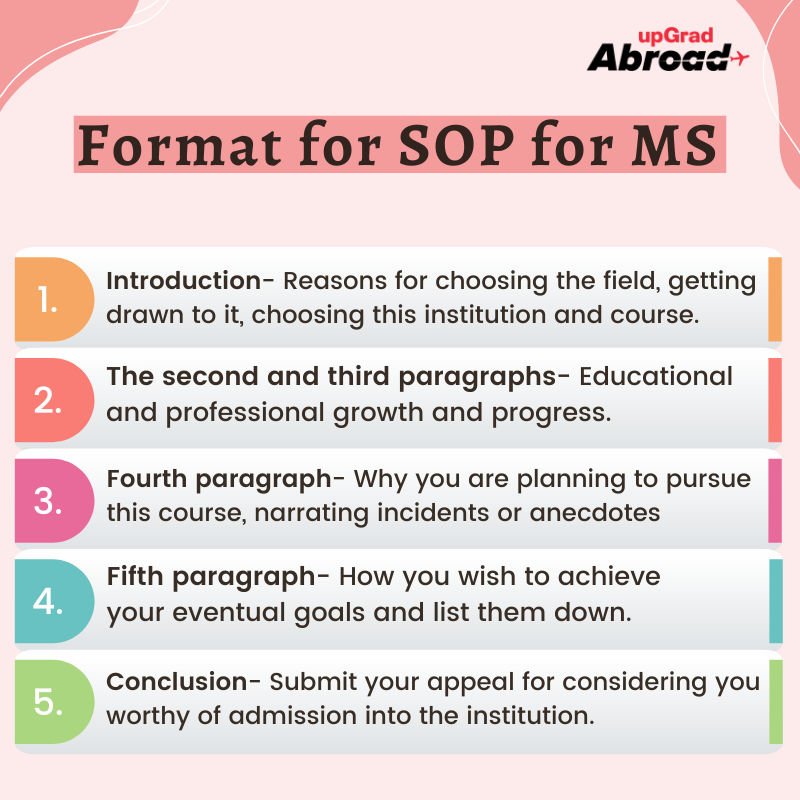 If you write an SOP sample for MS in electrical engineering or any other field, you will find yourself following a similar format. You will use a 12-point font (maximum) with double spacing and regular margins. A standard SOP may be between 800-1000 words on average. Do not use any colorful images or text with your content.
Here is a suitable format:
Introduction- Reasons for choosing the field, getting drawn to it, choosing this institution and course.
The second and third paragraphs- Educational and professional growth and progress.
Fourth paragraph- Why you are planning to pursue this course, narrating incidents or anecdotes
Fifth paragraph- How you wish to achieve your eventual goals and list them down.
Conclusion- Submit your appeal for considering you worthy of admission into the institution.
What You Should Include in Your SOP for MS
When you check SOP samples for MS in CS (Computer Science) or other disciplines, such as SOP samples for MS in mechanical engineering, you find some common elements. So what are these elements?
Here's taking a look at them:
Four Ps- Purpose, Program, Past, and Personality.
Purpose-
The program you wish to study and reasons for the same.
Reasons behind choosing this particular course.
Projects during the undergraduate course.
What draws you to the field?
Knowledge and skills you want to acquire from the course.
Plans after graduation.
Long-term and short-term goals.
Past-
Earlier academic track record.
Work experience, if any.
Internships, projects, seminars, conferences, more.
Additional skills.
Program-
Reason for choosing a specific university.
Any particular curriculum aspect that you appreciate.
Any department, field, or topic you are interested in.
What you will contribute to the university and the course.
What do you expect from the institution and course.
Personality-
Extracurricular activities.
Hobbies and personal interests.
Soft skills like teamwork, leadership qualities, and communication skills.
A unique trait that you wish to inform the admissions committee about.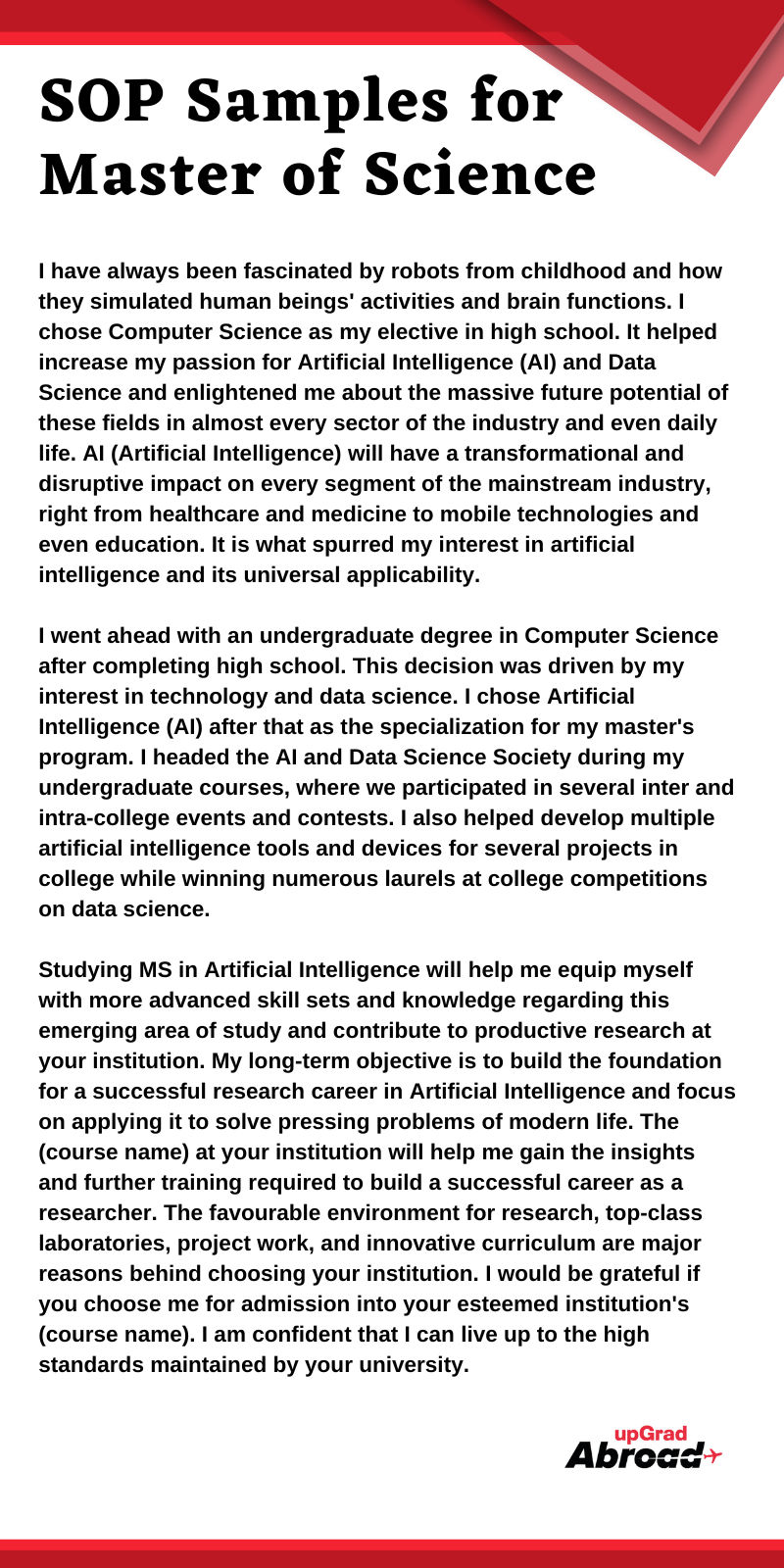 FAQs
What is the ideal length for an SOP for masters?
Usually, it is advisable to keep the content length around 1000 words. However, when a student is applying for admission in the UK universities via UCAS, it is advisable to keep it around 47 lines or 4000 characters. Moreover, it is paramount for students to check the official website of the university before submitting their statement of purpose.
How do you write a statement of purpose for masters?
Writing an impeccable statement of purpose for masters is not an easy task. But with the right guidance and keeping these pointers in mind, it could be easily achieved.
Focus on unique qualities and experiences
Explain how your academic background is relevant to the course
Discuss your research interest
Make sure to proofread your draft
Avoid any grammatical mistake or spelling mistakes
Elucidate how can the course help you to achieve your long-term and short-term goals
Brief about why the university makes the right choice
Do not miss to write a crisp conclusion
Top Study Abroad Destinations
0