SOP for Australia – Sample, Format & Tips
SOP for Australia – Sample, Format & Tips
Updated on 05 May, 2023
Statement of Purpose (SOP) is the most significant document required for admission to Australian universities. A well-written SOP can act as a pathway for students seeking an Australian visa to pursue higher education in the country. With so many impressive resumes, test scores, and high GPAs, it becomes challenging for the admission panels to decide which application to select and which to reject. Thus, to secure a seat at a university in Australia, an SOP that makes you unique among a pool of candidates is crucial. It is an opportunity to present your career aspirations, the motive behind choosing a particular course and university, and the narrative of life beyond your academic documents in a distinguished manner.
Comparing SOP for Australia with other countries
One of the notable comparisons between SOP for Australia and other countries is that the SOP for Australia student visa highlights more on introducing facts and certainties while other countries expect you to majorly focus on narrative and storytelling. Australian universities want to ensure that applicants show their enthusiasm for studying a specific course to make a revolutionary transition in their field and do not use their visa program to maintain their residency in Australia.
Country-Wise SOPs
Differences that make an Australian SOP unique and different from SOP of other countries
1) In other countries, SOP needs to be drafted for bachelor's and graduate programs, while in Australia, SOP needs to be prepared only for the programs in arts, business, and specific education programs.
2) Australian universities focus more on bachelor programs while other countries pay more focus on master's programs.
3) Australian SOP is more structured compared to the SOPs for the rest of the countries.
4) In Australia, applicants need to submit only SOP with the application, while some countries want a video essay along with SOP.
The best SOP samples for Australia student visa
As the title suggests, SOP is a document that throws light on your career goals, your revelations, and your motives for studying in Australia. Therefore, to get your SOP accepted by the Australian universities, the write-up should revolve around how Australia will help you to accomplish your career goals.
Here we will explain the SOP format for Australia study visas by breaking them down into subparts:
First part:
When you start outlining an SOP, it's the most time-consuming part as you must write something interesting that is filled with your ambitions of a fulfilled career. This section should invoke curiosity about your future goals in the reader's mind, and then you need to introduce your intentions of choosing the specific course.
Adding to the above-mentioned points, you must also highlight your motives for choosing Australia as a destination to pursue higher education. For that, you can include knowledge about Australia, its amazing culture, uniqueness, education system, and quality education. You can include information about determining the particular educational institutions. You can also include the achievements of Australian university of your choice, and its record in providing excellent teaching, teacher-to-student ratio, and how the institution will help you to enhance your career and skills.
Second and third paragraphs:
In this section, you need to talk about your life, experience, and family status. You need to add information about your scholarly and professional capacities. Highlight your accomplishments, honors, recognitions you have received during your academics. Also, add your work experience if you plan to pursue management courses like MBA. If you have volunteered for any other co-curricular activity, then you can mention your volunteer work as well that will give you an edge over others. Additionally, you can also include the reasons for gaps (if any) between your studies or jobs.
Fourth paragraph:
In this section, you need to emphasize the reason for choosing a particular course. You need to ensure that you write about the subjects you will study and the skills and knowledge you will gain after completing the program. Considering the course duration is the most aspect of writing this paragraph.
Also, it would help if you mentioned about the benefits of choosing the particular program. It is a good idea to add your purpose of returning to your home country or about your plans after achieving the degree.
Fifth paragraph:
In the concluding part of SOP, an applicant needs to write a summary of all paragraphs. You need to include how the given course will help you in your career and how it will add value to the university.
SOP for an Australia student visa
Here is a sample statement of purpose for an Australia study visa
I am Hemant Shukla, a banker by profession, and I am drafting a statement of purpose for a student visa In Australia. Due to the increase in the use of technology in almost every sector, I have realized that I should get exposure in Australia that will help me make some contributions in the banking sector.
Academic background:
I have completed my Class 10 from an ICSE-affiliated school in Uttar Pradesh. Following it, I completed my intermediate studies in the commerce stream with 85%, then I pursued my graduation from Delhi University with Economics honors and completed it with 9 CGPA. My overall academic performance was outstanding. To assure an entry to an Australian University, I appeared for TOEFL and I have scored good band in the exam. To achieve my goal of pursuing Masters Program in Business Analytics I am writing this statement of purpose for your evaluation.
Professional Life:
Coming from a middle-class family I have seen my parents sacrifice many things so that we could get better education. Growing up I was determined to not let my parents' sacrifice go in vain so I decided to take up a subject where I thought I could excel. Right from high school, subjects related to business fascinated me. So, I started to gain in-depth knowledge on subjects like economics, accountancy and banking. Right after completing my graduation, I managed to clear SBI Junior Assistant exam in the year 2018. But working in a bank couldn't quench my thirst to explore more and gain more knowledge in this field so I decided to pursue a masters degree in Business Analytics. In these three years of working at a bank, I have gained quite a lot of knowledge in banking and accountancy, but I would like to explore more into it with the help of technology. I believe a formal degree in Business Analytics will help me gain deeper knowledge of creating effective business plans and gaining more understanding of information systems and latest analytical tools.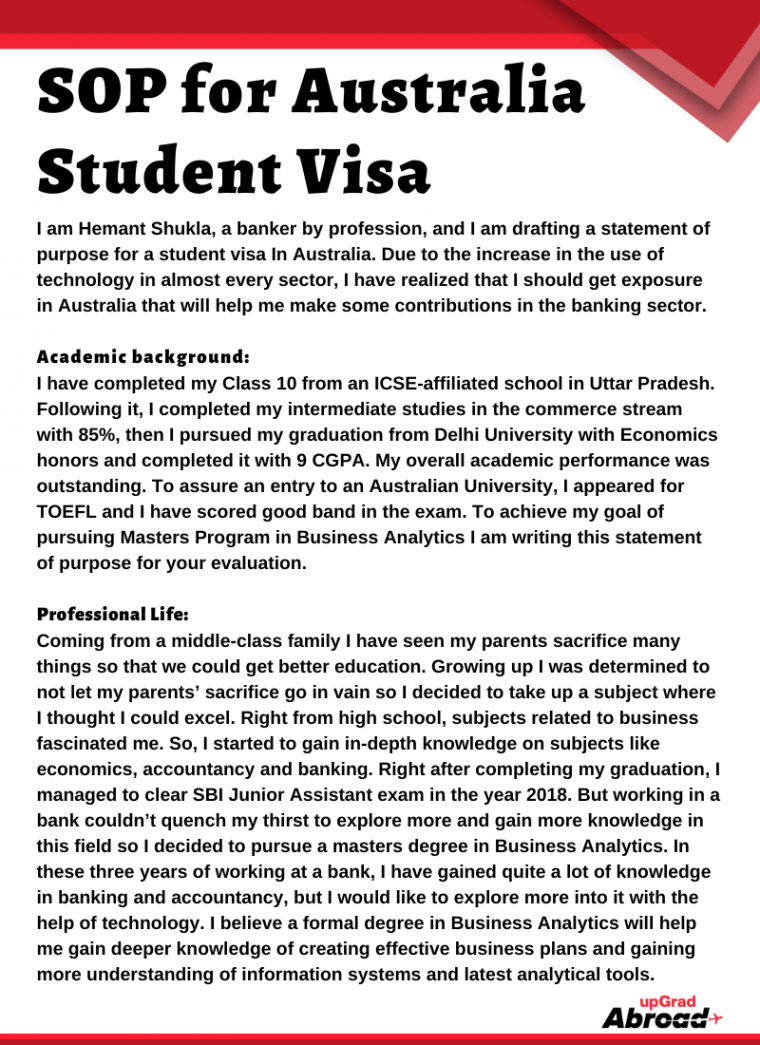 Pathway Programs With Some Important Resources:
Why Australia for the Masters program?
After detailed research and discussion with lots of people regarding my higher studies, I found that Australia is the best place to pursue higher education. The education system in Australia is recognized worldwide and maintains a high standard. Pursuing a Masters degree from one of the universities in Australia will not only boost my career, but will also help me grow intellectually. I chose your university for my masters degree as it is ranked among top international universities. What attracts me about the university is its well-structured curriculum that will give an insight into the latest trends and technologies. I hope studying at your university will provide me with an education of global standard that will eventually add to my credentials. It will allow me to strengthen my career and focus on Business Analytics with global thinking.
Many alumni of this university are now working in the global industries. At this university, scholars get a chance to present themselves on international platforms and be industry leaders. I hope I will be able to be a part of global tournaments during my studies.
It is not just the university that made me decide on study in Australia but also its safe and amicable environment. Australia welcomes individuals of different ethnicities, races from across the globe. I hope after concluding my studies, I will come back to my home country and work for the betterment of society.
During my studies, I pledge to follow all the guidelines of Australia and give my best.
Also Read:
Recommended Reads:
Top Study Abroad Destinations
0