Scholarships for MS in USA: How to Apply
Scholarships for MS in USA: How to Apply
Updated on 07 November, 2023
Studying in the US won't be a cheap option for students – US universities charge some of the highest tuition fees across the globe, especially colleges with strong global reputation. The tuition fee at top US universities can range between $US 40,000 and $US 50,000/ year (excluding health insurance, accommodation, and other expenses).
An array of bursaries and scholarships for masters in the USA for Indian students are also offered by the American government, and a gamut of private and public establishments as well. When applying to any of these scholarships, you should ensure to check the criteria carefully, in tandem with the application closing date.
Getting a scholarship for MS in the USA is not that difficult, provided you do careful planning and research. Several institutions offer a chance to get a scholarship for MS in the USA for Indian students. You should check the eligibility criteria and apply accordingly.
Scholarships to Study in USA for Indian Students – Available Options
Here are some fully-funded scholarships for MS in the US for Indian students:
Fulbright Foreign Student Program
One of the most popular government-funded US scholarships for international students, Fulbright offers scholarships for graduate students to study in the US for one year or more. It is available for international students in all fields apart from medicine.
| | |
| --- | --- |
| Eligibility Criteria | Amount |
| Must have an equivalent of a US Bachelor's degree and a minimum of three years of work experience; enrolled in a US university | Tuition fees, living expenses, accident and sickness coverage, and round-trip air travel tickets |
USA Free Course
The USA hosts the largest number of international students from across the world. Over the past few years, it has become one of the most popular destinations for studying abroad. Reasons such as best-ranked institutions, excellent support facilities, flexible academic environment, and cultural diversity contribute to making it the most preferred destination amongst students planning to study abroad.
Aga Khan Foundation Scholarship
There are limited openings for those wishing to pursue MS in the USA. They should be from developing countries, unable to cover the cost of their studies, and should be meritorious. 50% is a grant, and 50% is a loan. It has to be paid back with the annual service charge capped at 5%. The loan agreement has to be signed by a co-guarantor or parent. The repayment period is five years after the completion of the educational course. The amount covers tuition and living costs and is decided based on individual requirements. Students should reside in a nation where the Aga Khan Education Services (AKES), Aga Khan Foundation (AKF), or Aga Khan Education Board (AKEB) are present. Students may obtain the form as of 1 January each year from Aga Khan Education Services/Boards or AKF offices in their countries of current residence. Applicants below 30 get more preference.
| | |
| --- | --- |
| Eligibility Criteria | Amount |
| Enrolled in a graduate course and must be a resident of an eligible country. For instance, India | Tuition fees and living expenses |
Generation Google Scholarship
It is given by Google to eligible students pursuing computer science. Selected students will receive $10,000. Moreover, they should have high school degrees, be accepted as full-time learners in a master's program, pursue computer science, computer engineering, or any related field, and have a bright academic track record.
| | |
| --- | --- |
| Eligibility Criteria | Amount |
| Must have a high school degree or an equivalent degree; must have an intent to study computer science, computer engineering, or other related fields | $10,000 |
AAUW International Fellowship
This is given by the AAUW (American Association of University Women) to only women to promote education and equality for non-US citizens applying to study full-time. 3,600+ women from 150+ nations have already got this scholarship over the last few years. Students applying for master's or their first professional degree are awarded $20,000. Whereas students applying for doctoral and postdoctoral are awarded $25,000 and $50,000, respectively. Women should have bachelor's degrees, and intend to go back to their home nations for professional careers. Moreover, they should prove English language proficiency and should be studying/researching for a year at least. Women should also have applied to accredited US institutions to be eligible to get this scholarship.
| | |
| --- | --- |
| Eligibility | Amount |
| Must have an academic degree equivalent to a US bachelor's degree | $20,000 |
Global Study Awards
This scholarship arrived in 2015 and is an initiative by the British Council. It offers scholarships of approximately $12,370. If the tuition fees are lower, the remainder will be given for a maximum of 52 weeks' living costs. Moreover, the student must possess a Test Report Form (TRF) and should have a valid International Student Identity Card (ISIC) or International Youth Travel Card (IYTC). To get this scholarship, you need to enroll in a postgraduate program in the USA and show the acceptance letter.
| | |
| --- | --- |
| Eligibility | Amount |
| Must have an acceptance letter from a US university and demonstrate excellent IELTS score | $12,370 |
Narotam Sekhsaria Foundation
The foundation was established in 2002 for providing financial support to academically bright students. Interest-free loans are given up to $25,496. Indian nationals below 30 and graduates from accredited universities in India are eligible to apply.
| | |
| --- | --- |
| Eligibility | Amount |
| An Indian national of age below 30; must be a graduate from an accredited Indian college and have enrolled in US university for masters degree | $25,496 |
University Specific MS Scholarships in USA
Illinois State University
Students can secure the chance to realize their dreams via this merit-based scholarship. This offers partial waivers of tuition costs for international students in postgraduate programs. The amount is $5,000 for every semester. The eligibility criteria include top-notch academic records.
| | |
| --- | --- |
| Eligibility | Amount |
| Excellent academics | $5,000 per semester |
University of Oregon
The institution offers several scholarships given on the basis of the GPA of applicants and their scores in standardized examinations. The institution provides the Sushil Jajodia Indian Student Scholarship, where $3,000 or given every year.
| | |
| --- | --- |
| Eligibility | Amount |
| An Indian candidate with good GPA, ACT, and SAT scores | $3,000 per year |
New York University Wagner Scholarship
This is a scholarship program that is based upon merit. Those interested in applying should submit their applications digitally. Selection is made based on whether the candidate meets the criteria and whether the application is a well-rounded one. Some scholarships offered in this category include the Dean's Scholarship, where total tuition fee coverage is provided, irrespective of the subject and degree course. Public Service Scholarship offers students half/partial scholarship options based on the application submitted and overall merit. It applies to all study fields in the USA, including MS.
| | |
| --- | --- |
| Eligibility | Amount |
| Excellent academics | Partial, half, or full tuition fee |
East Tennessee State University – International Students Academic Merit Scholarship
Students applying for a graduate program at East Tennessee State University can leverage the merit-based scholarship. They would be rewarded up to $11,500 per academic year.
| | |
| --- | --- |
| Eligibility | Amount |
| Merit-based | $11,500 |
Michigan State University
The university offers merit-based scholarships for international students. The student would be awarded $21,000, $25,000, or $18,000 per year for eight semesters. It is awarded based on the overall profile of the student. They would be considered for their application essay, English proficiency, academic performance, and geographic diversity.
| | |
| --- | --- |
| Eligibility | Amount |
| Merit-based | $18,000 to $25,000 for 8 semesters |
Requirements for Scholarships for MS in USA
Here is the list of requirements that will help you secure a scholarship for MS in the US:
Acceptance letter from the US university

A bachelor's degree or an equivalent degree

Excellent academic record

Work experience, if needed

Leadership quality

In case of financial need based scholarship, demonstrate the supporting documents and an affidavit

Good IETTS/TOEFL/PTE score for English proficiency

Good score in GRE/SAT/ACT exam
How to Get Scholarship for MS in USA
How to get a scholarship for MS in the USA for Indian students? Almost all major universities in the country require aspirants to demonstrate proof of funds before getting admission, and hence, there are only a few university-based scholarships for international students. Yet, several private and government scholarships may benefit international students.
Here are some things that you should keep in mind for getting your scholarship for studying MS in the USA:
You should adhere to guidelines to secure a scholarship for MS in the USA eligibility guidelines defined by private and public universities, including those related to factors like work experience, nationality, age, and more.
University departments sometimes have sufficient funds to offer grants to deserving students with pressing financial requirements.
Those wondering how to do MS in the USA with a scholarship should also know that academic track records are paramount. Grades in undergraduate courses will matter immensely, along with extra-curricular activities which demonstrate overall potential and leadership. Hence, building up a solid profile should be your focus.
Getting a scholarship to study in the USA for Indian students means working hard to get good grades and preparing for standardized tests, doing a lot of homework on the right scholarships and eligibility criteria, and writing successful essays when required for applications.
Students are considered for scholarships at their educational institutions while applying. It is, however, subject to criteria like academic score threshold or qualifying examination.
Ensure that you give all details accurately in your application form since incomplete forms will be rejected outright.

You should strengthen your academic profile, which encapsulates leadership qualities, publications, extracurricular activities, internships, recognition, and many more.

Students should submit an impecable scholarship cover letter or essay.
Tips for getting USA Scholarships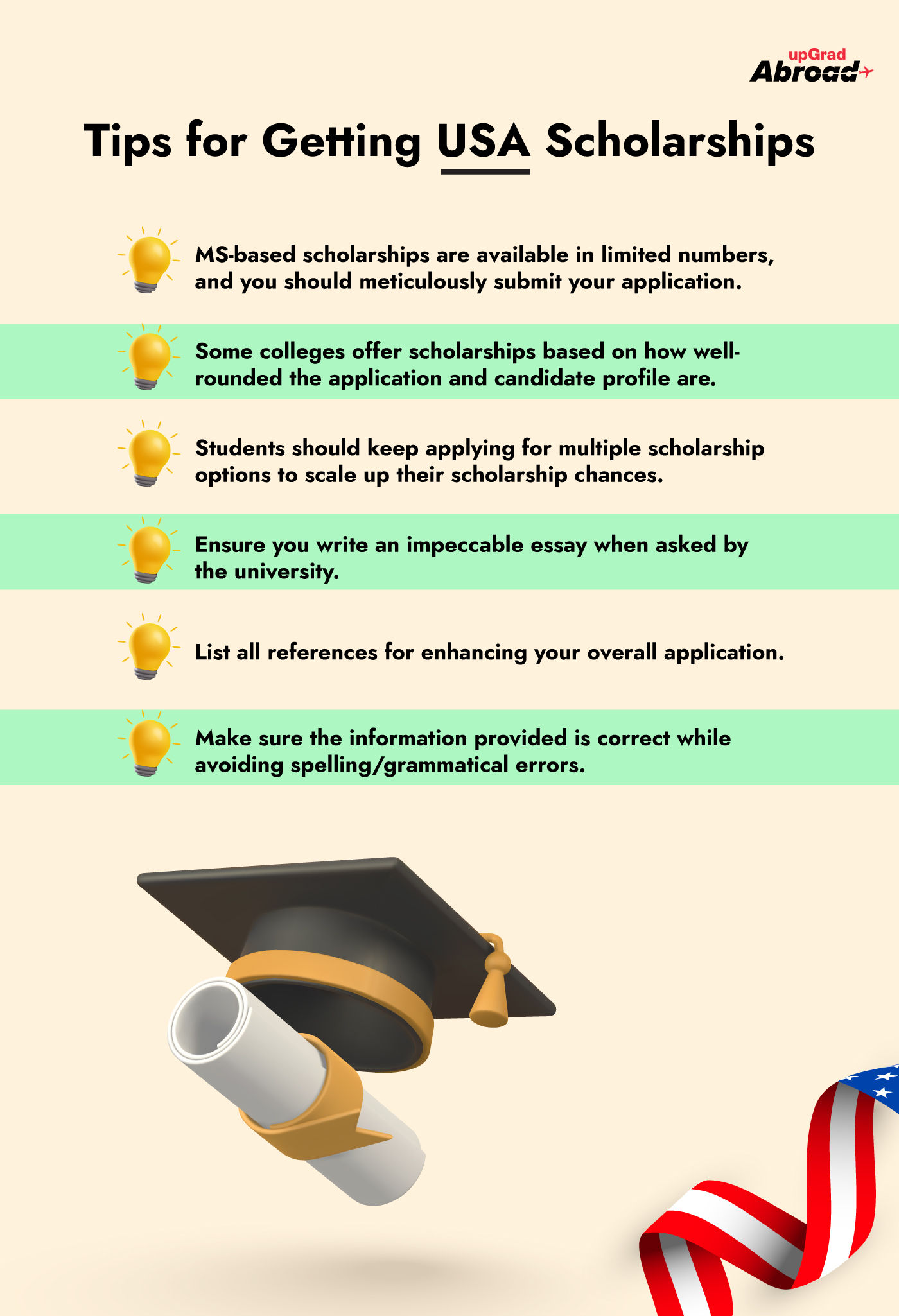 Frequently Asked Questions
How difficult is it to get a scholarship for an MS in the USA?
Getting a scholarship for an MS in the USA is difficult, with a lot of competition. However, it is not impossible by any stretch of the imagination. You should certainly check the eligibility criteria carefully while applying to multiple institutions. Make sure that you apply well before the deadline and submit complete applications with all necessary documents.
What type of scholarship can I get for an MS in the US?
You can get fully-funded or partial scholarships for MS in the USA. You may get a full scholarship for tuition and living costs, which may be offered for a limited duration. However, you can also get partial tuition waivers or scholarships for a certain time, as mentioned.
Can I get a 100% scholarship for an MS in the US?
While there are institutions and organizations offering 100% or full scholarships, these are quite rare. The count of full scholarships is low in number. In most cases, you may get anywhere between 50-80% of the costs as your scholarship amount. It can be higher or lower, depending on how well you meet the eligibility criteria.
How much CGPA is required for scholarship in the USA?
Many organizations and institutions need students to score at least a 3.0 CGPA on a four-point scale. It is mostly the guiding criteria. Most top institutions and scholarship providers usually prefer a CGPA of 3–3.5. However, not all scholarships take CGPA into account. Sometimes you may have a low CGPA, but if you have good GRE or GMAT scores and work experience, it is sometimes manageable to tap into other available options.