How to Check the Duolingo Certificate: Here's a Guide!
Updated on 29 March, 2023

Mrinal Mandal
Study Abroad Expert
If you plan to move to an English-speaking country to pursue further studies, you will need to prove your mettle in English proficiency. Hence, you are expected to score well in an English proficiency test to stand a chance to relocate.
Every English-speaking institution demands English proficiency test scores. This is where the Duolingo English Test comes into the picture since it tests every single aspect of your English language skills. Like any other English proficiency test, the test includes an assessment of reading, writing, listening, and speaking skills.
Significantly, a Duolingo certificate with good scores can help you enroll in your dream university easier.
Duolingo Exam: An Overview
The Duolingo exam is an English proficiency test that is essentially computer-based and can be appeared from anywhere at any time. The exam encompasses assessment tests on your reading, writing, listening, and speaking skills.
With a thorough approach to its English assessment, the Duolingo exam can be considered a reliable language proficiency test. The Duolingo Exam is more affordable than other assessment tests like IELTS, TOEFL, etc. The time required to attempt the test is also comparatively less.
Another essential feature of this test is that it follows a computer adaptive test approach. This means that with every question you answer correctly, the level of difficulty of the exam rises simultaneously.
Last but not least, here are some key features and facts about the Duolingo Exam:
The test is affordable as compared to other proficiency tests

The Duolingo English test certificate is recognized and accepted in over 1,000 universities worldwide

The test takes about 60 minutes to complete

You can attempt mock tests before you attempt the actual exam

The test is perfect for people looking to enroll in a US-based college
Additionally, the students can search for the Duolingo English test certificate sample online to better understand the actual Duolingo certificate.
Validity of Duolingo exam
Before delving into the validity of the Duolingo exam scores, let's shed light on another question. Does Duolingo provide certificate? And if yes, is Duolingo certificate valid? Well, it does, and the certificate is valid for two years. It takes around 48 hours to generate this certificate, and it contains the student's scores.
Last but not least, the Duolingo exam can be attempted as many times as you want. The only underlying condition in this situation is that you can't give the exam more than twice in 30 days.
Sending Duolingo Scores to Universities
This section will primarily answer how to get Duolingo certificate? And how do you send it out? The Duolingo certificate is released 48 hours after attempting the test. As soon as you receive your scores, you can start sending them to institutions around the world via the Duolingo website.
Follow the below-mentioned steps to send your Duolingo English Test scores to universities of your choice:
Use the email ID linked to your test and log into your account on englishtest.duolingo.com.

Scroll down to find your test results.

Press the 'send results' button.

From the drop-down menu, choose whether you want to apply to a university, school, or any other type of institution.

Please search for the institution you want to apply to and select it via the checkbox.

Add the application ID your university uses, if available

Select "Send."
You can select as many as 40 institutions at one time. In case you have chosen less than 40, you can add the remaining ones later.
If you want to send your results to more than 40 institutions, you can always contact Duolingo support to get your issue solved.
Note: when you send your scores to institutions via the Duolingo website, they aren't shared via email. These results are transferred via a secured dashboard to ensure the protection of your information.
Recommended Reads:
Study Abroad Preparation Course
What does the Course include:
12 Weeks of Dedicated Coaching to Build a robust profile for Top 1% Universities

SOP & Personal Statements For Academic Writing

25 hours of live online classes with mock tests for IELTS

Visa, University Application & Submission

Country-specific Support with Education loan Guidance

International Faculty Masterclass
Downloading the Duolingo Report card
As mentioned above, you don't need to download the Duolingo English test certificate and send it to universities individually. You can just log into your Duolingo account with the registered email ID and send it directly via the official website.
However, if you want to store your Duolingo report card offline on your device, you can always download it in PDF format. All you need to do is log into your Duolingo account, scroll down to find your Duolingo certificate, and press "Print Results." The pop-up will allow you to save the certificate in PDF format.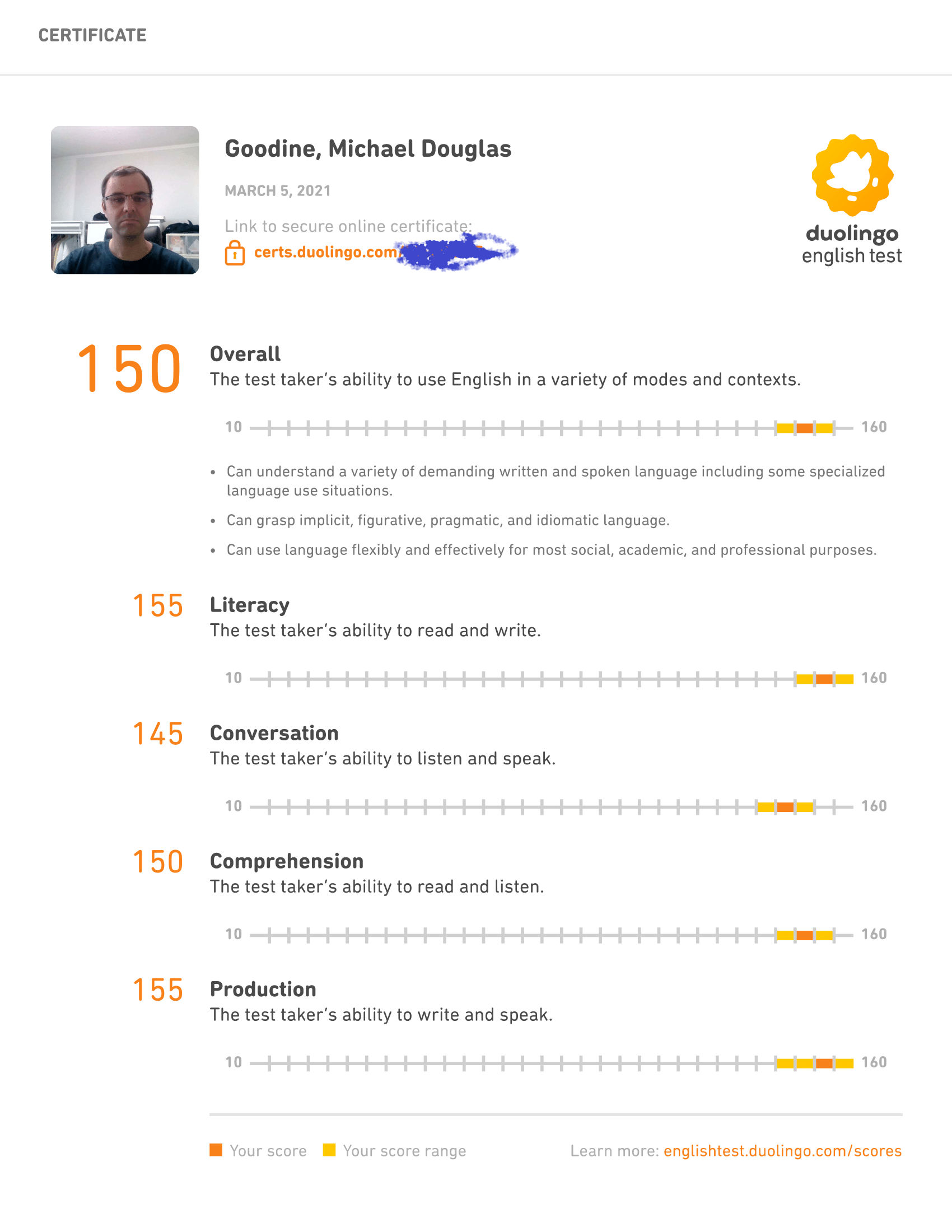 Source: https://www.toeflresources.com/wp-content/uploads/2021/03/duocert.png
Download these guides to read Offline
Frequently Asked Questions
Q. What is the Duolingo exam?
Duolingo is an English proficiency assessment test that evaluates the candidates reading, writing, speaking, and listening skills. It is a computer-adaptive, the question difficulty increases or decreases based on your answers to previous questions.
Q. How to get a Duolingo certificate?
Test takers who want to save their Duolingo report card offline on their device can download it in PDF format. They need to log into their Duolingo account, scroll down to find Duolingo certificate, and press "Print Results."
Q. Is the Duolingo certificate valid?
A Duolingo certificate is valid for 2 years.
Popular Study Abroad Destinations
Important Resources For PTE/SAT/ACT Exam
PTE Examination Eligibility Criteria
There are no specific PTE exam eligibility criteria set by Pearson VUE – the organizers of the test.
PTE Eligibility
PTE Academic Syllabus
PTE syllabus includes various sections such as Speaking and Writing, Reading, and Listening.
PTE Syllabus
TRENDING SEARCHES
Study Abroad Resources
Canada
Australia
IELTS Exam
Exam