MBBS in Australia for Indian Students 2024 - Top Colleges, Admission , Fees
MBBS in Australia for Indian Students 2024 - Top Colleges, Admission , Fees
Updated on 23 November, 2023
Medicine is considered the world's noblest profession due to its sheer impact on human lives and well-being. If it has always been your dream to become a medical practitioner, you can consider studying abroad in a country that is known for its cutting-edge academic infrastructure, widespread opportunities, and a friendly atmosphere for international students. We are talking about doing an MBBS in Australia, a country with 130,000 medical doctors and specialists.
Let us find out how worthy it is to study MBBS in Australia for Indian students through this article.
Why Study MBBS in Australia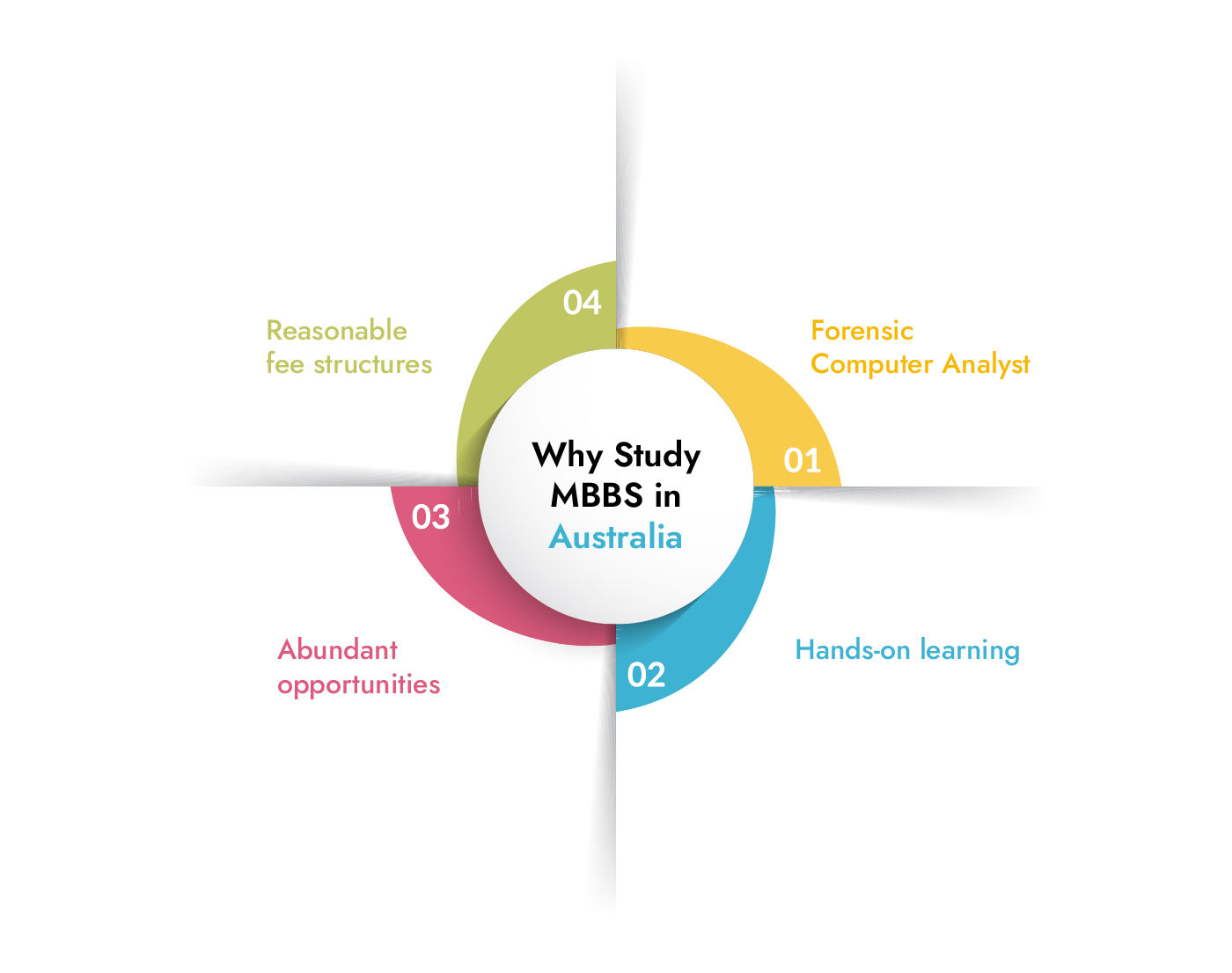 There are several reasons why you should study MBBS in Australia, including the following:
Hands-on learning- Reputed Australian medical schools and universities prioritize hands-on learning with practical experience in simulated settings and clinical placements across health and medical organizations and hospitals.
Unmatched skill development- Universities in Australia offer a unique learning environment to help you build your skills across specializations. You can gain more experience while fortifying your portfolio at the same time.
Abundant opportunities- Medical graduates from leading institutions in Australia can find work in private and public hospitals while setting up their practices as an alternate career option. There are several other opportunities in the public health and teaching industry, along with clinical research, aid organizations, defense forces, and more.
Reasonable fee structures- Most Australian institutions have comparatively reasonable fees for aspirants. The average Australia MBBS fee may hover between AUD 250,000 and AUD 630,000 for the entire length of the course.

Several scholarship options are also available,

which help eligible students lower their MBBS in Australia costs considerably.
Top Specializations After MBBS in Australia
The specializations one can take after completing an MBBS in Australia include the following:
Dermatology

Anesthesia

Emergency Medicine

Intensive Care Medicine

Obstetrics and Gynecology

Ophthalmology

Pediatrics and Child Health

Palliative Medicine

Radiation Oncology

Physician

Pathology

Rehabilitation Medicine

Psychiatry

Surgery

Sport and Exercise Medicine
Top Universities for MBBS in Australia
Here are some of the best medical colleges in Australia per the Times Higher Education Rankings for medical universities in Australia 2023:
| | | |
| --- | --- | --- |
| University Name | THE World University Ranking 2023 | City |
| University of Melbourne | =17 | Melbourne |
| Monash University | =32 | Melbourne |
| University of Sydney | =35 | Sydney |
| The University of Queensland | 56 | Brisbane |
| University of Adelaide | 59 | Adelaide |
| UNSW Sydney | 65 | Kensington |
| Australian National University | =100 | Canberra |
Source: https://www.timeshighereducation.com
MBBS in Australia: Eligibility Criteria
The eligibility criteria for doing an MBBS in Australia may vary across institutions. Some of the common elements include the following:
Secondary school qualifications- Successful completion of an Australian year 12 qualification or equivalent with one of Chemistry or Mathematics or Biology as prerequisite subjects.
Academic entry requirements- Generally, top universities, like the University of Adelaide, accept 85% for Indian ISC & CBSE Board and 95% for State Boards in 12th.
High proficiency levels in spoken and written English- Some of the accepted English proficiency tests with the minimum required scores for selection are as follows:

IELTS: Overall 7

TOEFL: Overall94

Pearson: Overall65

C1 Advanced: Overall185

OET: Overall grade B or score of 350
MBBS in Australia: Intakes
The intake usually for Semester 1 generally closes in June for most universities. A few universities also have deadlines in February. You should check the chosen university's website carefully before applying to know its exact application deadlines.
MBBS in Australia: Scholarships
There are numerous scholarships for doing your MBBS in Australia, including the following:
Notre Dame Scholarships- The University of Notre Dame offers merit-based international student scholarships.

For instance, the International Welcome Scholarship provides a 25% reduction on annual indicative tuition fees for the entire duration.

The University of Adelaide Global Academic Excellence Scholarships

- A tuition fee reduction of up to 50% for two students with the highest score exceeding ATAR of 98 or a 6.8 GPA is awarded by each department.

The University of Adelaide Global Citizens Scholarship- This scholarship is given to academically meritorious students meeting the specified eligibility criteria and scores. It ensures a tuition fee reduction between 15-30% for the minimum standard duration of the chosen academic program.

Monash International Merit Scholarships- This scholarship offers AUD 10,000 per annum for 48 credit points of study to meritorious students based on the diverse criteria at the institution.

Sydney Achievers International Scholarships- This scholarship is given to international students by the University of Sydney, Australia. AUD 10,000 per year is given for the CRICOS (Commonwealth Register of Institutions and Courses for Overseas Students) duration of the study program.

University of Wollongong's Faculty of Science, Medicine and Health International Schools Scholarship- This scholarship is specifically for Indian citizens and offers fee waivers of up to 50% for international students.
MBBS in Australia: Jobs
An MBBS in Australia can lead to rewarding careers for medical graduates. Here are a few jobs with their average annual salaries:
| | |
| --- | --- |
| Job Title | Average Annual Salary* |
| Physician | AUD 111,730 |
| Emergency Medicine Physician | AUD 133,049 |
| Primary Care Physician | AUD 102,373 |
| Urgent Care Physician | AUD 102,557 |
| Family Medicine Physician | AUD 88,420 |
*Source: Indeed (as of June 2023)
MCI-Approved Medical Colleges in Australia
The Medical Council of India (MCI) earlier had a list of approved foreign institutions, which is now scrapped. However, the practice is not prevalent since the National Medical Commission (NMC) took over it in 2020.
FMGE for Indian Students Completing MBBS From Australia
Here are some details of the screening test or FMGE if you wish to practice in India after completing your medical education in Australia:
Indian students getting their medical qualifications from Australia should register with SMCs or State Medical Councils to practice in India.

Passing the FMGE (Foreign Medical Graduate Examination) is a statutory requirement for getting this registration. This examination is held by the NBE (National Board of Examination).

Those looking for provisional or permanent registration will not have to take this screening examination, in case they possess undergraduate medical qualifications from countries

Australia, the UK, the USA, New Zealand, Canada, and so on while holding a postgraduate medical qualification thereof in these nations and getting recognized as a medical practitioner abroad.

Candidates must

obtain ECs (eligibility certificates) from the MCI before accepting admission offers from medical schools or universities in foreign countries.

The EC-issuing criteria are available at the official website- www.mciindia.org.

The computer-based screening test takes place in June and December each year.
Conclusion
Applying for an MBBS in Australia will undoubtedly be a great decision, considering factors like the country's reputed medical schools, renowned faculty, clinical experience opportunities, and lucrative career prospects. Hence, start doing your homework on leading medical universities and their application requirements well in advance. Here's to fulfilling your dreams, courtesy of the finest Australian medical education.
Disclaimer: All costs are indicative and subject to change at any time.
FAQs
Can we do MBBS in Australia without NEET?
Australian universities and medical schools have diverse requirements for MBBS applicants. You can pursue the course without submitting NEET examination scores in this case.
After studying for an MBBS in Australia, can I work in India as a doctor?
Yes. You can practice in India after studying MBBS in Australia and then clearing the FMGE (Foreign Medical Graduate Examination). Once you pass this computer-based screening test, you will get registration from your State Medical Council to practice as a doctor in India.
Do universities in Australia provide accommodation?
This varies from one university to another. You can look up accommodation options on campus while short-listing universities for applications. Once you get entry into your chosen course, make sure to book your accommodation beforehand.
What is the salary of an MBBS Doctor in Australia?
The average salary of an MBBS-qualified doctor in the country is approximately AUD 111,730 per year. The salary may increase depending on the chosen specialization, location, and other factors.