Budgeting for a Year of Studying in Sydney
Budgeting for a Year of Studying in Sydney
Updated on 08 November, 2023
Sydney is one of the most vibrant and multicultural cities in the world, attracting thousands of international students and expats every year. However, with its thriving economy and high standard of living, the average cost of living in Sydney can be quite steep.
Australia is a highly sought-after study-abroad destination for students seeking quality education and career opportunities in a diverse and welcoming environment. The latest QS World University Rankings 2023 featured seven Australian universities in the top 100, highlighting the country's excellence in higher education.
Talking about housing & living expenses in Sydney, it is 36% higher than in Melbourne, and 25% higher than in Brisbane. As per Economist Intelligence's Worldwide Cost of Living 2022 Survey 2022, Sydney ranks as the 10th most expensive city in the world in terms of cost of living, making it more expensive than other popular international cities like Dublin, Madrid, and Vancouver.
In this article, we will delve into the details of the cost of living in Sydney for Indian students, covering aspects such as accommodation, food, transportation, and entertainment, to help you plan your finances better if you are planning to study, work or live in Sydney.
International students planning to study in Sydney must ensure that they meet the financial requirements set out by the Department of Home Affairs. To obtain a student visa, you must demonstrate that you have enough funds to cover your living expenses. To sustain their living expenses, a single student would need to possess the financial capability to meet a minimum of AUD21,041 per year.
List of Necessary Items with Their Cost
When moving to a new place, it's essential to have an idea of the cost of living to help you plan your budget accordingly. Sydney, one of Australia's major cities, has a reputation for being an expensive place to live. While this may be true to some extent, it's also possible to live frugally in Sydney with proper budgeting and planning.
| | |
| --- | --- |
| Item | Expense in AUD |
| Grocery | $80–$280/ Week |
| Lunch on Campus | $10–15 each |
| Entertainment & Socialising | $80–150/ week |
| Study Materials | $500/semester |
| Printing and Photocopying | 10 cents/ page |
| Private Tutoring | $50–80/ hour |
| Transport | $84/week |
| Clothing | $50-150/week |
| Entertainment | $200-300/week |
Average Rent in Sydney
The average accommodation prices in Sydney can vary depending on factors such as location, size, and amenities. Sydney is known for having a high cost of living, including expensive rental prices. Sydney, NSW, has experienced the highest monthly increase in apartment rents among all metro areas, with a significant rise of 4.7%. According to rent.com.au the average monthly rent for an apartment in Sydney is AUD 650 while for a house monthly rent stands at AUD 750. The average price per room in Sydney is approximately AUD 325 per month.
Other than the monthly rent you may need to make a rental deposit or security deposit which can be as much as your one or two months of monthly rent.
| | |
| --- | --- |
| Accommodation Type | Monthly Rent (AUD) |
| A room in apartment | $325 |
| Apartment | $650 |
| House | $750 |
Study Cost and University Tuition Fee
The majority of the education budget is allocated to tuition fees, which can vary depending on the university, location, and program of study. Bachelor's degree tuition fees generally range from AUD 20,000 to AUD 45,000 per year, while master's and doctoral programs can cost between AUD 20,000 and AUD 50,000 per year.
| | | |
| --- | --- | --- |
| University | Average UG Fee (AUD) | Average PG Fee (AUD) |
| University of Sydney | $45,000 - 53,500/year | $45,500 - 75000/year |
| The University of New South Wales | $39120 – 51360/year | $38,640 – 50,160/year |
| Macquarie University | $35800 - 77500/year | $35800 - 77500/year |
| The University of Technology Sydney | $35,570 - 48020/year | $24510 - 55,770/year |
| Western Sydney University | $27,552 - 34,696/year | $8,400 - 40,320/year |
Transportation Costs in Sydney
Sydney trains are one of the main benefits of living in Sydney. The City Circle line is particularly convenient for visiting popular attractions. While buses cover the city, traffic can be a challenge. Rental cars are suitable for traveling to and from the city but not recommended within its boundaries due to heavy traffic.Finally, taking a ferry is a must-do for the stunning views. Here is an overview of the typical transportation costs in Sydney:
| | |
| --- | --- |
| Mode of Transportation | Cost (AUD) |
| Bus(0-3 k.m.) | $2.20 - AUD 2.80 |
| Ferry | $6.01 |
| Petrol (1 litre) | $1.70 |
| Taxi (per k.m.) | $2.19 |
| Metro & Train(0 - 10 k.m.) | $3.79 |
Cost of Utilities and Bills in Sydney
The cost of utilities and bills is an important consideration for residents. These expenses include electricity, water, gas, internet & phone. While the exact costs can vary based on factors like accommodation size and usage habits, it's helpful to have a general understanding of the average monthly expenses for utilities and bills in Sydney.
| | |
| --- | --- |
| Amenities | Cost |
| Electricity, Heating, Cooling, Water, Garbage | $176.17/month |
| Mobile (cell) phone | $40-$80/month |
| Internet | $69.97-$90/month |
| Milk 1 litre | $1.66 |
| Bread 500g | $2.66 |
| Eggs(dozen) | $4.83 |
| Apples 1kg | $4.87 |
Living Costs in Sydney for International Students
Sydney is one of the most popular study destinations for international students due to its excellent universities and vibrant culture. However, it is also one of the most expensive cities in the world. In addition to tuition fees, international students must also budget for living expenses such as accommodation, food, transportation, and other essentials. In this context, it is important to have an idea of the cost of living in Sydney per month to plan your budget accordingly.
Affordable Cities to Live in Sydney
Sydney is known for its high cost of living, but there are some areas within the city that are relatively more affordable compared to others. If you're looking for more budget-friendly options, areas like Parramatta, Liverpool, Blacktown, and Penrith are worth considering.
These suburbs offer a range of housing options and amenities at more affordable prices compared to the central areas of Sydney. While living in these areas may require a slightly longer commute to the city centre, they provide a more cost-effective option for students and individuals looking for affordable living in Sydney. According to Flatmates Australia, some of the affordable areas in sydney are:
CROYDON PARK

EARLWOOD

EASTLAKES

TEMPE

CONCORD
All the above mentioned places are within 10 kilometres of Sydney central business district.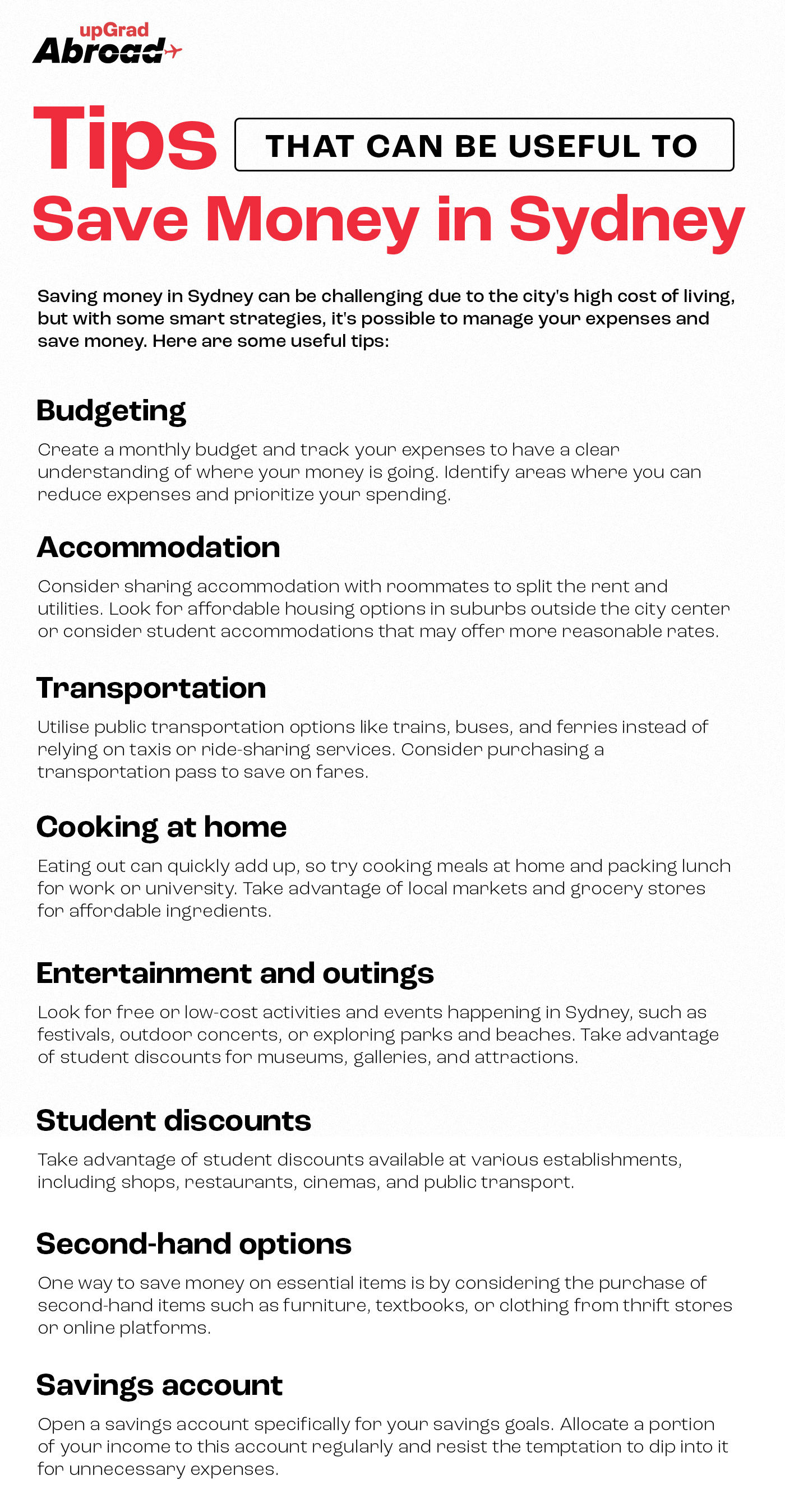 Frequently Asked Questions
What is the cheapest way to live in Sydney?
The cheapest way to live in Sydney is to find shared accommodation, preferably in suburbs outside the city centre. Utilise public transportation, cook meals at home, and take advantage of free or low-cost activities and events for entertainment.
Which is better for jobs, Sydney or Melbourne?
Sydney is known for its strong finance and business sectors, while Melbourne is recognized for its thriving arts, culture, and creative industries. Both Sydney and Melbourne offer a wide range of job opportunities.
What is the top job in Australia?
According to Forbes, Some of the top jobs in Australia include Surgeon, Anaesthetist, Internal Medicine Specialist, Financial Dealer, and Psychiatrist. These professions are highly regarded and in-demand, offering competitive salaries and professional growth opportunities.