Job Opportunities in Denmark: Top Employers & Careers
Job Opportunities in Denmark: Top Employers & Careers
Updated on 08 November, 2023
Flexicurity – a mix of flexibility and security – is a popular Danish labor market model and is the basis of the employer-employee relationship in the country. The reliable safety net, comprising an unemployment insurance fund, education, and employee retention programs, has established Denmark as one of the best places to work in.
The ease of hiring has also opened a flood of job opportunities in Denmark for both Danes and immigrants. This is why nearly 25% of Danes, who work in private companies, change their jobs yearly.
Therefore, Denmark is a role model for most European countries—the skilled workforce from across the globe dreams of landing a job in Denmark.
If you too want to be a part of the Danish labor market, read on:
Finding a Job in Denmark
While several Denmark jobs are currently in demand, you will need to fend off local competition as a foreigner since most Danes are highly fluent in English. Hence, not only will you have to enhance your English proficiency, but you will also have to learn Danish for a smoother employment journey.
Here are some points that you should keep in mind:
You will need a work permit and visa to find employment as a foreigner in Denmark. EU citizens do not require the same, although they should have suitable registration in Denmark.

A job contract is a must to apply for a visa.

You should go through the shortage occupation or Positive list. It is published twice a year and mentions the Denmark jobs in demand.

Various professions are currently witnessing a shortage, including public relations, sales, IT, marketing, administration, journalism, teaching, civil engineering, and pharmacy.

Build a good CV and cover letter before applying to companies through their official websites and job platforms.

The classic Danish resume usually includes –- Personal details (name, age, gender, photograph) followed by a personal summary (5-6 lines in a paragraph mentioning your skills and personal/social attributes) and a chronological order listing your last professional experience and qualifications. You should also list your core/hard skills, language proficiency, details of studying abroad, and a little about your interests/hobbies only when relevant.

Send a cover letter with your application, mentioning how you are a good fit for the position while showcasing a few of your attributes, including teamwork, problem-solving, etc.

References are usually not required, although they are necessary for managerial positions. You can list contact information about people who may vouch for your skills and character. Alternatively, you can mention in your resume that you will provide references upon request.

You should attach copies of your certificates and diplomas with your application.

You may be asked for the straffeattest. It is a document given by the Danish police stating that you have not been convicted of any crime in the country.

You may have to get your qualifications assessed by the Danish Agency for Higher Education to help employers understand.
Top Recruiters in Denmark
Some of Denmark's leading recruiters, as per Statista, include:
DSV Panalpina

Novo Nordisk

Carlsberg

Vestas Wind Systems

Danske Bank

Coloplast

Orsted

Jyske Bank

Moller-Maersk
Average Package Offered by Top Recruiters in Denmark
The average salary packages offered by leading recruiters vary in Denmark. Here are the average salaries at leading organizations in the country (salaries in Kroner)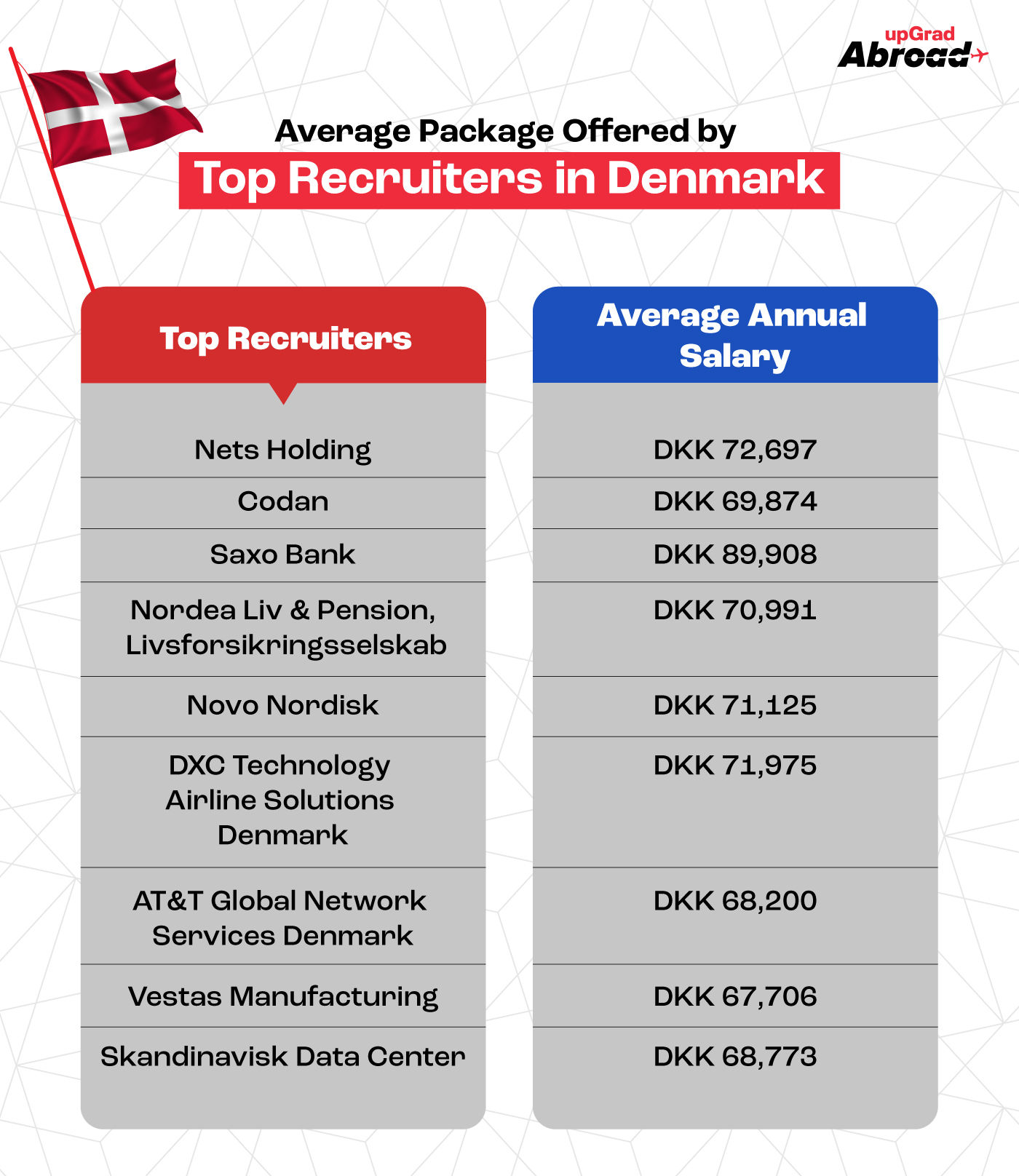 Highest Paying Jobs in Denmark
Here are some of the highest-paying jobs, per Brussels Morning, in Denmark annually: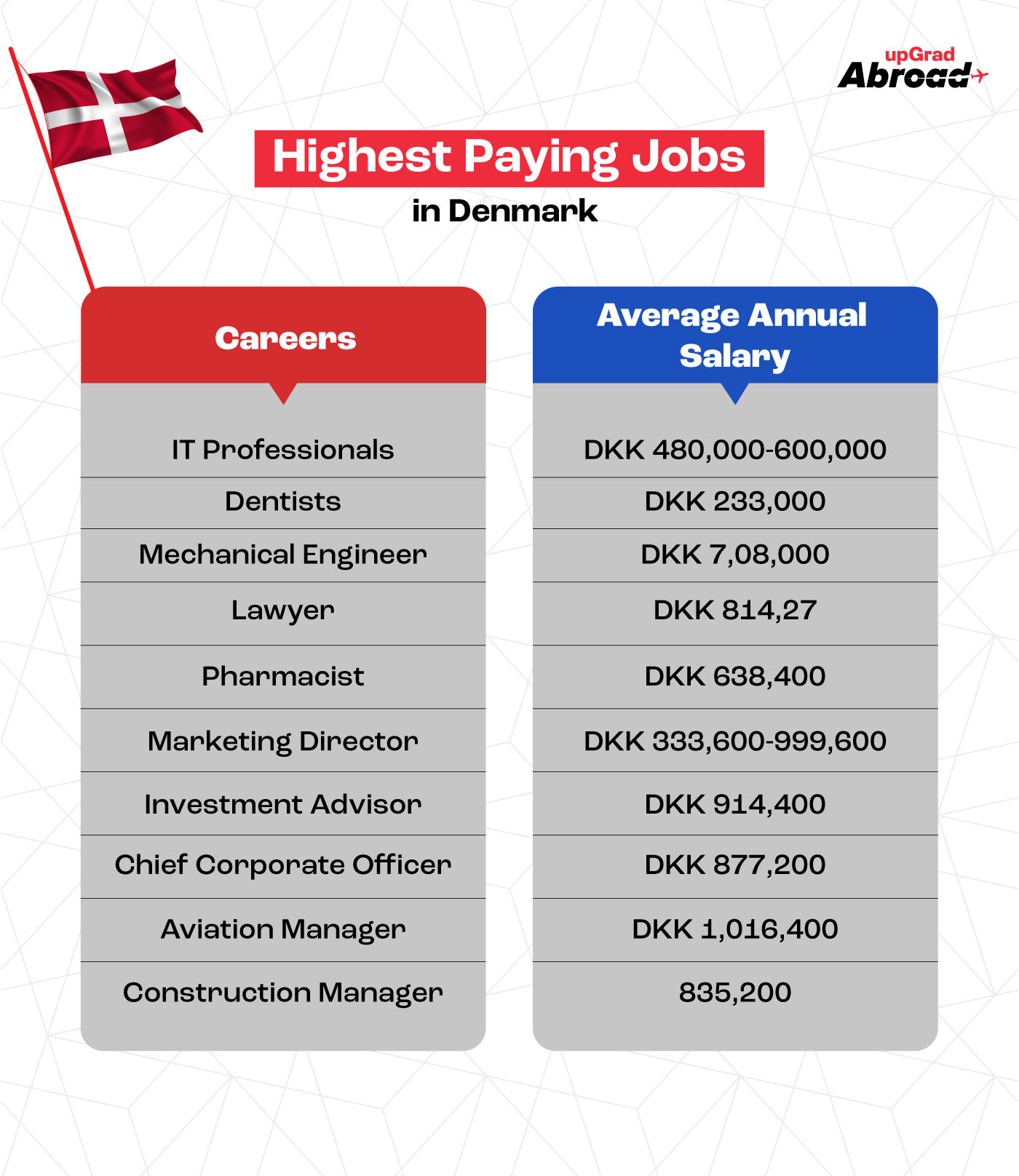 Frequently Asked Questions
Which job is in demand in Denmark?
Several jobs are highly in demand in the country, including positions in teaching, science and engineering, finance, management, healthcare and medicine, law, and IT. Architects and biochemists are also in demand in recent years.
What is the top 1% salary in Denmark?
Denmark's top 1% salary is approximately DKK 1.9 million per year. The richest 10% in the country earn around DKK 812,300 annually. To be among the highest-paid 50% in the country, one should earn approximately 290,900 Kroner per year.
#Tag