5-Year Work Visa Announced for Indians Studying Masters in France
5-Year Work Visa Announced for Indians Studying Masters in France
Updated on 10 September, 2023
Indian students pursuing master's in France will now be eligible for a five-year post-study work visa. The three-year extension from the previous two-year PSW policy is expected to enhance opportunities for Indian students and foster stronger academic ties between India and France.
Under the new policy, Indian students who successfully complete their master's degrees in France will now have the option to remain in the country for an extended period. This opportunity will allow them to gain valuable work experience, explore career opportunities, and contribute their skills to the French job market.
"The last time I came to France, it was decided that Indian students studying in France would be given a two-year post-study work visa. Now, it has been decided that Indian students pursuing Masters in France will be given long-term post-study visa of five years," said PM Modi while making the announcement on Thursday.
He stated that this policy change reflects the shared commitment to educational cooperation and acknowledges the significant contributions made by Indian students in various fields.
Know More About Australia Post-Study Work Visa
As per the latest data from the Indian Foreign Ministry, there has been consistent growth over the last three years of Indian students going to France. In 2022, more than 6,000 aspirants chose France as their study abroad destination. Moreover, France plans to invite 20,000 Indian students in the country by 2025, Foreign Minister Catherine Colonna had said last year.
With its affordable education, scholarship opportunities, and high-quality education system, France is often ranked among the top 5 study destinations for Indian students after the US, UK, Germany, and Australia. The new post-study work visa regulation is expected to embolden India's presence in French academia and strengthen bilateral relations between the two nations
Recommended Read: 10 biggest advantages of studying abroad
Popular Guides To Simplify Your Study Abroad Journey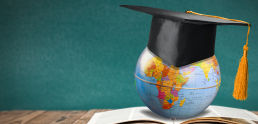 Fully Funded Master's Guide
The list of scholarships to cover ALL your university expenses.
Download Guide