Line Graph Task 1 for IELTS Exam : Tips to Score Well
Updated on 27 January, 2022

Mrinal Mandal
Study Abroad Expert
While appearing for the International English Language Testing System (IELTS) exam, students are asked to write on a line graph Task 1. The Line Graph is a graphical representation of the change in the value of one or more variables. The axis of the graph is called X and Y and represents the values. The IELTS writing task 1 line graph exercise requires you to describe and summarize the line graph.
Sample: IELTS Writing Task 1 Line Graph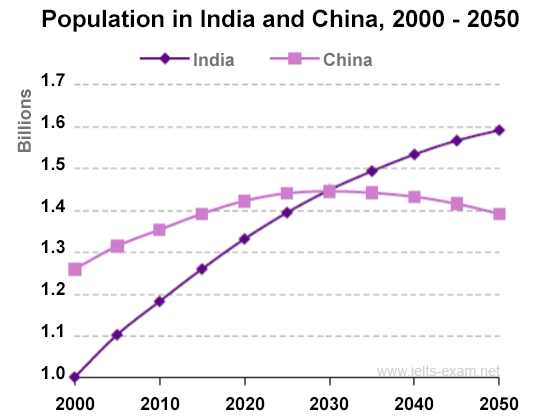 Source: https://www.english-exam.org/IELTS/academic_writing_samples_task_1/996/
The above graph shows the past, current, and expected growth in the population of India and China. The chart shows the population graph between the years 2000 and 2015 in China and India. In the year 2000, the population of China was around 1.2 billion people while the Indian population was at 1.0 billion. After a decade, in the year 2010, the population of India reached 1.2 billion while the Chinese population grew by 0.1 billion reaching 1.35 billion. The growth rate has continued over the next decade and in 2020, the Chinese population has grown to 1.42 billion while the population in India shows a steeper growth rate. In 2020, the Indian population grew to 1.34 billion.
In the year 2030, both countries will have an equal population of 1.45 billion people. After that, the Chinese population is expected to show a slow yet steady decline while the Indian population is likely to continue its growth. By 2050, India will have 1.6 billion people while China's population level will decline to 1.4 billion. The graph shows a consistent yet aggressive expansion of the Indian population while the Chinese population will reach its peak in 2030 before dropping.
Important Resources to Read About IELTS:
Tips for line graph
Candidates should follow the tips mentioned below to score high in the writing task 1 line graph:
Pay attention to the title of the graph and use it to give an overview
Follow it up with the parameters as mentioned in the X and Y-axis
Describe the line pattern using visual words such as steady increase, or sharp decline
Limit your line graph description to what you can see in the graph, instead of using your logic to describe the events
If multiple lines are there, create comparisons to show the relationship between the lines.
Following this example and the tips will make it easy for you to score well in this exercise. To prepare better, you can go through more examples to practice describing the various graphs accurately for better preparation, resulting in a high band score in your IELTS writing test.
Recommended Reads:
Popular Study Abroad Destinations