PTE Results & Scores- Everything you need to know
Updated on 03 June, 2022

Mrinal Mandal
Study Abroad Expert
Pearson Test of English (PTE) Academic is a famous computer-based English language proficiency test for students seeking admission into foreign universities and colleges as well as for immigration. The test occurs across more than 295 test centers throughout 50+ global nations. Several institutions accept PTE results in Canada, New Zealand, Australia, the USA, Ireland, the UK, Germany, and Singapore. It is also crucial for New Zealand and Australia student visa or immigration procedures. The examination evaluates aspirants based on their writing, reading, listening, and speaking abilities.
PTE Results - Important Dates
The PTE result dates are not fixed. They are officially declared within five business days of taking the examination. However, many aspirants have often received their results within only 48 hours. Every aspirant will be notified via email whenever their result is ready to view. They can check report cards and PTE results by logging into their official myPTE accounts. PTE results and scores are valid for two years. Aspirants can reappear for the examination again after this period. For purposes of immigration, countries such as Australia accept PTE results for three years.
PTE Score Requirements
Each institution has its score requirements and other criteria for admitting students. A general average PTE score requirements are as follows:
| | |
| --- | --- |
| Type of Course | Minimum Score Range Requirement |
| Foundation Course | 36-50 |
| Undergraduate Course | 51-60 |
| Postgraduate Course | 57-67 |
Understanding PTE Scores
PTE scores can be understood better when compared to TOEFL iBT, IELTS Academic test, and the CEFR scores.
Here's how to understand PTE scores in accordance with TOEFL iBT.
PTE Academic Score

TOEFL iBT

Score

PTE Academic Score

TOEFL iBT

Score

62

91–92

38

40–44

63

93

39

45–47

64

94

40

48–51

65

95–96

41

52–53

66

97

42

54–56

67

98

43

57–59

68

99–100

44

60–62

69

101

45

63–64

70

102

46

65–66

71

103–104

47

67–69

72

105

48

70–71

73

106

49

72–73

74

107–108

50

74–75

75

109

51

76–77

76

110–111

52

78

77

112

53

79–80

78

113

54

81

79

114

55

82

80

115–116

56

83–84

81

117

57

85

82

118

58

86

83

119

59

87–88

84

120

60

89

85 - 90

None

61

90

10-37

None
Study Abroad Preparation Course
What does the Course include:
12 Weeks of Dedicated Coaching to Build a robust profile for Top 1% Universities

SOP & Personal Statements For Academic Writing

25 hours of live online classes with mock tests for IELTS

Visa, University Application & Submission

Country-specific Support with Education loan Guidance

International Faculty Masterclass
Here's how to interpret PTE score in accordance with IELTS band score:
| | |
| --- | --- |
| PTE Academic Score | IELTS Band Score |
| 10-22 | None |
| 23-28 | 4.5 |
| 29-35 | 5.0 |
| 36-45 | 5.5 |
| 46-55 | 6.0 |
| 56-65 | 6.5 |
| 66-75 | 7.0 |
| 76-83 | 7.5 |
| 84-88 | 8.0 |
| 89-90 | 8.5 |
| Not Applicable | 9.0 |

The PTE score table below shows the comparison of PTE scores and the CEFR levels.
| | |
| --- | --- |
| PTE Academic Scores | CEFR Levels |
| 85 - 90 | C2 |
| 76-84 | C1 |
| 59-75 | B2 |
| 43-58 | B1 |
| 30-42 | A2 |
| 10-29 | A1 |
PTE Score and Descriptors
The PTE score guide and the score descriptions can be difficult to understand. But, the below table explains them in detail for the students to understand:
| | |
| --- | --- |
| PTE Academic Score | Description of Levels |
| 10-29 | This score range indicates that the candidate can understand and is familiar with regular expressions and basic phrases. The candidate can answer the questions about their personal life and details. An important point to note here is that the person can only interact and provide information if others too talk in a simple language and slow manner. |
| 30-42 | This score range shows that the candidate can understand language and sentences and use expressions from the very immediate level and surroundings. It implies the candidate has a very basic understanding of the environment around like school, hospital, shopping, etc. The candidate can communicate in a simple and routine verbatim. |
| 43-58 | The score range highlights that the candidate can understand the topics they experience every day regularly in their day-to-day activities like at home, work, school, playground, etc. The candidate can answer the connected topics familiar with their personal interest. The candidate can describe their dreams, aspirations, opinions, and plans on familiar topics. |
| 51-58 | The score range indicates that the candidate has a command of the language and can present views on familiar situations but make mistakes with repetitions. The candidate can also give information about facts, provide detailed information, and understand the content's detailed information. |
| 59-75 | The score range implies that the candidate can understand the complex content on random topics and interact with e degree of command over the language. The candidate is also able to interact comfortably with native speakers without hesitation. They can also share their viewpoints on topical issues and explain their pros and cons. |
| 76-84 | The score range signifies that the candidate can understand a wide range of longer texts and identify their implicit meaning. They can express themselves easily and flexibly use the language. They are also able to produce well-structured, detailed text on difficult situations and subjects. |
| Above 85 | The score range highlights that a candidate can read, write and speak the language without any barrier. They can summarize the information provided from various sources and easily express themselves. They can deliver and manage complex situations and topics at the most comfortable level. |
How is the PTE score calculated?
PTE score results are calculated based on the average of the sections of the exam. To understand the score calculation well, here are some key points.
An average of the enabling skills is calculated. The enabling skills include - Grammar, Oral Fluency, Pronunciation, Vocabulary, and Written Discourse.

The enabling skills are considered the fifth contributor in the four sections of the PTE exam.

The main four sections are - Listening, Reading, Writing, and Speaking.

An average of all five contributors is considered the final PTE score.
What is the best PTE score?
PTE Academic provides scores within 10-90 on the Global Scale of English, and the candidates can accurately measure the same. 85-90 is the best score, and the Common European Framework of Reference for Language (CEFR ) equivalent is C2, with Band 9 as the IELTS equivalent. This score indicates the highest levels of prowess in English. This means that aspirants can easily understand everything they read or hear and quickly summarize data from various written and spoken sources. They can easily reconstruct accounts or arguments coherently while expressing themselves fluently, spontaneously, and accurately, switching between subtle nuances of meaning whenever required.
76-84 is also a good score in PTE. This is C1 in the CEFR equivalent and Band Score 7-8 for the IELTS equivalent. This score is required by several institutions and countries, including the Australian Skilled Migration Visa authority. This indicates high English proficiency levels, which are needed for undergraduate programs. This score means that aspirants can understand a diverse range of long and extensive texts while expressing themselves spontaneously without much struggle. They can flexibly use language for varied purposes while generating detailed and neatly structured texts dealing with complex aspects. They are also able to demonstrate command over connectors and other organizational elements.
A thorough study of the PTE results and scores will help you to better understand the exam and PTE score calculation process.
Recommended Reads:
PTE Score Report
Here are the sections a candidate can see in a PTE score report:
An overall score that ranges between 10 and 90, which assesses the English Language proficiency of a candidate.

Individual score for communicative skills in all the sections - Reading, Writing, Speaking, and Listening.
The skill profile will show the following:
Guidance on the performance of the candidate in all skills.

Recommendations to help them further enhance their English skills.
Here is a look at the sample PTE scorecard showing the components of the PTE scorecard: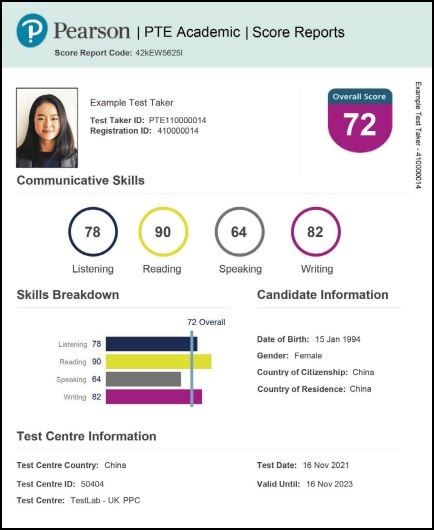 PTE Scorecard
Here are the details of the information that are included in the scorecard:
Personal details and photograph of the candidate.

Test registration ID and score report code of the candidate.

Overall PTE Score of the candidate.

A detailed breakdown of the candidate's performance.
PTE Results - How to Check?
Scores are published online by PTE via its secure digital portal. The score report code within the PTE Scorecard enables institutions to verify any score digitally and secure them carefully. Aspirants do not have to share any PDF files or prints likewise. The email notification is the most important for checking PTE scores. Aspirants will receive the email and can subsequently view their results by logging into their official myPTE accounts.
Read More:
Study Abroad with upGrad Abroad
upGrad Abroad offers flexible study solutions to help aspirants achieve their foreign education dreams through collaborations with the top international universities. You can pursue courses with us at one-fifth the cost while getting the same PSWP benefit and more. To know more, get in touch with our counselors now.
Frequently Asked Questions
Q. When are PTE results declared?
The PTE exam results are declared within five working days of the exam date. There have been instances where many students have received their results within 48 hours of giving the exam. The students were informed via email when their results were declared. The students can check their results by visiting their profile on the official website of PTE.
Q. What is the validity of PTE results?
The validity of PTE exams is two years from the result declaration date. The students can use their PTE scores for two years; however, after two years, the scores expire and automatically get removed from the student's profile.
Q. Are PTE results declared on Sundays?
Yes, PTE exam results are declared on Sundays or weekends. The emails are sent to the students on all days. In fact, many PTE test centers are also open on Sundays, allowing the test takers to take the exam.
Q. How to score good marks in PTE Academic?
Here are some tips for scoring well in the PTE exam:
Be more fluent in answering questions. Long pauses in an answer can work against you.

Do not try to impress unnecessarily. Speak from your natural knowledge and skills. Pay attention to where you would like to pause or put stress in a particular sentence.

For essay answers, think about the topic thoroughly and make your notes. Ensure you do not go off-topic.

Avoid typing errors and silly mistakes.

Read the questions before reading the passage. This will help you mark the answers while reading the passage and save your time.

For the listening section, practice taking notes while you listen. These notes will help you answer the questions easily.

Try not to devote more than two minutes to answer a question in the reading section.
Q. How much PTE score is required for Canada?
The PTE score requirement varies as per college and course in Canada. However, an average PTE score of 50 is generally considered acceptable in Canada.
For a diploma program, an overall PTE score of 45 with a minimum score of 36 in each module is acceptable.

For a bachelor's program, an overall PTE score of 50 with a minimum of 45 in each section is acceptable.

For a master's program or a graduate diploma, an overall PTE score of 65 with a minimum of 50 in each section is acceptable.
Q. How to send PTE scores to universities?
The following procedure must be followed for sending PTE scores to universities:
Login to the PTE account and choose Score Reports.
Thereafter, choose the option Send Scores.
Type in the institution's name in the Institution/Organization/Department/School field and then search.

Choose the institution name in the list of search results.

Review all data and then click on Next.
Q. How to calculate PTE score in bands?
The table below shows how to interpret PTE scores in IELTS bands:
| | |
| --- | --- |
| PTE Academic Score | IELTS Band Score |
| 10-22 | None |
| 23-28 | 4.5 |
| 29-35 | 5.0 |
| 36-45 | 5.5 |
| 46-55 | 6.0 |
| 56-65 | 6.5 |
| 66-75 | 7.0 |
| 76-83 | 7.5 |
| 84-88 | 8.0 |
| 89-90 | 8.5 |
| Not Applicable | 9.0 |
Q. How much PTE score is required for Canada student visa?
The PTE score required for a Canadian student visa depends on the university admission requirements. It is advisable to go through the individual university websites to know the language test score cut-offs.
Q. How long is PTE score valid?
The PTE score remains valid for two years from the result declaration date.
Popular Study Abroad Destinations
Important Resources for PTE Exam
Get free Consultation for PTE Exam