Essential Packing Guide for Indian Students Heading to UK
Essential Packing Guide for Indian Students Heading to UK
Updated on 17 August, 2023
Planning to embark on your journey as an Indian student to the United Kingdom for your studies? Journey to study in the UK opens up a world of academic opportunities, cultural experiences, and personal growth. As you prepare for this exciting adventure, packing your bags can be a big task. There are several essential things to carry to the UK for students from India to ensure a comfortable stay.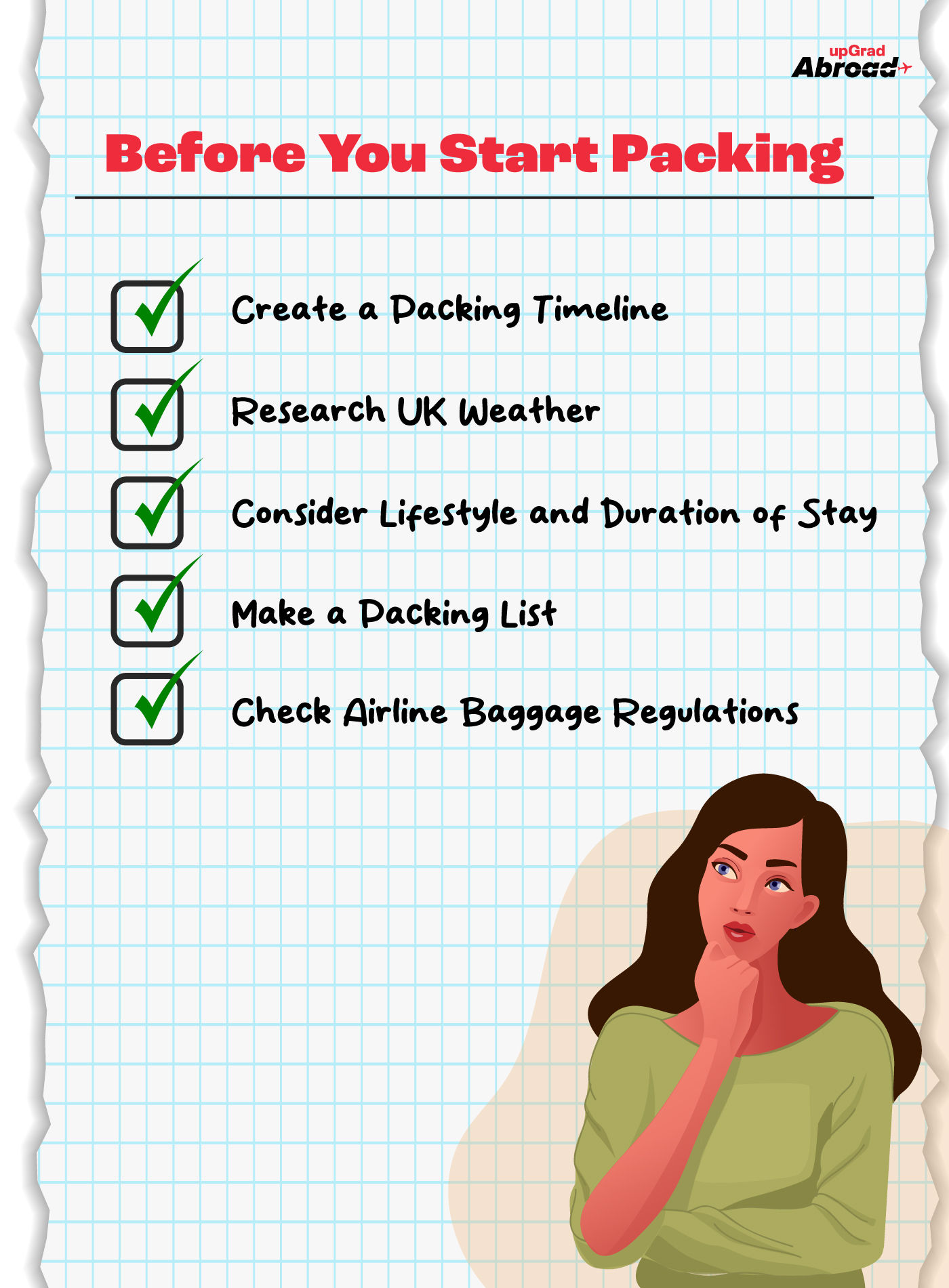 Before you pack your bags, there are a few important steps to ensure a smooth and efficient packing process. Here are some key considerations before you start packing:
Create a Packing Timeline
This allows you to allocate specific days or weeks for different tasks, such as making a packing list, purchasing necessary items, and packing your bags. It helps prevent last-minute rush.
Research UK Weather
Check the average temperatures, rainfall, and seasonal variations in the region you will be living or studying. This information will guide your clothing choices and help you pack accordingly.
Consider Lifestyle and Duration of Stay
If you will be attending universities in the UK, factor in any special events or formal occasions that may require specific attire. Understanding your lifestyle and length of stay helps you pack the right essentials and avoid unnecessary items.
Make a Packing List
Start by making a packing list for Indian students going abroad. A comprehensive packing list keeps you organized and helps prevent overpacking or leaving important items behind.
Check Airline Baggage Regulations
Each airline may have different rules regarding the size, weight, and number of bags allowed for carry-on and checked-in luggage. Adhering to these regulations ensures a hassle-free check-in process. Research any specific baggage restrictions or customs regulations that may apply to your journey. Being aware of these regulations prevents any complications during customs inspections.
Things to Consider While Packing
The decision to study overseas offers a transformative experience, expanding horizons and fostering global perspectives. When it comes to packing for your journey, there are a few things to take to the UK from India for students. Let's explore some essential tips to help you make wise choices while packing.
Choosing Versatile Clothing
The UK is known for its ever-changing weather, so it's crucial to pack clothing that adapts to different seasons. Opt for versatile pieces that can be layered, allowing you to adjust to varying temperatures. For example, London experiences winters with average temperatures around 2-8°C and occasional snowfall. Summers are usually warm, with average temperatures around 18-25°C. Rainfall is fairly evenly distributed throughout the year. So pack for the seasons accordingly.
Comfortable Footwear
Exploring your new surroundings and commuting around the UK will likely involve a fair amount of walking. A pair of comfortable footwear will keep your feet happy throughout the day.
Adaptors and Converters
The UK uses a different plug configuration and operates on a different voltage than you might be accustomed to in India. Pack suitable adaptors and converters for your electronics to ensure they can be safely plugged in and used.
Steps to Packing the Right Essentials
To ensure that you pack the right essentials efficiently for your journey to the UK, follow these simple steps:
Step 1: Prioritize Essential Items and Pack Them First
Begin packing by prioritizing the essential items on your list. These may include travel documents, medications, toiletries, and other crucial personal items.
Step 2: Consider Packing Multi-purpose Items to Save Space
Look for multi-purpose items that can serve multiple functions or be styled differently. Opt for versatile pieces that can be mixed and matched to create various outfits.
Step 3: Separate Your Check-In and Cabin Baggage
It is a good idea to pack all the documents and other essential items in overhead cabin baggage. All clothing and footwear can go in check-in baggage.
Important Packing Checklist
When packing for your journey as an Indian student to the UK, you must ensure you have all the necessary items. Here's a comprehensive UK travel checklist from India to help you stay organized and make sure you haven't overlooked anything:
a) Travel Documents
Valid passport

Student visa documents

Admission letters from the university

Flight tickets

Health insurance information
b) Clothes
Season-appropriate clothing

Comfortable shoes and sandals

Raincoat or umbrella
c) Local Currency
Sufficient amount of local currency for initial expenses

Debit/credit cards
d) Electronics
Laptop or tablet

Mobile phone and charger

Power adapters and converters (suitable for UK electrical outlets)
e) Toiletries
Personal hygiene items

Medications (with prescriptions, if necessary)
f) Personal Documents
Identification documents (e.g., driver's license, Aadhaar card)

Medical records and prescriptions

Emergency contact numbers
Before Leaving Home, Do the Below
Before you embark on your journey to the UK as an Indian student, there are important tasks you should complete to ensure a smooth transition. Here's a checklist of tasks to accomplish before your departure:
Inform Banks
Contact your bank and inform them about your travel plans to the UK. This will help prevent any issues with your bank accounts or cards while you're abroad.
Secure Accommodation
If you haven't already arranged accommodation in the UK, ensure you have a place to stay upon arrival. Confirm the details, address, and contact information with your accommodation provider to avoid confusion upon arrival.
Set Up International Roaming
If you plan to use your mobile phone while in the UK, contact your mobile service provider to set up international roaming. Consider researching local SIM card options, often providing more affordable data and call plans.
Obtain Travel Insurance
Check with various insurance providers to find a policy that suits your needs and ensure you have the necessary coverage before departing.
Prepare Important Documents
Make copies of all your essential documents. Keep both physical and digital copies in a secure location.
Pack Essential Medications
If you require any specific medications, ensure you have an ample supply throughout your stay.
Check Travel Restrictions and Requirements
Stay updated on travel restrictions, COVID-19 protocols, and additional requirements. Check the official websites of relevant authorities to ensure compliance with all necessary regulations.
Carry-On Essentials for Traveling Abroad
When traveling abroad as an Indian student, your carry-on bag becomes an essential lifeline. Here's a list of essential items to include in your cabin baggage:
Travel Documents (passport, Visa documents, admission letters, health Insurance documents)

Medications (prescription medications, over-the-counter medications for common ailments)

Personal Comfort Items (neck pillow, blanket, eye mask, earplugs, non-perishable snacks)

Electronic Devices (laptop or tablet, mobile phone, charger, universal adapter)

Toiletries (toothbrush, toothpaste, face wash, moisturizer, hand sanitizer)
Checked-In Essentials for Traveling Abroad
While your carry-on bag holds the essentials for your journey, your checked baggage allows you to pack larger items and non-essential belongings. Here are some items that are better suited for your checked-in luggage:
Electronics (gaming consoles)

Non-essential clothing (extra pairs of shoes, bulky sweaters or jackets, formal wear)

Fragile items (glassware, musical instruments, ceramic or porcelain items)

Excess toiletries or cosmetics (shampoo, conditioner, body wash, skincare products, perfumes, toothpaste)

Books or study materials

Other non-essential items (umbrellas, non-essential kitchen gadgets)
Things Not to Carry While Traveling to the UK
When traveling to the UK as an Indian student, you must be aware of the prohibited things to take from India to the UK that should not be included in your packing list. These items are restricted by law and should not be carried to ensure compliance with local regulations and maintain a safe and secure travel experience. Here are some examples of items not to carry while traveling to the UK:
Weapons and firearms (guns, including replicas and toy guns, ammunition, explosives, knives, or sharp objects)

Illegal drugs and narcotics

Restricted goods (endangered wildlife products, counterfeit goods or pirated materials, cultural artifacts or antiques without proper documentation or permits)

Hazardous materials (flammable substances, explosives or fireworks, toxic or corrosive substances, radioactive materials)

Agricultural and food Items (fresh fruits, vegetables, and plants)

Animal products (such as meat, dairy, or eggs)

Seeds or plants without proper permits

Offensive or obscene material (pornographic materials)
How to Resist the Urge to Overpack?
Packing for a journey to the UK as an Indian student can be challenging, especially when faced with the urge to bring unnecessary items. Here are some practical tips to help you resist the temptation to overpack:
Make a List
Make a detailed list of the essential items you need. Stick to this list and avoid adding non-essential items you may not use during your stay.
Plan for Laundry Facilities
Most accommodations or nearby laundromats offer washing machines or laundry services. Packing a small amount of clothing and planning to do laundry during your stay allows you to travel lighter.
Consider the 80% Rule
A helpful rule of thumb is to lay out all the items you plan to pack and then remove 20% of them. This forces you to evaluate each item's necessity.
Roll Instead of Fold
Rolling your clothes can help save space in your suitcase. It also reduces wrinkles and makes it easier to see and access each item without disturbing the entire contents of your bag.
Use Travel-Sized Toiletries
This saves space and ensures compliance with airline regulations for carrying liquids.
Conclusion
Packing efficiently for your journey as an Indian student to the UK is crucial for a successful and enjoyable experience. Use the provided checklist, plan, and prioritize your essential items. By packing smartly, you can focus on embracing new opportunities, making lifelong memories, and immersing yourself in the rich culture and academic pursuits the UK offers. Bon voyage!
Frequently Asked Questions
What are the documents required at the time of immigration?
The documents required at the time of immigration to the UK as an Indian student typically include the following:
A valid passport with a student visa.

Admission letter from your educational institution.

Proof of financial means to support your studies and stay in the UK.

Accommodation details or address in the UK.

Travel insurance documents.
How much money can I carry from India to the UK?
Carrying a reasonable amount of cash for initial expenses is always advisable. You must declare cash of £10,000 or more to UK customs. However, there is no limit on how much you can carry in your accounts.
How much luggage is allowed on international flights for students?
The luggage allowance can vary depending on the airline, fare class, and destination. In general, most airlines offer a free baggage allowance of upto 23 kgs for international students in addition to the allowed limit.