Land of the Rising Sun IELTS Reading Answers
Land of the Rising Sun IELTS Reading Answers
Updated on 13 April, 2023
Obtaining a good score in the prestigious IELTS examination can be the game changer when candidates might need to secure admission to their desired universities. This IELTS sample with answers for 'land of the rising sun' will act as a practice opportunity for applicants looking to become proficient in answering questions related to passages and score well.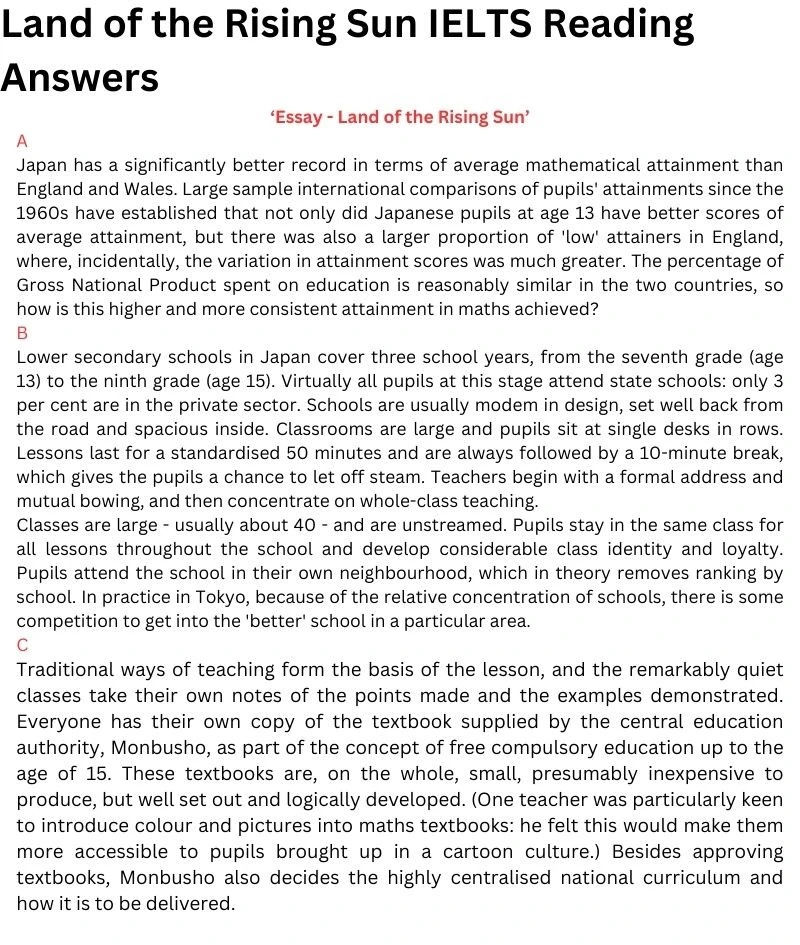 Download E-Books for IELTS Preparation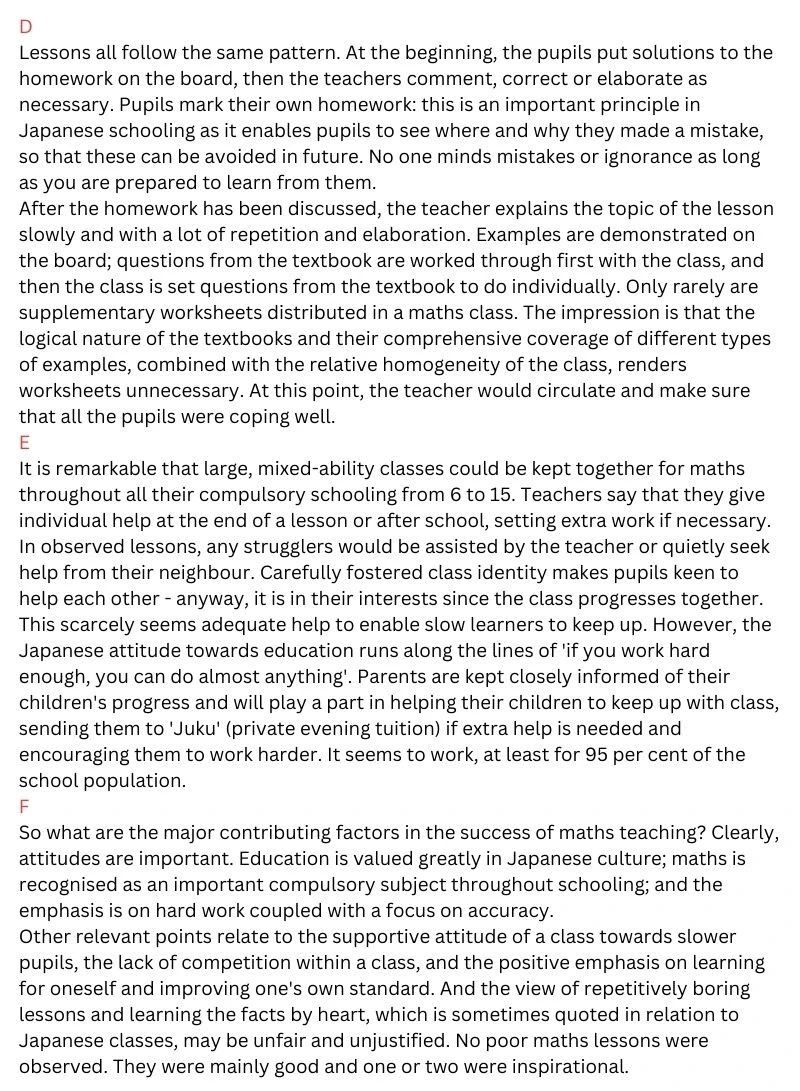 Download IELTS Preparation Guide For Free
Get to know about the latest updates on the IELTS Exam, Eligibility, Preparation Tips, Test procedure, Exam Pattern, Syllabus, Registration Process, Important Exam Dates, and much more!! This guide is a one-stop solution for every IELTS Aspirant who aims to crack the exam with an impressive band score.
Questions 1 - 5
Reading Passage 1 has six sections, A-F.
Choose the correct heading for sections A-F from the list of headings below.
Example: Section A
Section B

Section C

Section D

Section E

Section F
Learn More about Study Abroad
What is Scholarship
Learn all about the scholarships like types of scholarships and how to get a one
Scholarship
Provincial Nominee Program Canada
Learn all about Provincial Nominee Program (PNP) Canada
PNP Program Canada
Questions 6 - 9
Do the following statements agree with the claims of the writer in Reading Passage 1?
6. Students studying math in England possess more variation in their attainment scores than their counterparts in Japan.
7. An estimate of the gross national product spent on education is a reliable metric to assess the mathematical proficiency of a country.
8. The lower-secondary schools in Japan are inferior to private schools in terms of space and the inclusion of modern amenities.
9. In the Japanese school systems, the assigned homework is marked by teachers on the following day.
Study Abroad Without IELTS
Questions 10 - 13
10. Choose the best option to describe Japanese textbooks as mentioned in the reading answers IELTS sample of 'land of the rising sun.'
Available cheaply for students to buy

Customized according to the requirements of the students

Framed in an appropriate way to be combined with TV programs

Enjoy reduced popularity among Japanese teachers
11. What happens during the introduction of a new math topic?
The pupils are asked to solve the questions on the board

Students only use the textbook

The teachers make sure each student understands the topic by carefully and patiently explaining the new concepts

Extra worksheets are generally handed over to students
12. The students who face challenges are subject to
Relevant supplementary tuition

Motivation to duplicate from their peers

Forcibly asked to be transparent about what is slowing them down

Enrolled in a mixed-ability class
13. Which of these is the reason for high mathematics success rates among Japanese students?
The decision to elect math as a compulsory subject in the country

They are conditioned to work without external assistance

Extra efforts and a focus on highlighting correct answers

Motivation to practice repetitive learning
Read more about: Tips For Reading in IELTS Exam | IELTS Academic Reading | IELTS Reading Tips And Tricks | IELTS Reading Band Score | IELTS General Reading Test | IELTS Reading Section |
Answers
| | | |
| --- | --- | --- |
| Question number | Answer | Explanation |
| Example | Research highlighting mathematical attainment | The first section of the 'land of the rising sun' reading answers IELTS sample highlights the prevalence of Japanese mathematical attainment over other regions like England and Wales. It lays the foundation for the passage by discussing the average mathematical attainment in 13-year-old Japanese kids being higher than in England and Wales, despite all these regions contributing a similar gross national product to education. |
| | The analysis of the background and middle-year education years in Japan | The primary point of Section B corresponds to Japan's secondary school years. Students aged 13 to 15 are primarily enrolled in public schools renowned for facilities and education quality on par with private institutions. Features like modern design, spacious classrooms, and a structure of 50 minutes of lectures and 10 minutes of breaks every hour are highlighted. The section also discusses the emphasis of educational institutes on cultivating a sense of class loyalty among students by ensuring that they share all their classes with the same group. |
| 2. | The authority of Monbusho | The entirety of section C in the 'land of the rising sun' reading answers IELTS sample highlights the pivotal role of the central educational authority of Japan, Monbusho. It highlights the distinctive role of Monbusho in distributing free textbooks to students until age 15. This initiative is part of the free compulsory education mandated by the country. Monbusho is also highly celebrated due to its influence in deciding the deliverance of the national curriculum adopted by educational institutions all over Japan. |
| 3. | The structure of a math lesson | In the reading answers of the IELTS sample of 'land of the rising sun,' section D mentions the unique method in which mathematics is taught to students in Japan. It discusses how participation forms the crux of the classroom sessions as students are asked to solve the homework questions the next day on the blackboard. The teachers assess the work and solutions employed by the student and make corrections, if necessary. Everyone in the class is encouraged to grade their homework independently and learn from their mistakes. Following the homework discussions, teachers repeatedly emphasize essential elements of the next topics to ensure no student is left behind. They solve some examples on the board and inculcate a habit for students to solve the subsequent textbook exercises using their understanding. |
| 4. | Assisting slow learners | In section E, it is distinctively mentioned that teachers in Japanese schools adopt an approach of individual assistance to students after the completion of a lecture or immediately after the end of a school day. The section further discusses how the Japanese school system helps slow students cope with extra lessons and incorporates parent participation to keep them informed about their child's progress. Most parents enroll their children in private evening tuitions, locally termed 'Juku.' |
| 5. | The primary reasons for mathematical proficiency among Japanese students | Section F sums up why Japanese students are miles ahead in terms of mathematical proficiency. It focuses on Japan's emphasis on math education, an attitude that has helped them carve out an accurate curriculum that encourages student development. The section also discusses how slower students are encouraged due to solidarity in classrooms, motivating them to learn with other pupils' assistance. Overall, section F of the 'land of the rising sun' reading answers IELTS sample marvels at the positive attitude of Japanese education, motivating students to challenge themselves and improve constantly. |
| 6. | YES | Right off the bat, section 1 of the 'land of the rising sun' reading answers IELTS sample concludes that 13-year-old Japanese students are more proficient in mathematics than same-aged students in England and Wales. However, it also stresses that students in England and Wales possess variable scores, with higher variability than their Japanese counterparts. |
| 7. | NOT GIVEN | The introductory paragraph clears the air by mentioning the discrepancies in students of Japan and England and Wales, despite both countries possessing similar gross national product spending on educational initiatives. |
| 8. | NOT GIVEN | As stated in section B of the reading answers IELTS sample of 'land of the rising sun,' the schools in Japan are well-endowed with modern and spacious classrooms that are built away from the hustle and bustle of the city. However, the passage doesn't present a direct comparison between these institutions. |
| 9. | NOT GIVEN | Section D sheds clarity on this issue by discussing how teachers emphasize self-correction to help students realize their mistakes and work to rectify them. Usually, a student is asked to solve the homework questions on the board. The teacher then analyzes the solution and incorporates corrections if required. Based on the solution on the board, students are then asked to grade their own homework. |
| 10. | B. Customized according to the requirements of the students. | Section C mentions that the textbooks are curated and assimilated by the central educational institute of Japan, Monbusho. They provide customized textbooks that are logically developed, accounting for student acumen. |
| 11. | C. The teachers make sure each student understands the topic by carefully and patiently explaining the new concepts, | Section D of the 'land of the rising sun' reading answers IELTS sample mentions a uniform lesson pattern. After discussing the homework assigned the previous day, teachers carefully elaborate and explain the new concept to help pupils get a hold of the fundamentals. |
| 12. | Relevant Supplementary Tuition | Elaborated in section E; it is evident that Japanese schools aim to help slow students to the best of their abilities. One of the most effective strategies they employ is intimating the parents about their child's progress, who enroll their ward into private tuition or 'Juku' to help them keep up with the lessons in school. |
| 13. | C. Extra efforts and a focus on highlighting correct answers | A focus on hard work and accuracy forms the basis of Japanese success in math, as mentioned in section F of the 'land of the rising sun' reading answers IELTS sample. |
Explore IELTS Reading Samples With Answers
Dyslexia Reading Answers
Here are the dyslexia IELTS reading answers for your perusal along with the passage and questions. This will aid your practice sessions ahead of the examination.

Dyslexia Reading Answers

0