University of Cumbria
Carlisle, UK
11
No of Courses
#Top 600
Rank(QS Top Universities)
Government
University Type
https://www.youtube.com/watch?v=fmjUeStY-B8
Overview
The University of Cumbria, UK, founded in 2007, has already earned a name in the academic world. The Cumbrian campus of UCLan, Cumbria Institute of Arts, and St Martin's College merged to become the University of Cumbria in 2007, with its headquarters in Carlisle. The Privy Council granted a Royal Charter in January 2007. It provides courses at the doctorate, undergraduate, and graduate levels.
Course Fee

INR 15.40L/yr

Exam Accepted

NA

Intake Session

SEP 2024
Course Fee

INR 15.20L/yr

Exam Accepted

NA

Intake Session

SEP 2024
About University
Fusehill St, Carlisle CA1 2HH, United Kingdom
Founded in 2007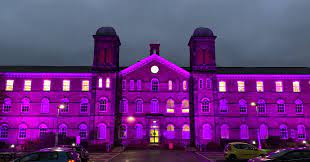 +7 more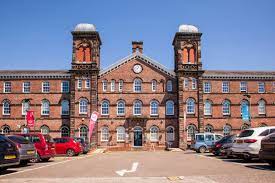 +7 more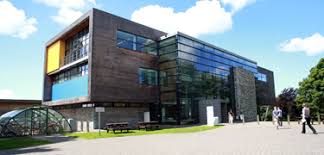 +7 more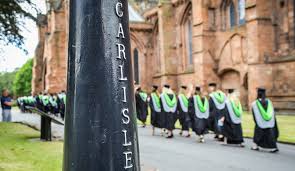 +7 more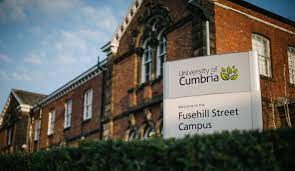 +7 more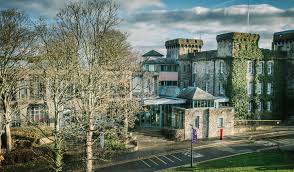 +7 more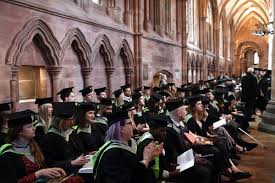 +7 more

+7 more
upGrad's Accelerator Program
Low Cost

Enroll and save up to INR 60 lakh on study abroad courses

Post Study Work Visa

Eligible for up to 24 months of PSWP/36 months of OPT visa across countries like the USA, UK, Germany, Canada and more

Get

4x ROI

Explore attractive career opportunities & better ROI across robust global economies
Explore Accelerator Programs
More About University of Cumbria
Address of the University
Fusehill Street, Carlisle, Cumbria CA1 2HH
Affiliation
1. Universities UK
2. Cathedrals Group
3. MillionPlus
University of Cumbria Ranking
1. Since 2017, The Guardian has put UoC among the top 120 universities in the United Kingdom. The university stood #116 in 2020, upgrading to #98 in 2021.
2. From 2017 through 2021, the Complete University Guide ranked UoC between 115 and 125 in the United Kingdom.
Infrastructure
Carlisle is the University's administrative centre. It has classes and open workspace in the "Energus" building in Blackwood Road, Lillyhall, Workington, and classrooms in Ambleside, Lancaster (previously St Martin's College). Previously, the Institution had campuses in Penrith (originally the University of Central Lancashire in Cumbria, Newton Rigg Agricultural College) and London before that. Newton Rigg is now at Askham Bryan College, Furness College in Barrow-in-Furness has built tight ties with the University, and the two institutions share several facilities. The university's campuses include:
1. Penrith
2. Lancaster Campus, Bowerham Road
3. Carlisle Campus, Fusehill street
4. Workington
5. Ambleside
6. Carlisle Campus, Brampton road
The university has six libraries, a computer room with 2000 workplaces, comfortable areas for study and relaxation, various sports pitches, etc.
Labs and Research
Research is an essential component of the University of Cumbria through its network, centers, and academic institutes. Some of the University's research centers are:
1. CNNPA (Centre for National Parks and Protected Areas)
2. CRED (Centre for Regional Economic Development)
3. AARG (Active Ageing Research Group)
4. LED (Learning Education Development)
5. HASKE (Health And Society Knowledge Exchange)
Language of Instruction: English
University of Cumbria Admission Requirements
The University of Cumbria needs students to maintain a minimum IB of 30 to be considered for admission. Students also need to participate in other activities such as community service, sports, project leadership, etc., to improve their chances of admission.
The minimum IELTS requirement is 6.0, with a minimum of 5.5 in each component.
Other Criteria for selection:
1. Motivation for the course of study
2. The ability to benefit from and succeed in HE
3. Qualifications held and predicted grades
4. Experience
The application deadline is from July to November every year.
University of Cumbria Admission Process
University of Cumbria's acceptance rate is 46%. The admission steps required are as follows:
1. It takes about 8 weeks to complete the application procedure. It is advised to apply as soon as possible.
2. At the time of application, all official transcripts must be supplied.
3. Submit all necessary documentation.
4. The student's selection is communicated by email.
Courses
The institution offers a wide range of courses under bachelor's and master's programs. The university's academic profile is divided into five departments. They are:
1. Institute of Heath
2. Institute of Education
3. Institute of Other studies, Science and Natural Resources
4. Institute of the Arts
5. Institute of Leadership, Business, and Industry
The university also provides education in Economic Development, Sports Development, Medical Imaging, Mental Health, Wellbeing, Conservation, Forestry, The Upland, etc.
Credit Hours
1. Bachelor's Degree = Minimum 12 Credit per Semester
2. Master's Degree = Minimum 9 Credits per Semester
College Calendar
Term dates:
1. Autumn Term – 20 September to 17 December
2. Spring Term – 10 January to 8 April
3. Summer Term – 18 April to 03 June
Standard Semester Dates:
1. Semester 1 – 19 September to 27 January
2. Semester 2 – 30 January to 26 May
Extracurricular Activities
1. Health and Fitness – The university provides a wide range of exercise courses, sports, health, and fitness classes.
2. Sports Team -Almost all the campuses of the university have their own sports team, which represents the college league events. Teams include netball, football, cricket, rugby, badminton, pool, etc.
3. Societies and Clubs – Clubs and societies in the university catch everyone's interest – from football to video games, athletics to anime. A student can also start their club too.
4. Student's Union – Student's Union, a group that is democratically elected, ensures that the student's voices are always heard. They oversee clubs, provide academic representation.
Diversity
Currently, 1.8% of the total student strength at the University of Cumbria is international. It has inclusive environment as a university community by appreciating, respecting, and celebrating diversity to foster a sense of belonging and understanding.
Industrial Connection
1. National Trust
2. Northern powerhouse
3. Cumbria tourism
4. Britain Energy Coast Business Cluster
5. Carlisle Ambassadors
Work Opportunities
The University of Cumbria has excellent graduate employability ratings. All the courses include improving employable skills, life-long career management skills, and giving a globally recognized qualification. Nine out of ten of the university's students are either employed or are studying further after graduating. The university also has its own Placement support service for the students. Careers service provides assistance through the My Career Enriched, careers hub, Student Enquiry Point, by phone, and online. Various career management and employability events are also conducted. The Institute also offers opportunities to work with international companies.
Various Internships offers are also provided to the students to improve their management and employable skills while studying.
Alumni
The University of Cumbria has an impressive list of alumni, where there are business elites, celebrities, scholars, etc. Take a look at a few notable names in the university's alumni association.
1. Keith Tyson, an English artist
2. Curro Roya, a writer, and producer
3. Jaanika Merilo, a civil activist, IT innovator, author, and philanthropist
4. Charlie Hunnam, an English actor
5. Alison Bethel-McKenzie, an American born journalist
6. Funmi Iyanda, a talk show host and a broadcaster
7. Sheila Fell was an English artist
University of Cumbria Fees & Living Expenses
Average Tuition fees:
1. Bachelor's program – average £13700 (INR 1383760) per year
2. Master's program – average £20000 (INR 2020610) per year
Living Expenses – $660 to $1250 (INR 50199 to 95075) per month.
Disclaimer! All course fees/salaries/expenses are indicative.
Top UK Universities
Disclaimer
All information provided on this page is for general use and upGrad Abroad is not responsible for any errors or omissions. Any action taken upon the information found on this website is strictly at your own risk.