University of Westminster
London, UK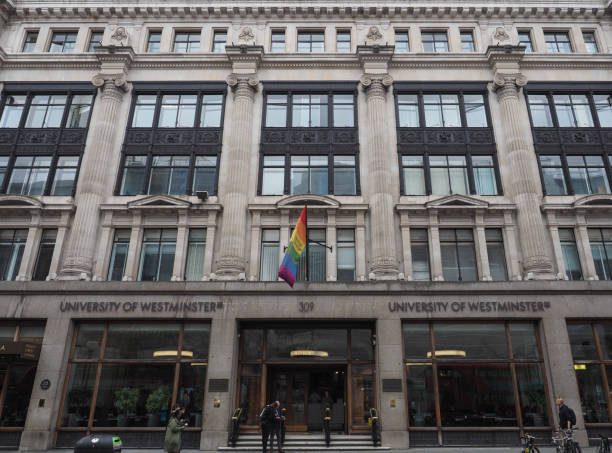 0
No of Courses
#1702
Rank(QS Top Universities)
Government
University Type
https://www.youtube.com/watch?v=qYC2xC5sEfk
University of Westminster's Fees
University of Westminster's Admission
About University
309 Regent St., London W1B 2HW, United Kingdom
Founded in 1838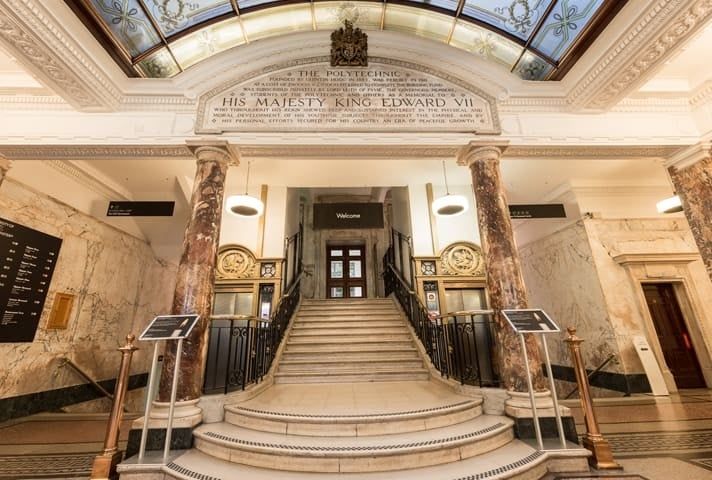 +8 more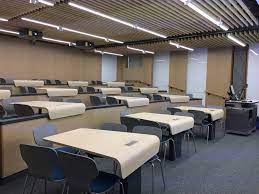 +8 more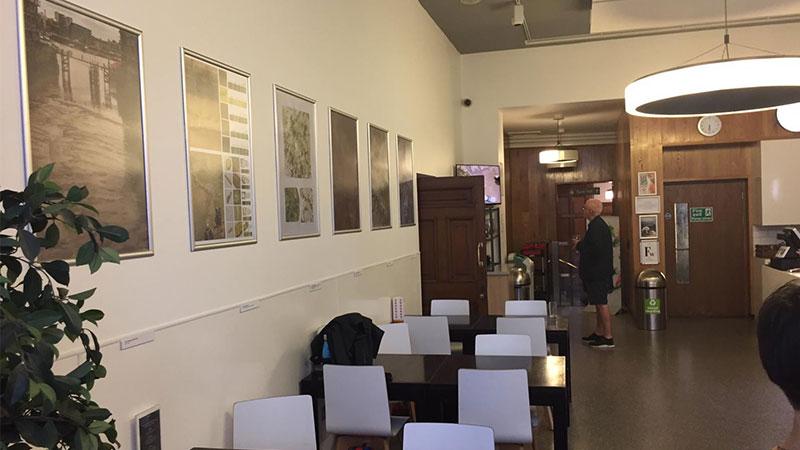 +8 more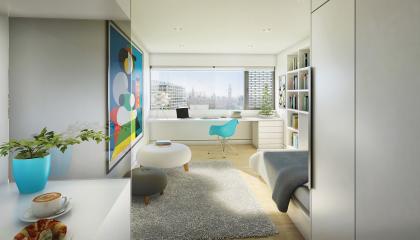 +8 more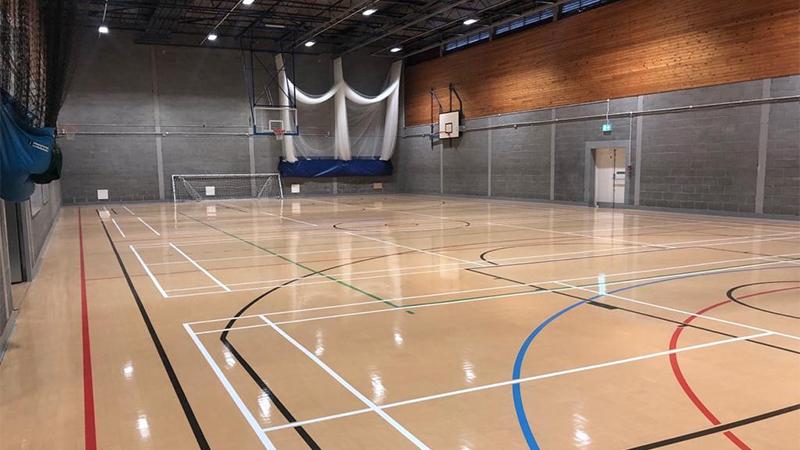 +8 more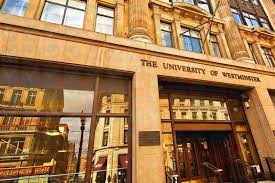 +8 more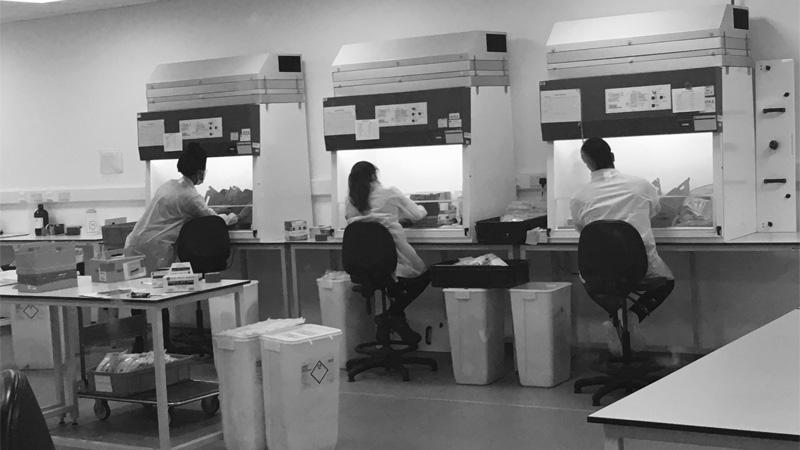 +8 more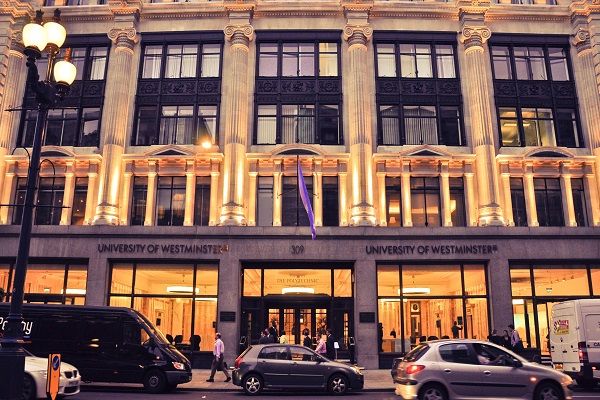 +8 more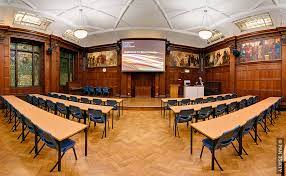 +8 more
upGrad's Accelerator Program
Low Cost

Enroll and save up to INR 60 lakh on study abroad courses

Post Study Work Visa

Eligible for up to 24 months of PSWP/36 months of OPT visa across countries like the USA, UK, Germany, Canada and more

Get

4x ROI

Explore attractive career opportunities & better ROI across robust global economies
Explore Accelerator Programs
More About University of Westminster
Infrastructure of University of Westminster
The university is spread across four campuses in London. Three are situated in central London– all within walking distance from each other, while the fourth campus is located in Harrow, northwest London, and needs a 30-minute tube train ride from Central London.
The four campuses are
Cavendish campus: Subjects like Psychology, Computer Science, Engineering, Biological, and Biomedical Sciences are taught here
Harrow campus: The campus is a home for Film and Television, Fashion, Art, and Design students
Marylebone campus: For students enrolled in Business and Management, Accounting and Finance, Urban Planning, and Construction Management
Regent campus: The campus is split into two sites. One is on Little Titchfield Street for all law students. Another one sits comfortably at 309 Regent Street, and students invested in Creative Writing, English, Languages, and History study here
The university offers a list of several research areas that you can choose from based on your interest:
Social Sciences
Applied Management
Organizations, Economy, and Society
Architecture and Cities
Media and Communications
Arts
Management and Marketing
Computer Sciences and Engineering
Life Sciences
Finance and Accounting
Law
Humanities
The university's medium of instruction is English, but it does offer many other language electives that you can study.
Arabic
Spanish
Chinese
Italian
French
Japanese
German
Russian
Academics at the University of Westminster
The University of Westminster, UK, begins its undergraduate courses by September. The applications are advised to be applied via UCAS (Universities and Colleges Admissions Service), which opens in September. So, it would be best to apply 12 months before the course commences.
UCAS' first deadline ends on 26th January.
Post this, any application that arrives is treated on a first-come-first-serve basis until the classes are full.
The last deadline for UCAS is 30th June, beyond which any application falls in 'Clearing.' 'Clearing' is the process that helps a student secure a seat in the university- if the desire to pursue a particular course has changed, if there are no viable offers, or if the application process began late.
The clearing applications start in July and end in September.
For the 2022 course, the UCAS deadline is closed, but you can apply for clearing from 5th July onwards. By 2nd September, international students need to meet the required conditions and put down the deposit.
Moreover, by 9th September, the requests for confirmation of acceptance for studies are closed, and enrollment begins from 19th September.
On the other hand, if you wish to apply for postgraduate courses, aim to apply by 1st August. If you are an international student who would require a VISA, apply by 1st July.
For postgraduate courses beginning on 22nd September, the application deadline for international students is 19th August, and by 31st August, you must meet all required conditions and pay the necessary deposit.
The last date for international students to seek confirmation of acceptance for studies is 9th September, and enrollment will ensue from 19th September.
Admission Requirements for University of Westminster
Now that you all know about the academic calendar of the University of Westminster, let's discuss the admission process in detail. The University of Westminster admission process varies for both undergraduate and postgraduate courses.
For undergraduate degree courses, follow this process:
Go to a course page and click on the glowing red 'Apply' button
It will direct you to the UCAS website through which both domestic and international students can apply
Register at UCAS and fill out the necessary information concerning personal circumstances, residency status, nominated access, and education fund
Necessary education and employment qualifications are also required
Fill out the UCAS application form, pick a maximum of five universities and courses
Write a personal statement in your application
Add a reference from an employer or teacher
Pay the application fee
Save and submit your UCAS application, so you can recheck it later if needed
For postgraduate students, the process is a little different:
Apply directly to the University of Westminster through their application service
Go to the course page, tap on the red 'Apply' button, and you will be directed to the application page
If you have applied via UCAS for post-graduation, it will be considered equally valid.
Application Requirements
Now, let's take a look at the University of Westminster application requirements.
For a full-time undergraduate course degree, your application requires the following information:
UCAS course codes that you can find on the specific course pages
UCAS institution code– University of Westminster has the code of W50
Past educational and employment qualification proof
Any predicted result
Personal Statement explaining your keen interest in the subject and why the university should select you
One reference, minimum
For a postgraduate degree course, you would need the following relevant and necessary documents:
Documents of your qualification– certificates and transcripts as evidence to meet the entry requirements
Proof of English language level, if your first language is not English
International students need to submit a copy of their passport
Personal Statement explaining the keenness to study a particular course at the university
Necessary details of the people who gave your reference
Any other entry requirement as specified on a specific course page
The University of Westminster's acceptance rate stands at 18%, as per EduRank.
Courses Offered at University of Westminster
The university offers a plethora of courses on both undergraduate and postgraduate levels. The three colleges broadly provide four courses under the university, namely Design, Creative and Digital Industries, Liberal Arts and Sciences, Westminster Business School.
These courses are further bifurcated under the following subjects:
Accounting and Finance
Architecture, Interiors and Urban Design
Art, Design and Visual Culture
Biological and Biomedical Sciences
Business and Management
Computer Science and Engineering
Construction, Surveying, and Real Estate
Criminology and Sociology
Data Science and Informatics
Economics
English and Creative Writing
Fashion
Film and Television
History
Languages
Law
Marketing
Media and Communication
Music
Nutrition and Public Health
Politics and International Relations
Psychology
Tourism and Event Management
Transport and Logistics
Additionally, the university's famous and popular courses include:
Art
Architecture
Film and Media
History
International Law
Business and Commercial Law
Marketing, Media, and Communication
Pharmacology
Graphic and Design Studies
Journalism
Nutrition
In terms of the volume of credits required, here's a breakdown of all undergraduate courses:
Course
Number of years
The volume of credits required

MEng

new

MSci

4
480 credits
5
Minimum 48 credits; maximum 720 credits

BA (Hons)

BSc (Hons)

BEng (Hons)

BMus (Hons)

LLB (Hons)

LLB (Hons) with Foundation

3
360 credits
4
Minimum 360 credits; maximum 600 credits

BA (Hons) with Foundation

BSc (Hons) with Foundation Year

BEng (Hons) with Foundation Year

BMus (Hons) with Foundation

4
480 credits
5
Minimum 480 credits; Maximum 720 credits
Grad Dip
2
120 credits
Grad Dip in Law
1
160 credits
Grad Certificate
1
60 credits
DIPSS (Diploma of Special Study)
–
40 credits

FDA

FdSc

2/3
240 credits
CertEd (Diploma in Teaching in the Lifelong Learning Sector)
1
120 credits
Foundation Certificate
1
120 credits
Let's also take a quick look at the breakdown of the credit for every postgrad course:
Course
The volume of credits required
Masters in Fine Art
240 credits
MArch
240 credits

LLM

MA

MSc

MRes

MBA

MMus

Minimum 180 credits, Maximum 240 credits
Postgraduate diplomas
120 credits
Postgrad certificates
60 credits
University diploma in Special Study
40 credits
University certificate in Special Study
20 credits
Lastly, some of the top-rated course subjects of the University (as per The Guardian) are:
Film Production & Photography– 25th rank
Media and Film Studies– 36th rank
Building and Town and Country Planning– 42nd rank
Sociology– 58th rank
Politics– 59th rank
Biosciences– 64th rank
Computer Sciences and Information Systems– 108th
The following is the academic calendar for 2022-2023
Semester 1: September 19-December 16
Semester 2: January 9-April 14
Some other important dates are:
Good Friday: April 7
Easter Monday: April 10
Early May Bank Holiday: May 1
Graduation 2023: November 2023
Extracurriculars and Diversity at University of Westminster
According to the World University Rankings 2022, International students from over 169 countries make up about 50% of the full-time student population at the University of Westminster.
With the immense diverse backgrounds of both students and staff, the university has claimed its spot globally.
The 2021 Times Higher Education (THE) reveals the University of Westminster ranking was 6th in the UK and 20th globally in terms of its appeal and reputation for international students.
Besides its worldwide engagement and partnerships, the university also boasts plenty of clubs and societies to grow and refine individual personalities.
Here's a list of a few of them:
Accounting Society
Architecture Society
Bar Society
Corporate Law Society
Creative Writing Society
Dental Society
History Society
Marketing Society
Anime Society
Debating Society
Crochet and Knitting
Baking Society
Photography Society
LGBTI+ Society
Marxist Society
Smoke Radio
Wells Streets Journal
Apart from these, many societies also cater to different geographical cultures and the faiths of people worldwide.
Career at University of Westminster
The University of Westminster, UK, has tie-ups with several renowned companies like BBC, Barclays, NHS, and Harrods. These companies also host recruitment drives for University of Westminster graduates.
The university is dedicated to offering its students a superb range of tools to help them in their careers and enhance them personally and professionally. Now and then, the university introduces schemes and initiatives to help curate skills and offer the students a chance to socialize and network.
To support the careers of its students by recognizing the effort taken to indulge in extra-curricular activities, the university introduced the Westminster Employability Award. It also offers an online tool called Potentially, which allows students to explore the depth of their strengths, competencies, and choices.
This includes one-on-one advice sessions to give students honest feedback about their interviews, CV, and application forms.
The university's commitment to its students' skills-building is commendable. Students can make the best of Skills Academy seminars and workshops led by industry professionals or pursue credit-bearing additional electives to expand their career opportunities.
Moreover, there is a free LinkedIn Learning subscription for the students. It allows them to gain knowledge from thousands of courses available such as Fashion, Business, Photography, Students can also take up additional language by enrolling themselves in an open language program, Polylang. Folio by the University of Westminster offers students the opportunity to create their digital portfolios as well! Lastly and very importantly, the university offers endless support to its students through its Engage website.
All of these efforts have led the university to house great notable alumni over the years such as
Roger Water: Co-founder of Pink Floyd Band
Alexander Fleming: Physician who discovered Penicillin
Richard Wright: Another co-founder of Pink Floyd band
Vivienne Westwood: Fashion Designer
Charlie Brooker: Creator of Black Mirror series
Hugh Lofting: Creator of famous Doctor Dolittle character
Financial Information of University of Westminster
The fees of some of the most popular full-time undergraduate, postgraduate, and research degree courses at the University of Westminster are:
| | |
| --- | --- |
| Course | Fees for International Students Per Year |
| Accounting and Business Management (BA Hons) | GBP 14,400 (~INR 14 Lakhs) |
| English Literature (BA Hons) | GBP 14,400 (~INR 14 Lakhs) |
| Architecture (BA Hons) | GBP 14,400 (~INR 14 Lakhs) |
| Biological Sciences (BSc Hons) | GBP 14,400 (~INR 14 Lakhs) |
| Communication (MA) | GBP 17,000 (~INR 17 Lakhs) |
| Cyber Security and Forensics (MSc) | GBP14,000 (~INR 14 Lakhs) |
| Cultural and Critical Studies (MA) | GBP 14,000 (~INR 14 Lakhs) |
| Economic Policy and Analysis (MSc) | GBP 13,000 (~INR 13 Lakhs) |
| Full-Time Research | GBP 14,110 (~INR 15 Lakhs) |
| Part-Time Research | GBP 7,055 (~INR 8 Lakhs) |
On average, a student can expect to spend GBP 350 (INR 35,000 Approx) every week on rent and other living costs. To get a drift of other expenses (per week), refer to the list below:
Rent: GBP 120-275 (~INR 12,000-27,500 Approx)
Bills: GBP 15-30 (~INR 1500-3000 Approx)
Food: GBP 30-40 (~INR 3000-4000 Approx)
Travel: GBP 15-30 (~INR 1500-3000 Approx)
Course Essentials: GBP 10 (~INR 1000 Approx)
Clothes, sports, entertainment, personal utility: GBP 35-120 (~INR 3500-12000 Approx)
However, note that these expenses may differ as per your lifestyle and choice of living standards.
Top UK Universities
Frequently Asked Questions
What is the retention rate of University of Westminster?
Retention rate in the context of universities refers to the percentage of students who continue their studies at the same institution after their first year of enrollment. University of Westminster does not specify its retention rate.
What is the accommodation capacity of University of Westminster?
Marylebone Hall, a student accommodation at University of Westminster, has various room options including premier, penthouse, standard and shared rooms, totaling to 226 rooms, all equipped with en-suite facilities, built-in wardrobes, desks, internet connection, kitchen & essential appliances.
Does the University of Westminster provide work permits?
International students holding Student Visas in the UK can work, but working hours are limited. The number of hours allowed for work is usually stated on their Biometric Residence Permit and is restricted to maximum 20 hours per week.
Does University of Westminster require ielts?
In order to get admitted to University of Westminster, a minimum English Language proficiency requirements differ across courses, but generally, a minimum overall score equivalent to IELTS 6.5 (with no less than 5.5 in each component) is required.
How much is University of Westminster application fee?
Applicants who apply to the University of Westminster directly, rather than through their university's international office or a study abroad provider, are required to pay a non-refundable application fee of £200. This fee is deducted from the final tuition fee.
What is the acceptance rate of University of Westminster?
According to the Upgradaborad, the University of Westminster has an overall acceptance rate of around 18%, which means that it is a selective institution. It's worth noting, though, that acceptance rates can vary by program and by year.
What are the requirements to study at University of Westminster?
To study at University of Westminster, prospective students must meet the academic requirements, which vary depending on the program of study. In addition, international students must demonstrate English language proficiency through approved tests such as IELTS or TOEFL.
What are the popular majors at University of Westminster?
University of Westminster offers a wide range of majors, but some of the most popular ones include Business and Management, Computer Science and Information Systems, Social Sciences, Art and Design, Law, Media and Communications, and Architecture and the Built Environment.
What rank is University of Westminster in the world?
According to the QS World University Ranking 2023, University of Westminster ranks between 701-750 in the world with 319 Undergraduate programs and 296 Postgraduate programs.
Who are some famous alumni from University of Westminster?
University of Westminster has produced several notable alumni including Christopher Bailey, former Chief Creative Officer of Burberry, Jeremy Laing – Canadian fashion designer, Stephen K Amos, comedian and TV presenter and Rafik Abdessalem – Minister of Foreign Affairs of Tunisia.
University of Westminster
Disclaimer
All information provided on this page is for general use and upGrad Abroad is not responsible for any errors or omissions. Any action taken upon the information found on this website is strictly at your own risk.