Top Psychology Universities in Germany: Get a Step Closer to Flourishing Career
Top Psychology Universities in Germany: Get a Step Closer to Flourishing Career
Updated on 13 August, 2023
Charles Dickens once famously said — it is a wonderful fact to reflect upon that every human creature is constituted to be that profound secret and mystery to every other. Indeed, psychology is the science and art of unraveling the complexities and mysteries of the human mind while seizing opportunities to make a positive difference in people's lives.
The scope and possibilities of the field are endless today. If being a psychologist is your dream, you can consider studying in Germany. Several leading psychology universities in Germany are known for their globally-acclaimed programs. In this blog post, we'll look at the best psychology universities in Germany and more that you should consider.
Study Psychology in Germany: An Overview
Doing your bachelor's or master's in Germany is a good idea for several reasons. Germany has a rich history of evolution in the subject, right from the time of Immanuel Kant (philosophers) and Sigmund Freud (Austrian neurologist and the founder of psychoanalysis), among other legendary names. Wilhelm Wundt, a noted German physiologist, is also identified as the father of experimental psychology. He is known for having established the first laboratory in the world for experimental psychology in the country while studying the human mind through scientific methods.
Today, there are several psychology colleges in Germany for international students due to the soaring popularity of the discipline as a rewarding career option. Per THE World University Subject Rankings 2023, nine German universities offering psychology courses in Germany rank among the top 100 global universities.
Moreover, you can pursue bachelor's and master's in psychology courses in Germany with several interdisciplinary options like business psychology and others. International students can also study the subject in English here without any difficulties.
Best Universities in Germany for Psychology
Here are the top 5 best psychology universities in Germany based on the QS World University Rankings by Subject 2023: Psychology.
University Name
QS WUR Ranking by Subject 2023
Educational Programs Available
Fees
Humboldt Universitat zu Berlin
55
BSc and M.Sc programs along with mono-bachelor courses.
Standard fees of €315.64 per semester without any tuition fees.
Ludwig-Maximilians-Universitat Munchen
59
MSc programs are available in psychology.
No tuition fees are charged and students only have to pay a separate registration fee.
Freie Universität Berlin
94
BSc programs are available.
Tuition fees are not charged with only semester fees payable for students.
Eberhard Karls Universitat Tubingen
101–150
A two-year masters program in psychology is available.
The maximum tuition fee for international students is €1,500 per semester.
Universitat Heidelberg
101–150

There is a Psychology Bachelor-100% program. It comprises six semesters in total.

The Master of Science program usually comprises four semesters.

€151.05 per semester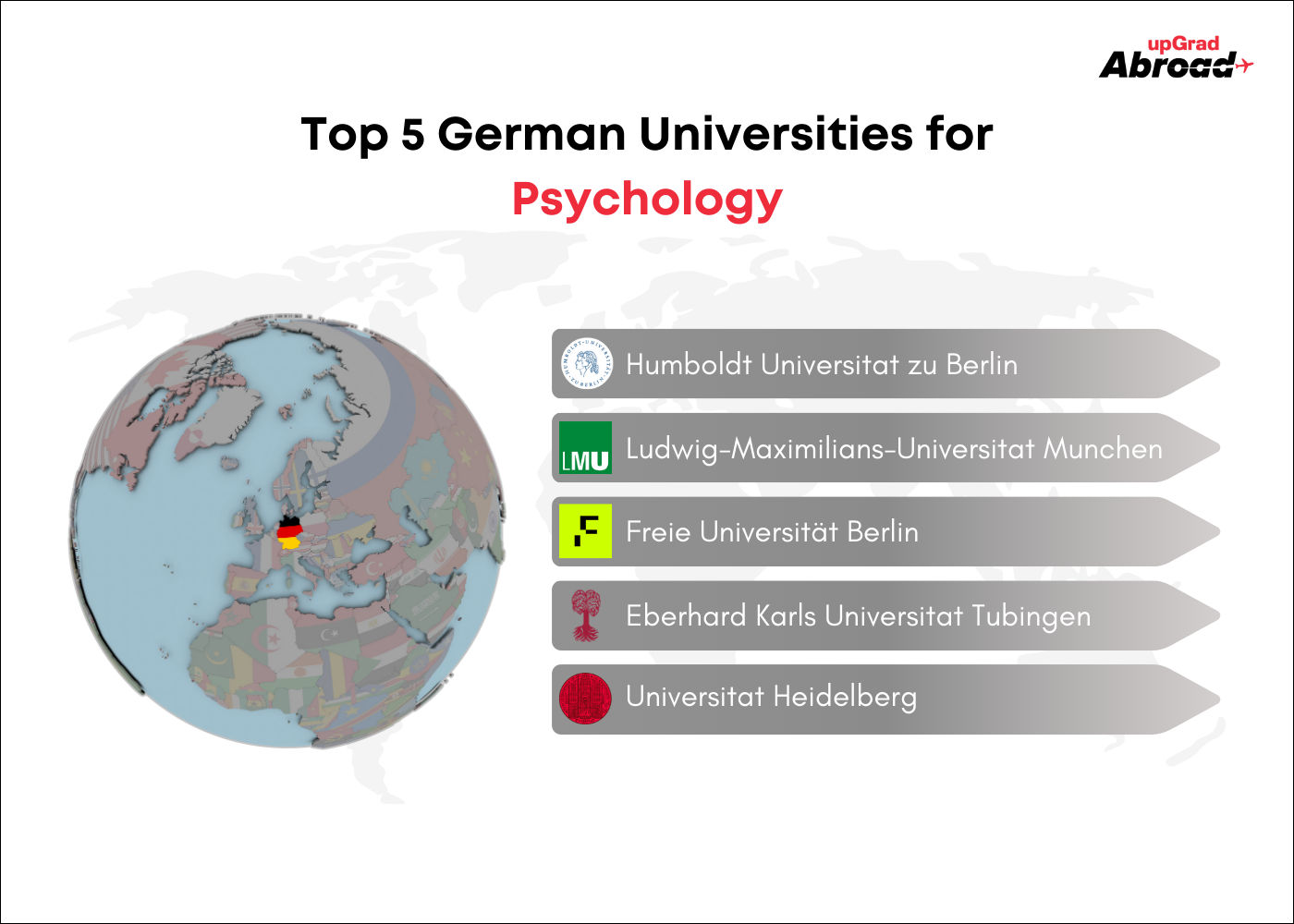 Admission Requirements
Admission requirements vary across universities for psychology programs. For masters courses, three-year bachelors courses and the minimum credit points/credits deemed necessary by the institution are required. At the same time, many universities may require psychology internships and other experience. Whereas for undergraduate programs, there are varying minimum requirements for high school grades and percentages.
Documents Required
Your application while applying for a psychology in Germany must be supported by a number of supporting documents. Some colleges could also ask for the submission of extra documents and data depending on the policy.
Previous Educational Transcripts
Work Experience
Letter of Recommendation
Resume/CV
English Language Proficiency Test score
SOP
Online application form
Scholarships
There are several university-level scholarships that are often available for international students. At the same time, if it is applicable, students can apply for the Deutschlandstipendium scholarship enabling them to get the support of €300 each month. Students should be enrolled at the university or have a letter of acceptance. Moreover, Heinrich Boll Scholarships are available for international students. Apart from this, the MAWISTA scholarship is granted to international students with a child to manage their studies in Germany. They receive a one-time payment of € 3,000.
Career Opportunities After Studying Psychology
Per the British Psychological Society, there will be a 43% increase in the number of psychologists in Germany in the upcoming years. There are several lucrative career opportunities after studying at leading psychology universities in Germany.
| | |
| --- | --- |
| Category | Average Annual Salary |
| Psychiatrist | €105,353 |
| Health Psychologist | €111,907 |
| Counseling Psychologist | €86,552 |
| Clinical Psychologist | €103,571 |
| Assistant Psychologist | €57,271 |
| Research Psychologist | €115,334 |
| School Psychologist | €45,000 |
| Industrial Psychologists | €82,052 |
Source: Glassdoor
Aspirants may also find work/opportunities as careers advisers, border force officers, human resource officers, mediators, life coaches, market researchers, psychotherapists, social researchers, and policy officers, depending on their areas of interest and available openings.
Conclusion
There are several acclaimed psychology universities in Germany, known for their renowned faculty, ground-breaking research, and excellent opportunities for students to gain hands-on experience. You should only apply after thoroughly checking the admission requirements at their official websites. Here's to an intriguing, interesting, and fulfilling career journey ahead.
Frequently Asked Questions
Can I study psychology in English in Germany?
Yes, you can study psychology in English in Germany. Several universities offer English-taught courses, while some offer a mix of German and English-taught programs.
Is Germany good for psychology?
Germany is one of the best countries to study psychology, with the QS World University Rankings for 2023 putting close to 20 of its institutions in the list of the best in the world for the subject. Germany offers a student-friendly environment with zero or negligible tuition fees at many institutions too.
Do psychologists get paid well in Germany?
Psychologists earn attractive salaries in Germany. According to Payscale, salaries range between €31,000 and €61,000 annually. Moreover, the median salary for a psychologist in Germany is approximately €46,000 annually.