MBA at Wharton: Application Deadline, Fee & More
MBA at Wharton: Application Deadline, Fee & More
Updated on 24 September, 2023
MBA from Wharton equips students with the essential business awareness and leadership proficiencies to achieve their career aspirations. With 98.7% of students of the Class-22 getting job offers, the program is characterized by the cultivation of exceptional business minds. The program offers numerous intangible benefits beyond the evident advantages like increased earning potential and expanded career horizons.
Course Highlights
Program Name
Masters of Business Administration
Duration
2 years
Wharton MBA fees

First-year- $124,476

Second-year- $122,476

Application Deadline

Round 1- September 6, 2023

Round 2- January 4, 2024

Round 3- April 2, 2024
MBA Application Process
If you wish to join the Carey JD/MBA Program, you must submit your application during Wharton's Round 1 or Round 2. Please refrain from completing or sending the Fall 2024 – First Year JD application through the LSAC Electronic Application service. Once you have successfully submitted your application through Wharton, both schools will manage the MBA application procedure separately, yet the assessment and decision-making processes will be collaborative. In early October, the Law School will begin handling Carey JD/MBA applications.
Please be aware that applying to the Carey JD/MBA Program is not permissible while simultaneously seeking individual admission to either the Wharton MBA Program or the University of Pennsylvania Carey Law School JD Program within the same application cycle. Once you have submitted an application for the Carey JD/MBA Program, altering your application to the other degree programs or vice versa will not be possible.
MBA Application Documents Requirements at Wharton
A complete application will need the following information:
Background Information
Application Fee-
The non-refundable application fee for Wharton's MBA program is $275, and you can pay it using a credit card along with your application.
Two Essays-
Essay 1-
Outline your Wharton MBA plan for career goals using past experiences, short/long-term aims, and program resources.
Essay 2-
Elaborate on contributing to the Wharton community with a personal/professional background (up to 400 words).
Transcripts (unofficial or official)- Must provide transcripts for all academic work undertaken beyond the baccalaureate/undergraduate level, regardless of credit or degree status.
Two Letters of Recommendation- Recommenders choose two traits from a list of ten that describe the candidate positively.
GMAT or GRE Score- Every applicant must provide GMAT or GRE scores not exceeding five years from the test date.
Eligibility
Below mentioned are some of the essential Wharton MBA requirements:
Resume
Contact information
Date of birth
Academic degrees earned
Family information
Prior Conviction Information
Professional experience
Career Opportunities After MBA at Wharton
Prominent Industries/Fields:
Consulting
Fintech
Healthcare
Retail
Real-Estate
Technology
Travel & Hospitality
Data Science
Analytics
Research
Sales
Investment Banking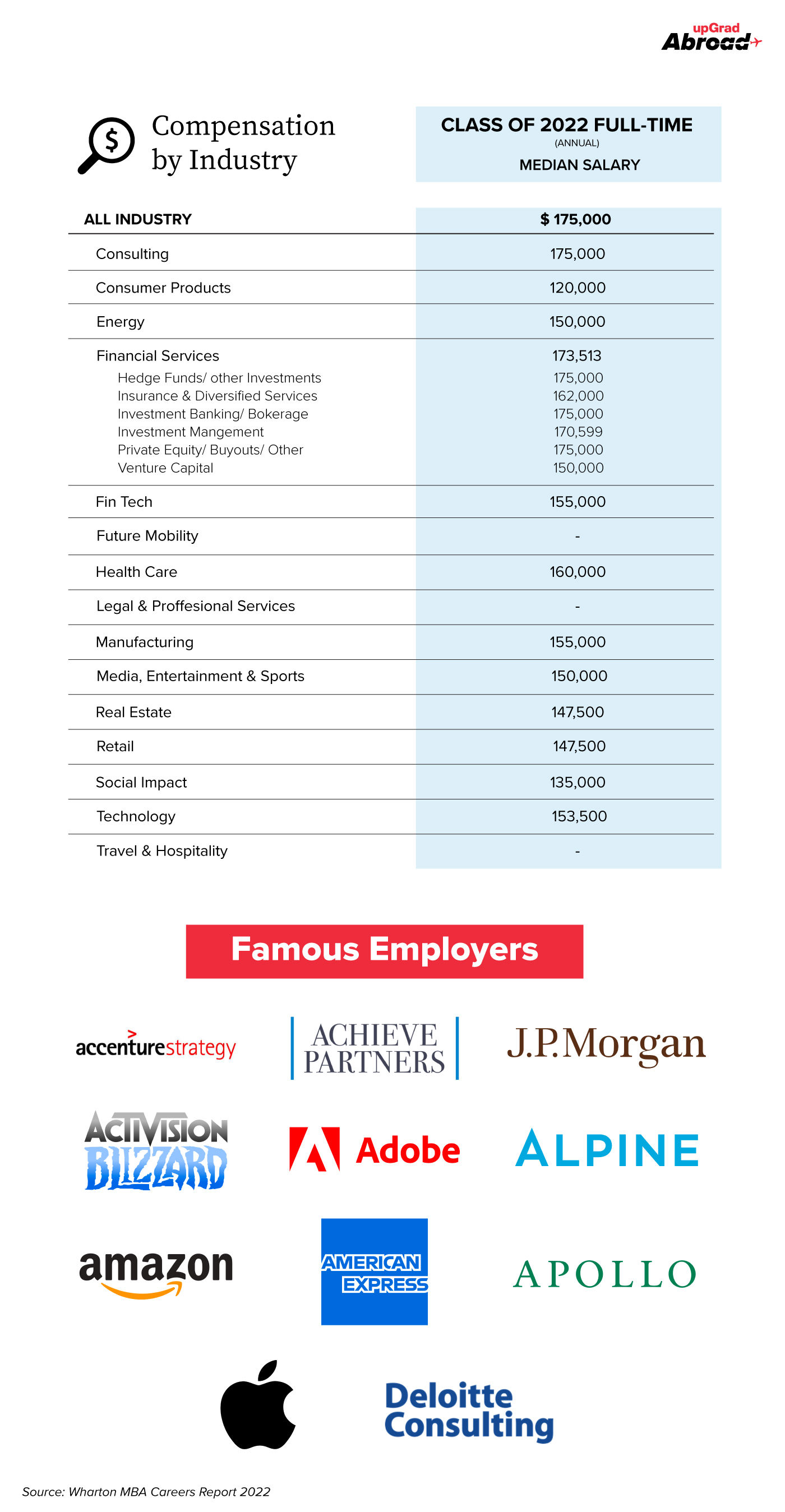 Famous Employers
Accenture Strategy
Achieve Partners
J.P. Morgan
Activision Blizzard
Adobe Inc.
Alpine Investors
Amazon
American Express
Apollo Global Management
Apple
Deloitte Consulting LLP
Wharton Graduate's Average Salaries
| | |
| --- | --- |
| Compensation Item | Compensation Median (US$) |
| Median Annual Base Salary | $ 1,75,000 |
| Median Sign-on Bonus | $ 30,000 |
| Median Guaranteed Bonus | $30,000 |
Source: Official Website
Wharton Famous Alumni
One of the reasons that put studying MBA at Wharton is the alumni of the Wharton School. We've listed some of the famous alumni.
| | |
| --- | --- |
| Name | Occupation |
| Anil Ambani | Chairman of Reliance Group |
| Donald Trump | Former US President and Politician |
| Elon Musk | Founder and CEO of Tesla |
| Sundar Pichai | CEO of Google and Alphabet |
Recommended Read: Study in USA
To know more about study in USA:
FAQs
What is the world rank of Wharton School?
Wharton is a premier university situated in Philadelphia, United States. It has an impressive ranking of #5 in the Global 2023 Executive MBA Rankings.
What is Wharton's MBA fees for international students?
The total cost of the average MBA program for international students at Wharton School is $246,952, covering both years and comprising around $124,476 for each year.
Where is the Wharton School situated?
The Wharton campus in Philadelphia is situated directly along Locust Walk, the charming brick-lined pedestrian pathway situated at the center of the University of Pennsylvania.