Best Bank For Abroad Education Loan
Updated on 22 May, 2023
Every student desires to attend a prestigious university. Students would undoubtedly continue their higher education at their ideal university abroad if given the opportunity. However, studying abroad may be quite expensive. Education loans serve as a lifeline for students who want to pursue their ambition of studying abroad but lack the necessary cash. Many financial institutions offer student loans for both domestic and international study. This article talks about the best bank for education loans for abroad studies.
Types of Educational Loans for Overseas Education
Based on lenders and collateral, we have categorised the different types of loans for abroad education:
Different Education Loans Based on Collateral
Secured Education Loans
Secured education loans require the applicant to provide either tangible or intangible security. A pledge of security to the lender may take the form of real estate, a fixed deposit, etc.
Unsecured Education Loans
The borrower is not required to put up any security when applying for an unsecured education loan. The ideal candidates for this form of student loan are those without any available collateral.
| | | | | |
| --- | --- | --- | --- | --- |
| Bank | Scheme | ROI | Amount | Types |
| SBI | SBI Student Loan Scheme | 2% | Maximum Rs. 20 Lakhs | Unsecured |
| Axis | | 15.20% | Upto 50 Lakhs | Unsecured loan with no collateral up to Rs. 7.5 lakh |
| HDFC | HDFC Bank Education Loan for Foreign Education | Rate of interest will be floating rate of interest linked to HDFC Credila's Benchmark Lending Rate (CBLR) | Maximum Rs. 45 Lakhs | Collateral based |
Different Education Loans Based on Lenders
There are many banks for education loans for abroad studies. These are the public sector as well as private banks.
Loans from Public-Sector Banks
In India, public sector banks offer education loans to people who want to study abroad, usually on the basis of collateral that is given as security. Government banks offer unsecured loans to students to the amount of INR 7.5 lakh. Applicants must offer collateral as security for sums greater than this. Compared to commercial lenders, public sector banks provide lower interest rates.
Loans from Private Banks
The maximum amount is determined by a number of variables, including the applicant's profile and the financial status of their co-applicants, among others. Private-sector banks offer interest rates that are higher than those of government banks but lower than those of NBFCs and foreign lenders. ROI usually begins at 6-8%p.a. Compared to government banks, private banks handle education loans more quickly.
Eligibility to Apply for Education Loan to Study Abroad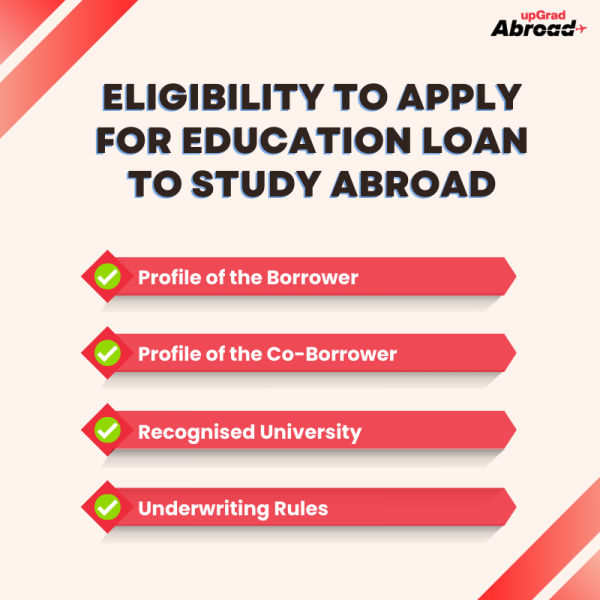 For choosing the best bank for overseas education loans, there are some prerequisites for being eligible for an education loan for study abroad. These are given below:
Profile of the Borrower
When applying for a student loan to study abroad, your GRE score is crucial. Factors such as work experience, academic success overall, and GRE scores are taken into consideration. Don't forget that Indian citizenship is the most important need for receiving an education loan from an overseas institution.
Profile of the Co-Borrower
Obtaining a student loan for international studies is significantly influenced by the co-profile borrowers as well. A foreign education loan can be obtained depending on a number of variables, including your financial situation, location, and assets you own.
Recognised university
It is important to take into consideration the university's ranking as well. Higher university rankings correspond to higher borrowing prospects. The best universities around the world also provide better employment opportunities, increasing the security of foreign student loans.
Underwriting Rules
The standards known as "underwriting norms" are those set forth by loan providers to guarantee that only secure and safe loans are made available. They are used to determine whether or not to provide a person with a study loan for overseas study, as well as how much money the company is ready to lend and at what rate of interest.
General Application Process
Now let's talk about how to apply for a student loan for abroad studies:
Decide which loan for international study is best for you.
Verify all details, such as the moratorium period, the payback time, the interest rate on an education loan provided by the Indian government, etc.
Visit the chosen education loan's official website.
Complete the application form.
Scan the necessary documents, then upload them.
Await the result.
Get all your Study Abroad doubts clarified Now for FREE: Fix an Appointment Now
Documents Required For Abroad Education Loan
Now, let's examine the paperwork needed for students to consider the best bank for education loans to study abroad :
An application form that is fully completed
Academic records
Passport photos
KYC records
Bank statements as proof of residence
Income evidence
Collateral records
A birth Certificate
An official letter of acceptance from a recognised university
Conclusion
If you have all the necessary documentation and know which sort of loan for foreign studies is ideal for you, obtaining an education loan for study abroad is nowadays not at all difficult. Being accepted into a reputable university as an overseas student is one of the most important elements, which further improves your chances of receiving an education loan.
FAQs
What are the important things to remember while applying for an overseas education loan?
Some things to remember while applying from the best bank for abroad education loan are as follows:
1. Moratorium Period: The borrower is not required to make any payments to the bank during the moratorium period.
2. Loan Margin: In most cases, banks don't give the full sum or 100 per cent of the funding needed to pay for education.
How can you apply for an education loan without the security to study abroad?
Parents or guardians must be included as joint borrowers for loans up to INR 7.5 lakh and provide a third-party guarantee. Any asset or property must be pledged as security for loans greater than INR 7.5 lakh.
How much money can you borrow backed by collateral?
The bank representative will inspect your property and provide a report on its mortgage ability if you choose to take out a loan using the immovable property as security.
A representative of the bank will also assess your property.
Top Study Abroad Destinations
0