Green Skills for Youth– the Frontliners for a Sustainable Future
Green Skills for Youth– the Frontliners for a Sustainable Future
Updated on 09 November, 2023
Who do you think is most impacted by the actions we do today? It is today's youth that will drive the future. They are the key to unlocking a brighter and more sustainable tomorrow. Persistent youth engagement and participation are indispensable across decisions, policies, and investments in matters directly impacting them.
International Youth Day is commemorated every year on 12 August to recognize their power and crucial role in propelling any nation. The day is celebrated through various awareness campaigns, community concerts, and events to highlight the socio-economic and socio-political issues faced by the youth in every country.
Youth Day is not just a day to reflect on the most common difficulties faced by young people across the globe; instead, it is a day to get involved and act on such issues. The 2023 International Youth Day theme is "Green Skills For Youth: Towards A Sustainable World."
But what are green skills? These refer to the knowledge, abilities, values, and attitudes needed to live in, develop and support a sustainable and resource-efficient society.
The green transition is a shift towards an environmentally sustainable and climate-friendly planet. Green skills support youth to access green jobs and make sustainable lifestyle choices in everyday life.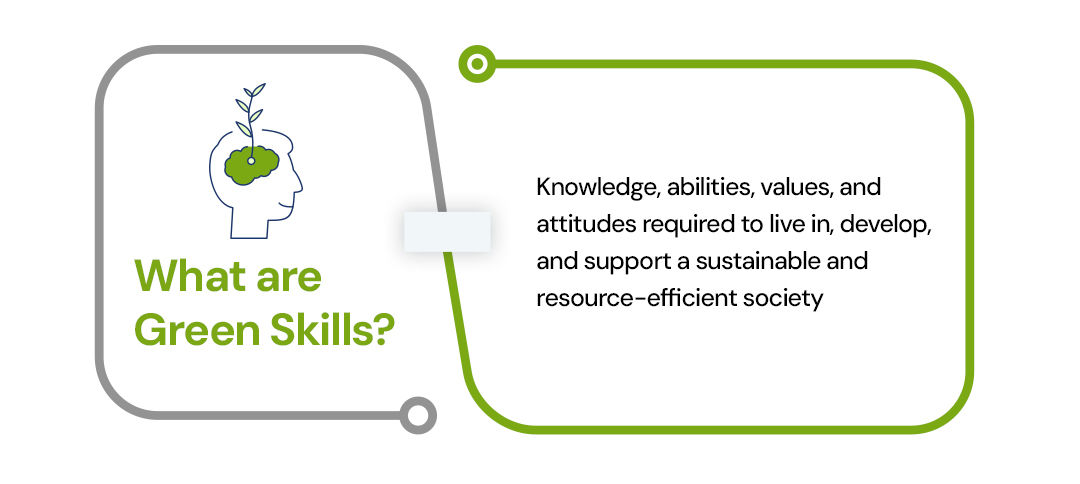 And if you are wondering why is it most important to the youth? It is because young people are at the greatest stake regarding having a better future. They are the carriers of what is today and what can be tomorrow. Hence, they must be able to critically analyze issues and shape decisions based on their rights and priorities. Understanding green skills and the degree to which they can change our lives and society is crucial as it will help you engage meaningfully in contributing to a sustainable future.
And the change has already started. How? According to research done by Pew Research Center, it was found that young adults were more concerned than older ones (in most countries surveyed) and believed that environmental damages like global climate change would affect them personally at some point in their lives.
You can also build green skills through formal education and training. More and more educational institutions are now recognizing the significance of integrating sustainable development concepts and policies.
In fact, the QS Rankings launched a parameter for 'Sustainability' in 2022. In 2023, 700 universities made it to the list of the most environmentally conscious institutions in the world.
The typology of green skills is simple. The foundation is set with acknowledging the need to become environment positive. Once you become conscious of sustainable development and build a Green mindset, you open the gateway to scale up the pyramid. You can then build generic skills within an environmental context and further identify skills required to change the current occupations positively. The pioneer step includes identifying and building specific new green skills for related new professions that would deliver a larger impact on the environment.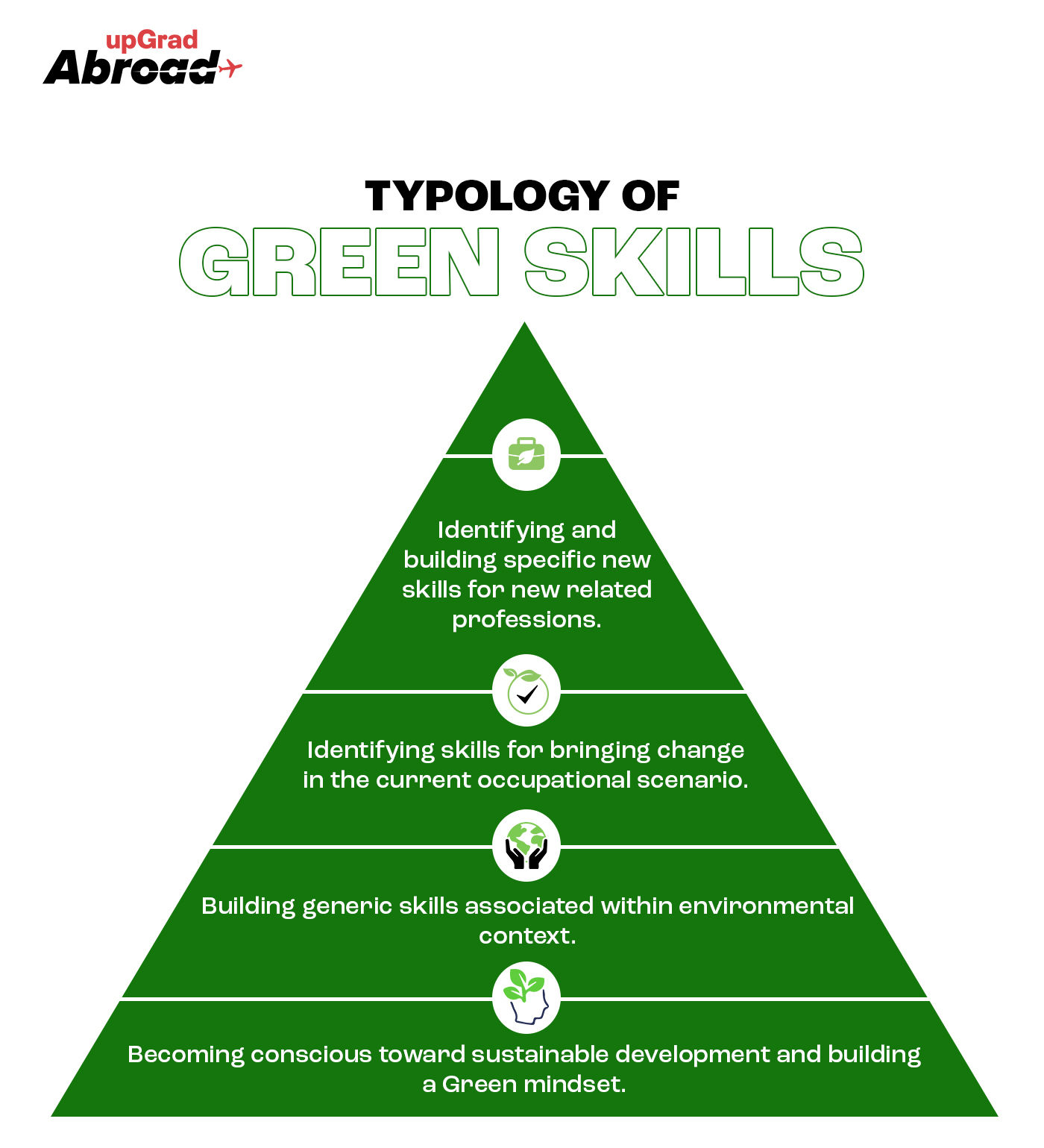 Study Abroad and Green Skills
Student mobility for academic studies abroad greatly contributes to the rising carbon footprint. This is due to the inevitable long flights students must take to travel from one country to another. Does this mean you should avoid studying abroad if you want to show your solitude toward environment friendliness? Well, fret not! You can study abroad and still support causes that matter to you and the environment.
This is due to various reasons. Firstly, students can take the initiatives to offset the carbon footprint they create while preparing to study abroad. This can be done by volunteering in awareness campaigns, community events, etc., or donating to different specialized sustainability funds. Secondly, studying abroad allows the youth to acquire a global perspective on sustainable development. This will enable them to embrace critical concepts integral to green skills building, ultimately helping them to act more responsibly.
The foremost thing you can do if you aspire to study abroad is to look for a course in sustainable development or ensure that your chosen study program incorporates it in part.
For instance, Clark University's MBA in social change & sustainability at upGrad Abroad is a whole program dedicated to sustainable concepts, while the MBA in Leading Business Transformation at Haaga-Helia, Finland, integrates some parts of sustainability in its curriculum.
Other such programs at upGrad Abroad include an MSc in Circular Economy and Sustainable Innovation at ESDS Business School, France; an MSc in Logistics & Supply Chain Management at Rennes School of Business, France; and an MSc in Fintech & Sustainability at the American Business School of Paris, France.
Here are some key competencies that you should develop for green skills: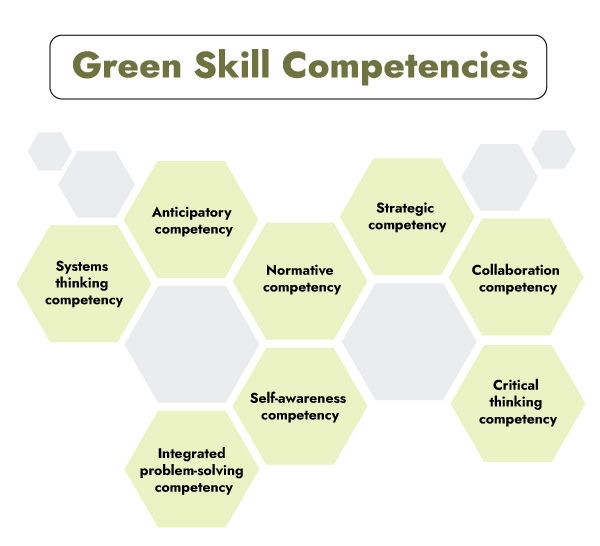 How To Study Abroad Sustainably – 10 Useful Tips
Choose a course that

embeds

sustainability concepts within its curriculum.

Check whether your university focuses on sustainable development or runs related special funds, awareness campaigns, events, etc.

When traveling abroad, try to book IATA (International Air Transport Association) member airlines

working to reduce or offset aircraft's carbon emissions through different initiatives.

Consider how you will travel to reach your study destination once you are in the country. Try to take the train or bus whenever possible.

Minimize your visits to the home or new country.

Explore local culture.

Support local and sustainable businesses.

Learn about the local ecology and try to eat locally sourced food.

Volunteer in carbon-positive and sustainability-focused initiatives (like those on reforestation, energy efficiency, and renewable energy).

Educate

others, especially your peers, about Green Skills.
Green Skills and Future Employment Landscape
Environmental adversity does not only harm the ecosystem but also affects economic opportunities. According to the United Nations (UN) website, 40% of all jobs directly linked or heavily dependent on a healthy environment are threatened by climate change alone. Does this mean we will plunge into a dearth of jobs existing today? Well, the other side of the coin holds the answer!
The UN also suggests that the green transition can create 8.4 million jobs by 2030. This exhibits the significance of green skills in the future employment sector. Not only this, according to a LinkedIn report, the recruitment for Green Jobs surpassed overall hiring in 2019 and has continued to do so until now (till 2022).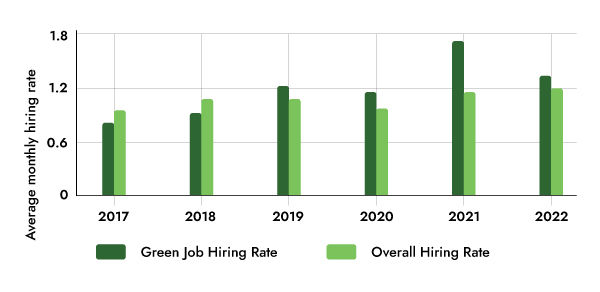 The rising correlation between green skills and the employment landscape is thus clear. It also reinforces that while it may seem like a new concept, green skills have been around for some time now. While earlier it was at a nascent stage, now it is taking the shape of a revolution that holds the key to our future.
Here are some job roles associated with specific aspects of sustainable development to give you a better idea of how you can align your career goals with sustainability:
Climate Change:

Meteorologist, Agriculture Specialist, Policy Advisor, Marine Biologist.

Sustainable Design: Architectural Manager, Landscape Architect, Director Of Interior Design, Urban Planner, Construction Administrator.
Renewable Energy: Business Engineer, Project Finance Analyst, Distribution Engineer, Land Acquisition Manager,

Project Sales Engineer

Energy Efficiency: Plumbing Engineer Engineer, Utilities Manager Project Sales Engineer, Vice President Facilities, Heating and Air Conditioning Engineer.
Agronomy: Sales Operations Assistant, Commercial Technical Advisor, Entomologist, Winemaker, Technical Sales Representative.
Erosion Control: Director of Public Works, Construction Inspector, Survey Project, Manager Civil Designer, Transportation Engineer.
Environmental Awareness: Park Manager, Safety Assistant, Geographer, Archaeologist, Geographic Information System Officer.
Youth Day is a call to action, urging young people to remain engaged in shaping the nation's future. It highlights the crucial need for inclusive support mechanisms required by youth to amplify individual and collective efforts for a sustainable future.
This youth day, let us pledge to contribute toward a better world through small steps in our daily lives that conserve energy, create less waste, lessen pollution, and safeguard biological systems and biodiversity to restore the planet.