MBBS In Egypt for Indian Students: All You Need to Know
MBBS In Egypt for Indian Students: All You Need to Know
Updated on 08 November, 2023
Egypt is a prime destination for affordable quality MBBS degrees. The MBBS in Egypt spans 7 years and is recognized by the WHO and MCI. Over 12,000 international students pursue MBBS in Egypt each year. Let us explore the top Egyptian medical universities in detail along with their fees, eligibility, specializations, job prospects, and more.
Why Study MBBS In Egypt
Egypt has emerged as a highly sought-after destination among Indian students who aspire to pursue medical education. Egyptian universities provide exceptional medical education with significantly lower fees than those in Western countries. Here are some reasons why studying MBBS in Egypt is a good option:
1. Affordable fees -
MBBS fees in Egypt are affordable compared to fees in Western countries or private universities in India. Universities in Egypt for MBBS offer affordable programs for Indian students.
2. World-class education -
Egyptian medical universities follow WHO and MCI standards to provide high-quality medical education. They have well-equipped labs, hospitals, and the latest infrastructure.
3. Recognition -
MCI, WHO, and other medical councils recognize MBBS degrees from Egyptian universities. Indian students can practice in India and appear for the NEET PG exam after completing MBBS in Egypt.
4. Exposure to diverse cases -
Egyptian medical universities have a large network of hospitals. It exposes a wide range of patients, diseases, and clinical cases. This helps students gain practical experience.
5. Post-graduation opportunities -
Indian students can pursue MD/MS programs in Egypt after completing MBBS. Or they can appear for the exam to pursue a PG in India.
6. Better living standards -
Egypt provides students with decent accommodation, food, transport, and other basic amenities at an affordable cost compared to other countries.
Top Universities for MBBS in Egypt
Apart from the top specializations, Egypt is known for providing quality medical education at affordable costs. The country has a long history of excellence in medical training and many reputed universities. Here are the best medical colleges in Egypt.
| | | | |
| --- | --- | --- | --- |
| Name of the University | Tuition Fees in USD | Location | QS World Ranking |
| Cairo University | 4719 | Giza City | 371 |
| Alexandria University | 8,000 | Alexandria | 901-950 |
| Ain Shams University | 6179 | Cairo | 721-730 |
| Helwan University | 10,000- 12,000 | Helwan | 1201-1400 |
| Kafrelsheikh University | 6,000 | Kafr el-Sheikh | NA |
| Mansoura University | 10,000 | Mansoura | 1001-1200 |
| Tanta University | 7500 (starting year) | Tanta | 1201-1400 |
| Zagazig University | 7500 (starting year) | Zagazig | 1201-1400 |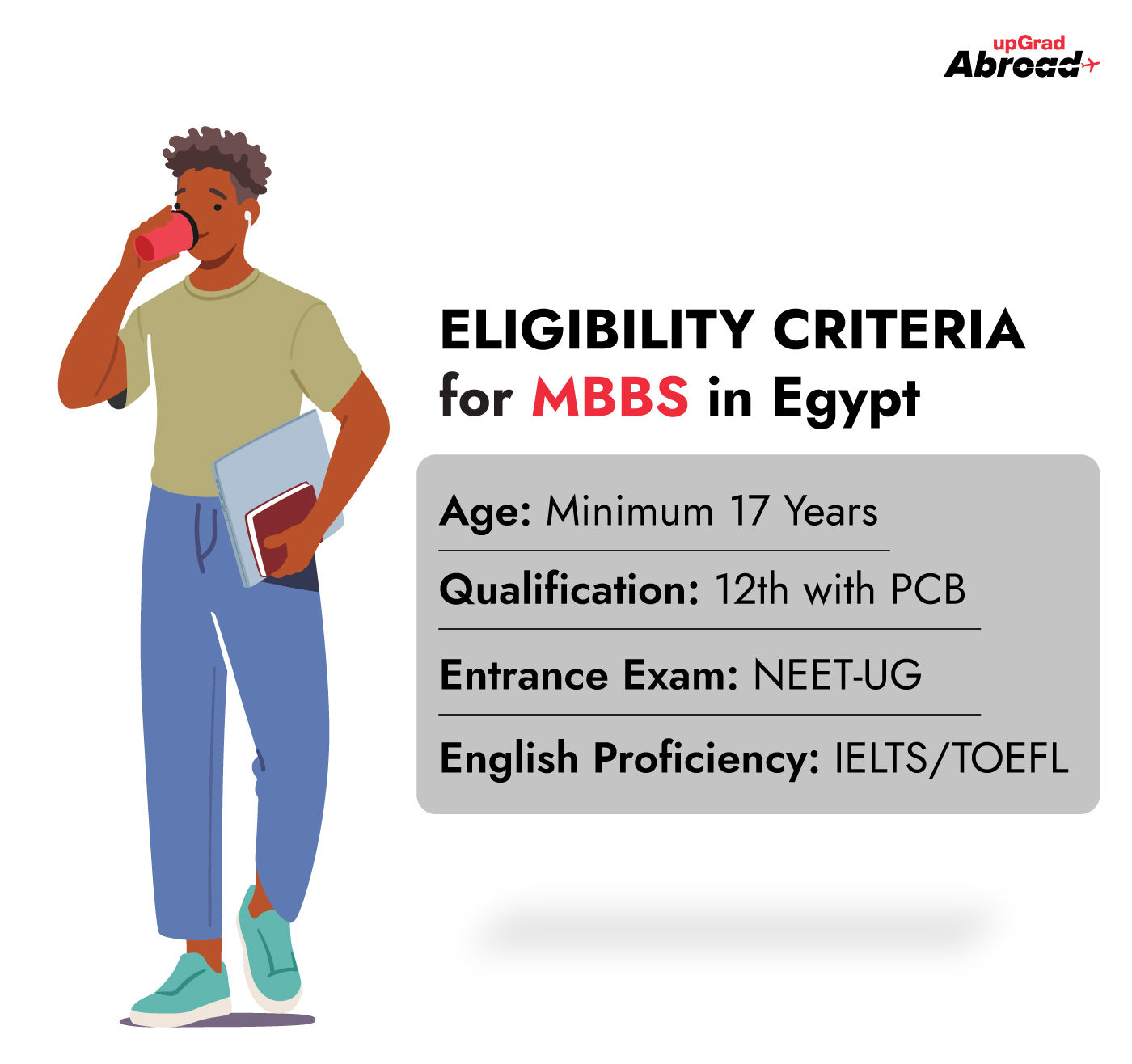 MBBS in Egypt: Eligibility Criteria
To study MBBS in Egypt, you must meet the following eligibility criteria:
1.Qualifying Exam -
You must have cleared the NEET-UG exam to be eligible for admission. The all-India NEET score is considered for admission.
2.Academic Qualification -
You must have passed your Class 12 or equivalent exam from a board recognized by the Supreme Council of Universities in Egypt, with Physics, Chemistry and Biology as the main subjects. The minimum qualifying mark is 60% aggregate.
3.Age Limit -
Egypt has no fixed age limit for MBBS programs. But the students must be at least 17 years old. However, some universities have an upper age limit of around 25-30 years.
4.English Proficiency -
Since the medium of instruction is English, you must have adequate English language skills. An IELTS score of 6 bands or equivalent is usually mandatory.
5.Documents Required -
You will need documents like 10th & 12th mark sheets, passport, NEET UG scorecard, IELTS/TOEFL scorecard, etc. A valid student visa is required to join the program.
Intakes for MBBS in Egypt
In Egypt, the academic year for MBBS programs usually starts in September or October. The exact intake dates may vary depending on the university and the program.
Here are some of the universities in Egypt for MBBS, along with their intake months:
Cairo University - July
Ain Shams University - November
Alexandria University - September
Mansoura University - May/ November
Assiut University - September
It is important to note that the application deadlines for these universities may differ, and interested students should check with the respective universities for more information.
Scholarships for MBBS in Egypt for Indian Students
International students who want to study MBBS in Egypt can apply for many scholarships. The government of Egypt gives some, while the government of India or other groups gives others. Here is a table with a brief description of some of the scholarships:
| | | |
| --- | --- | --- |
| Scholarship | Provider | Amount |
| ICCR Scholarship | Indian Council for Cultural Relations (ICCR), Ministry of External Affairs | It covers return economy class airfare, tuition fees, living allowance, and stay in the campus hostel. |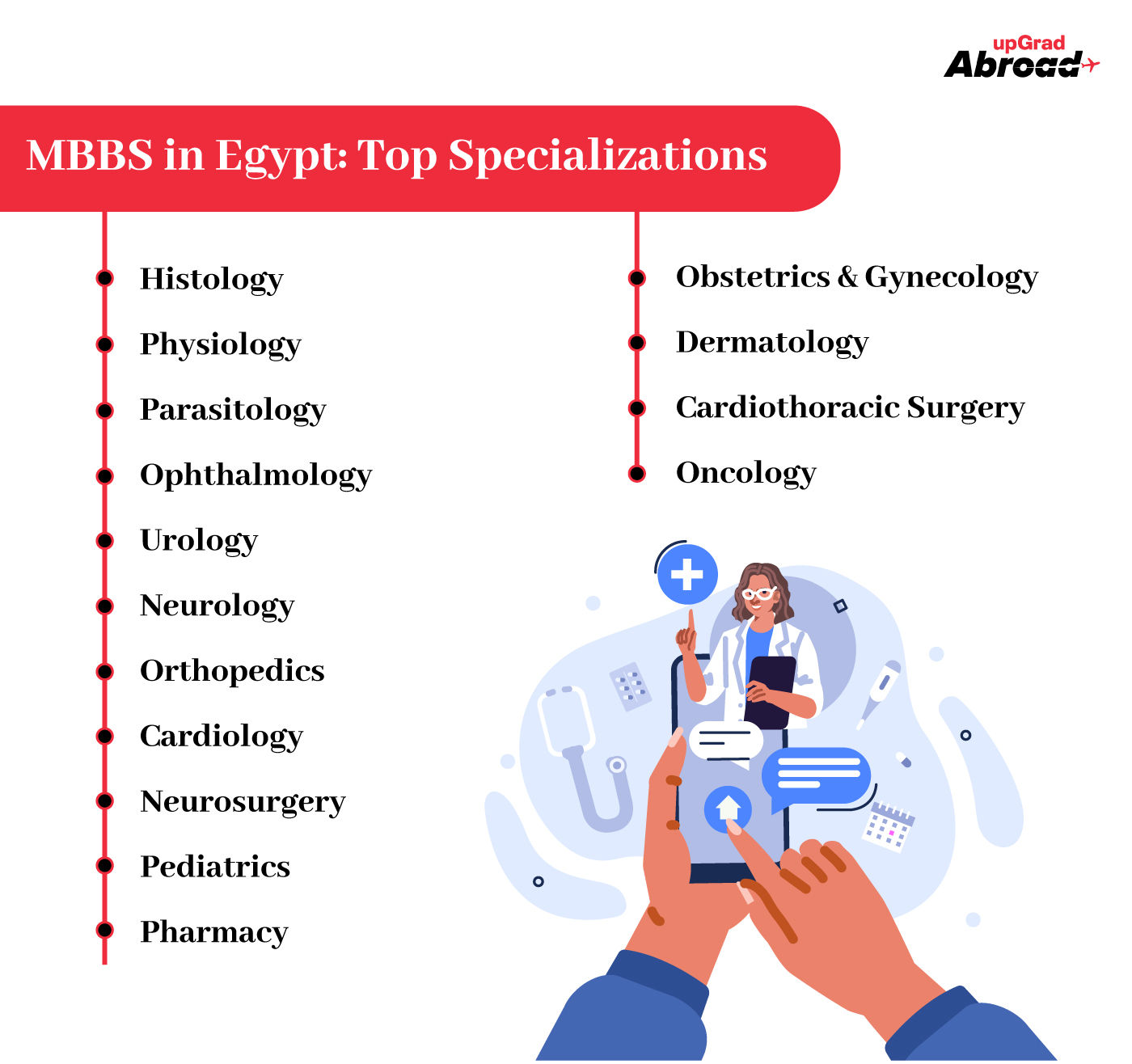 MBBS in Egypt: Top Specializations
MBBS in Egypt for Indian students opens a gateway to an array of specialization options. Post the degree, you can pursue advanced studies and complete a specialization. Here are the top specializations after MBBS in Egypt.
Histology
Physiology
Parasitology
Ophthalmology
Urology
Neurology
Orthopedics
Cardiology
Oncology
Neurosurgery
Pediatrics
Pharmacy
Obstetrics & Gynecology
Dermatology
Cardiothoracic Surgery
MBBS in Egypt: Jobs & Salaries
After completing an MBBS in Egypt, one can practice as a General Medical Practitioner whose annual average salary is nearly EGP 203,000. Post MBBS, one can gain specialization in their preferred discipline and practice as a physician or specialist. Here are some of the most common jobs after MBBS in Egypt:
| | |
| --- | --- |
| Job | Average Annual Salary |
| Anesthesiologist | EGP 380,000 |
| Cardiologist | EGP 393,000 |
| Neurologist | EGP 334,000 |
| Oncologist | EGP 297,000 |
| Dermatologist | EGP 323,000 |
| Obstetrician / Gynecologist | EGP 297,000 |
| Surgeon | EGP 353,000 |
MCI-Approved Medical Colleges in Egypt
The approved list of MCI-approved medical colleges in Egypt has now been scrapped since the National Medical Commission (NMC) took over the Medical Council of India (MCI) in 2020. Currently, the NMC does not publish any list of approved medical colleges in foreign nations.
FMGE for Indian Students Completing MBBS From Egypt
The Foreign Medical Graduate Examination (FMGE) is a compulsory screening test to be taken by students who have completed their MBBS or primary medical qualifications abroad and wish to practice medicine in India. Medical professionals will be able to get registration from their State Medical Councils or SMCs only after clearing the FMGE.
It is a computer-based test administered twice every year, in June and December. To appear for the examination, candidates must also get ECs (eligibility certificates) from the Medical Council of India (MCI) as per their listed guidelines.
Also Read: Study MBBS in Abroad
To conclude, studying MBBS in Egypt is a rewarding opportunity for medical aspirants. Egyptian medical universities follow the latest international standards and medical curricula. The Egypt MBBS fees are very affordable compared to other countries. Egypt can rightly be said to offer international students a culturally rich, historic, and comfortable environment to assist them in achieving their medical dreams.
Related Articles on MBBS Abroad:
FAQs
Can we do MBBS in Egypt without NEET?
No, NEET is mandatory for any Indian student to study MBBS in Egypt. All the Egyptian medical universities require a NEET score for admission.
After studying for an MBBS in Egypt, can I work in India as a doctor?
Yes, but you will need MCI approval to get a practice license and work as a doctor in India. For this, you must clear the MCI Screening Test, known as the FMGE or the Foreign Medical Graduates Examination.
Do universities in Egypt provide accommodation?
Some universities in Egypt provide on-campus accommodation options for international students, while others may not. You will need to check with the individual universities about their accommodation policies.
What is the salary of an MBBS Doctor in Egypt?
The average annual base salary of an MBBS doctor in Egypt is EGP 200,000. The salary also depends on the hospital, specialty, experience, etc.