8 Ways to Look After Your Mental Health While Studying Abroad
8 Ways to Look After Your Mental Health While Studying Abroad
Updated on 11 October, 2023
The global setting of higher education is transforming and providing increasing opportunities for students to study abroad. As per the data by the Ministry of Education (MoE), Government of India (GoI)— 750,365 students went abroad for higher education in 2022. The study abroad journey traversed by all of them continues to be unique in terms of coping, studying, socializing, and adapting to the new ecosystem. It may also become overwhelming to some and need minor readjustments.
From eating "maa ke hath ka khana" to learning the art of making palatable cuisines and juggling semester exams with a part-time job can take you a while to adjust. By immersing yourself in a new environment and being open to new perspectives, you can gain valuable skills and insights that will result in holistic development. Indubitably, your experience in a foreign country will be different from your home country; however, the leap into the unknown will be worth it.
The path to overseas education will not always be rosy, but it will come with many experiences that make it worthwhile. However, you need to be wary of certain things before plunging into the new journey to make it less worrisome. What causes worry for international students in the first place? Is it homesickness, alone? No. International students can initially experience a surge of emotions, leaving them stressed. This can be due to cultural shock (feeling discombobulated in a new country or experiencing a new culture or surroundings) and other things.
This Mental Health Awareness Month (May), we bring to light the ways students can opt for a healthy lifestyle and keep mental health issues at bay during their stay away from home.
Tips to Look After Mental Health While Studying Abroad
The transition to a foreign university brings unprecedented changes for study-abroad aspirants. To adapt to the new changes and make the transition seamless, the suggested ways would keep you covered.
Join Clubs & Societies
Establishing new friendships in a new country can be challenging, especially if you are an introvert. However, joining universities' clubs and societies is one of the best ways to achieve this. It will help you connect with like-minded people and introduce you to a new culture. Additionally, joining clubs or societies will help you hone your skills.
Pro Tip: To forge long-lasting friendships, try to know your new friends on a deeper level and look for shared goals to pursue.
Stay Connected to Your Loved Ones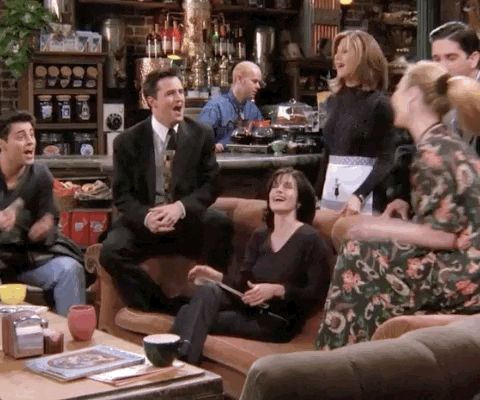 Via Giphy
Imagine coming back to your room after being recognized as the best student in the cohort; with whom would you want to share the good news? Your closed ones, right? Similarly, on days when things might go south, you would need your loved ones to soothe you. Thus, having a support system that keeps you floating is indispensable.
With technological advancement, you can stay connected with your loved ones overseas. Text messages or video calls are the instant ways to reach out to your loved ones when you are feeling overwhelmed. It would offer a sense of reassurance about your chosen path. Moreover, building a local community support network is essential for long-term healthy mental health.
Pro Tip: Creating a support network is a two-way street. Start with lending your support to those around you.
Practice Mindfulness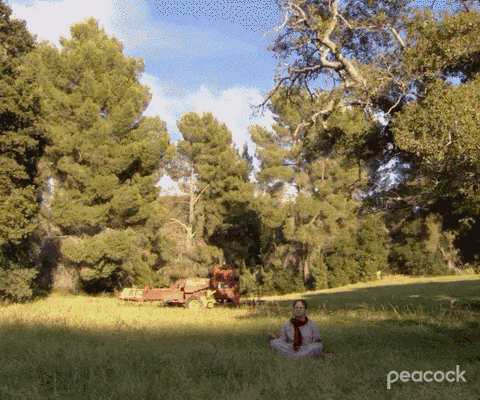 Via Giphy
To pass with flying colors, it is imperative for you to protect your mental health and infuse calmness into your life. It can be difficult when you have stringent deadlines in place. To navigate this challenge, you can opt for mindfulness, whether it's via a meditation session or simply taking a moment to realign your thoughts.
Many universities also offer mindfulness resources to assist students with their mental health journeys. Moreover, you can use a fidget tool as part of grounding exercises to divert your attention from anxiety whirling and towards something tactile.
Pro Tip: Listen to calmness-inducing podcasts to stay tuned in with your energy.
Establish an Exercise Routine
Via Giphy
Per a recent study, exercise improves mental health by reducing anxiety, depression, negative mood, self-esteem, and cognitive function. It was also deciphered that exercise can alleviate symptoms such as social withdrawal. In a nutshell, it can help raise endorphin levels and save you from mental health issues.
In tandem with instilling discipline within you, exercising (jogging or morning walk) acts as another opportunity to connect with people and make friends abroad. In addition, according to a meta-analysis, regular contact with nature can enhance an individual's health and rejuvenate one's mood.
Pro Tip: Remember to stop and smell flowers along the journey and say hello to fellow joggers or gym buddies.
Journal & Art Therapy
Via Tenor
Within a day while studying abroad, you could experience various events and activities. All of these things add up over time and become psychologically and physically draining. To avoid letting these situations get the better of you, keeping a journal will help you organize your thoughts and determine how you're feeling. Per a study, there was an evident positive impact of a 12-week; web-based positive affect journaling (PAJ). Additionally, because journaling requires you to sit down, unwind, and reflect on your life, it calms your nervous system and makes you feel at ease.
Apart from it, you can channel unwanted thoughts with your artsy streak. Dwelling into the art world can be cathartic; letting your creative juices flow can help dilute your anxiety or worries.
Pro Tip: You can use stickers and micro-sized envelopes to beautify your journaling journey.
Time Management/ Avoid Procrastination
"Defer no time; delays have dangerous ends." — William Shakespeare
Via Dribbble
The secret sauce to forging a global career is - discipline. You need to learn the art of balancing assignments and part-time jobs. According to a study published in JAMA Network, Open brings to the surface the link between procrastination and poor mental health. This cogently reinstates that leaving things to the eleventh hour is equivalent to summoning panic.
Pro Tip: You should devise SMART goals, meaning Specific, Measurable, Attainable, Relevant, and Time-Based goals.
Avoid Junk Food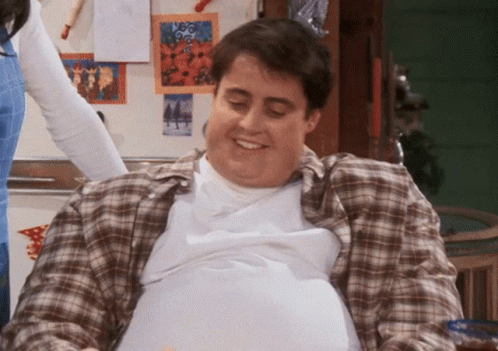 Via Tenor
Missing homemade food and starving after back-to-back lectures increases your chances of digging into junk food. But will this be a prudent choice? No. Regular intake of junk food eventually lowers your metabolism, which invites obesity-related diseases and heightens the risk of depression.
One way to keep hunger pangs at bay is to include healthy snacks. You can also plan out a weekly menu on your off days. Additionally, keep yourself hydrated; you can misconstrued thirst for hunger.
Pro Tip: Ditch YouTube cookery channels and video call your mother. You can also prepare meals for the entire week and put them in the fridge in ziplocks. This practice will keep you organized in countries with cold temperatures where food does not turn bad for days.
Listen to Music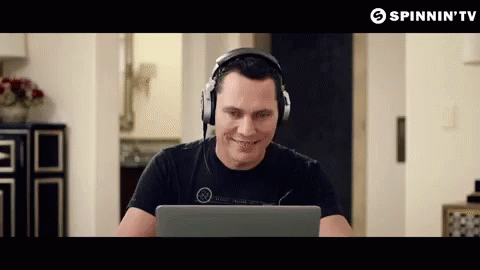 Via Tenor
Did you know that soothing music helps lower the key stress hormone - cortisol? At the end of a busy day, listening to music is an appealing option to alleviate stress and anxiety. A study also confirms the same. So, the next time you feel overwhelmed, play your favorite artist's songs.
Pro Tip: Make a playlist of your favorite songs. Don't forget to shake a leg while enjoying your favorite beat.
Find a Balance With Professional Support
While studying abroad, students might face unique challenges, but they will find a wealth of resources to support them in maintaining good mental health in addition to the aforementioned advice. They can contact students' union groups on campus or seek counseling sessions if required. Additionally, there will be nursing and medical staff on campus to assist.