Study Abroad Consultants in Mumbai
Get Expert Guidance on Courses, Universities, Admissions, Visas, Scholarships and Much More.
Earning an international degree is more than just about expanding your professional and personal horizons; it's also about having a once-in-a-lifetime experience. Students travel from all over the world to different international universities to embark on a life-changing educational experience every year. They will confront unusual difficulties, but the rewards will be immense. Overall, the global knowledge obtained from your international experience is likely to improve your long-term job opportunities. The following are some of the reasons you should consider studying abroad:

Students who study abroad have access to a wider range of courses, including research opportunities and skill-based training. This broadens your horizons and opens up a world of new educational opportunities for you.

Employers will notice that you have courage, flexibility, cultural awareness, and a grasp of how other people work and think if you pursue a degree abroad. When it comes to job applications and internships, this experience will put you ahead of the pack.

The benefits of studying abroad include learning new approaches to dealing with a variety of situations, managing time between studies and part-time employment, experiencing international teaching methods, and dealing with a cosmopolitan crowd.
Getting the assistance of the best overseas education consultants to study abroad will benefit you in the long term because they will advise you on the best possibilities. upGrad Abroad can be your go-to partner to make an informed decision about choosing the right path and university.
We have a dedicated team of overseas education consultants who can assist you in your educational ambitions by screening your profile and recommending courses and colleges that best suit your needs. Furthermore, you will receive end-to-end assistance for visas, scholarships, and educational loans.
What do we offer?
Our students receive free counseling

A hybrid study model consists of the first year at a partner institution in India, followed by the second year of on-campus study at a university of your choice

Save up to one-fifth cost

Assistance with curating SOPs, filling out university application forms, and ensuring that all necessary documents are included

With our coaching, you can apply for scholarships and financial help

By creating a strong profile, you can target the top 1% of institutions.

Career planning and pre-counseling

Assistance with IELTS preparation

End-to-end assistance for visa
About upGrad Abroad
upGrad Abroad, the international higher education platform by India's leading online education provider, upGrad, launched unique study programs in 2021. Identifying the difficulties students face in pursuing in-demand international degrees due to complex admission procedures and steep fee structures, upGrad Abroad introduced affordable programs from high-ranked universities worldwide. We offer a blended model education in which you study online with our partnered university in India for the first year and take off abroad in the next to study on-campus at a university of your choice. Our Study Abroad Consultants will work with you to learn about your academic background and how to use your study abroad plan to help you achieve personal and professional success.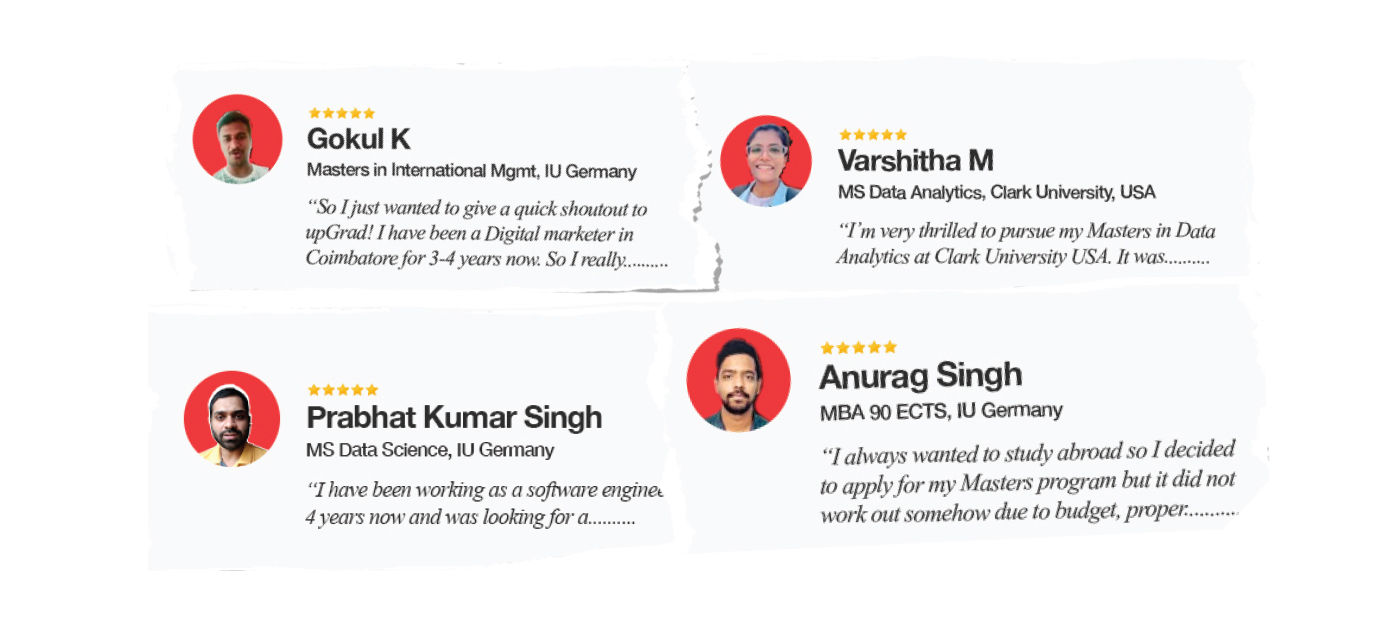 0